How to Use Your Phone Application in Windows
Your Phone application can connect your Android phone to Windows. This is an easy way to use the Your Phone application on Windows.
Some of you might be unfamiliar with Your Phone application. This application was created by Microsoft to connect Android smartphones with Windows devices.
So with this application, you can access various cellphone information via a computer. For example opening a photo gallery, viewing wallpapers, taking calls, etc.
How to use this application is also easy. But if you are still confused, you can read how to use the Your Phone application in Windows below.
How to Set-up Your Phones Application
Before using Your Phone on Windows, you need to install the Your Phone application on mobile and PC. After that, you have to make some arrangements.
Install Your Phone application on the cellphone.
Also, install the application on a PC (usually Your Phone is automatically in the latest version of Windows).
Open the application on two devices.
Log in in two applications with the same Microsoft account.
On mobile, the Android application will ask for some permission from you.
Give permissions as requested by the Application.
Next, wait for the installation process to complete.
Especially on Samsung phones, the setup process is a bit different. The latest Galaxy phones have 'Link to Windows' which automatically already exists on the OS. So you don't need to install the Your Phone application.
You just need to open the quick settings menu and tap ' Link to Windows .' After that, you will be taken to the Microsoft login page. There, all you have to do is follow the steps provided.
Cell Phone itself has a myriad of interesting features. I will discuss one by one the features of this application.
Also Check: Volume Styles App Customize Android Volume Panel
Features in Your Phone Application
Notifications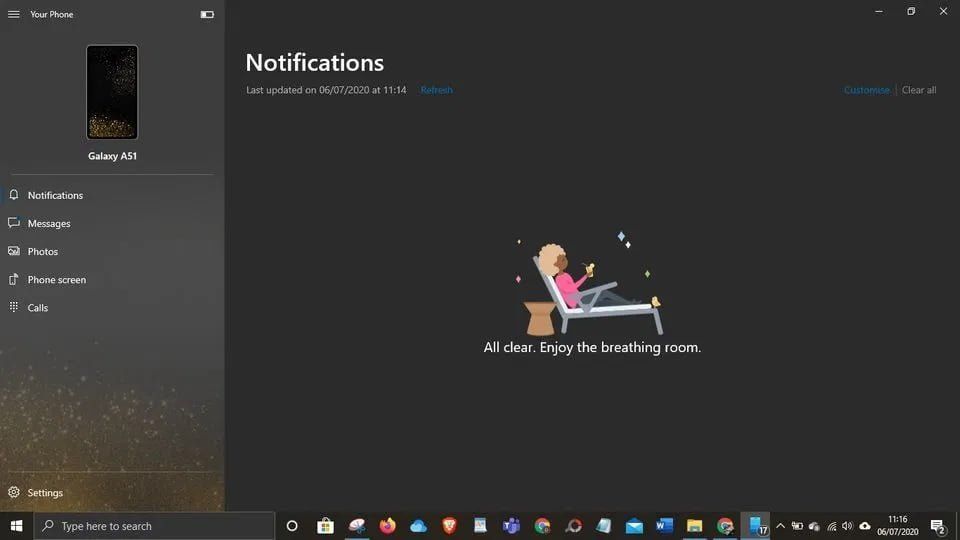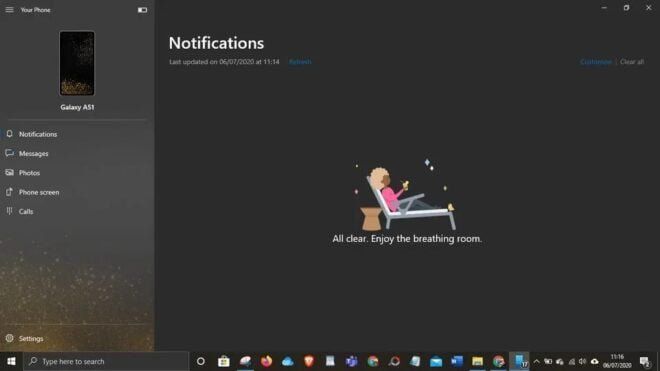 You can use this feature to receive mobile notifications on your computer. Actually, by default, this feature works well.
But if you want, you can choose notifications from certain applications to display to your computer. For example, you only allow WhatsApp and Instagram notifications to appear on your computer.
Notifications that applications display to the computer can run smoothly, without delay. You can even reply to chat directly from the computer.
Calls
As the name implies, this feature allows you to receive or make calls via a computer. This feature has a good dialer screen and can synchronize contacts and call history.
When you first use this feature, you will be guided to make the process of setting. After that, a pop-up will appear on the cellphone asking for access permission. After that, the Calls feature can be used.
Messages
Besides having Calls to receive and make calls, Your Phones also have Messages. This feature allows you to write new messages, send or receive SMS directly from your computer.
Photos
This feature can synchronize the photos in the mobile gallery to the computer. But it all depends on your internet connection. If the connection is good, this feature can synchronize up to 2,000 photos to a PC.
In this feature, you will find several ways to interact with photos. For example sharing photos, saving copies, or editing photos without changing the original file.
But you need to remember, the Photos feature only synchronizes photos in the Camera and Screenshots folder. While the photos in other folders (Instagram, WhatsApp, etc.) cannot be synchronized.
Music Playback Controls
As the name implies, this feature allows you to control the songs on your cellphone via a PC. For example, you are streaming Spotify songs on mobile. You can change songs via PC with this feature.
Continue on PC
This feature can you use when browsing on a cell phone but want to move browsing to a PC. If you use this feature, you don't need to move the URL from the cellphone to the PC. Because Continue on PC automatically synchronizes the URL.
Phone Screen
Phone Screen will make a mobile screen clone on your PC. How does your mobile screen look, that's the look that will appear on a PC screen.
Not just an ordinary screen clone. Here you can also operate the menus on the cellphone using the mouse.
Drag-and-drop File Sharing
Actually, drag-and-drop files are still in the Phone Screen feature. This feature is perfect for those of you who often move files from your mobile to PC or vice versa. How to use this feature is very easy.
Open Phone Screen on PC.
Open the ' File Manager ' folder on your mobile.
Long press on the file you want to move.
Long press the file a second time, to drag the file.
Next, drop the file to anywhere on the PC.
The same process applies to files in the mobile gallery.
If you want to move files from the PC, select all the files that you want to move. After that, drag-and-drop all files in the Phone Screen window. All files will enter the Download folder on your cellphone.
Image Source: Android Police
Also Check: Samsung Knox Security App to secure your Devices