Ragnarok Frontier Review: Legendary Online Game
For gamers, the name Ragnarok Online will always have a special place in the heart. Even after more than 20 years have passed, this game, which became one of the pioneers of online games in the country, remains in demand.
To replenish those strong memories, Ragnarok Frontier is present in the middle of mobile gamers, with a variety of visuals that invite memory. Unfortunately, this game is not an online game like his previous father.
Nevertheless, Ragnarok Frontier still has a strong charm, like we felt when playing it. It could even be that you will become a fan, even if only to revive old memories.
Suitable To Play While Working
As we have explained before, Ragnarok Frontier is not an online game, but an idle game. This game should be your first experience if you have never tried playing this type of mobile game.
In idle games like this, your involvement when playing is not too much, and the game will run by itself. That's why this type of game is said to be idle games or idle games.
Later, you only need to be involved in managing everything beyond controlling the character's movements and fighting. Everything you have to do with leveling up, refining weapons, and various logistical elements.
That's why this game is perfect for those of you who are working from home or WFH in the middle of the current Covid-19 pandemic. Because this game doesn't ask for much of your attention, and you will still get satisfaction leveling up without interrupting work.
Also Check: 17 Best Zombie Games for Android in 2020
Before we start showing the features, it's a good idea to look at the visual aspects and sound first. If you have ever played Ragnarok Online, you will find it very similar to the visual side.
Not only the 2D sprite visual style a la Ragnarok Online is here, even all the sound effects and music also participate. We were suspicious that the game developer had moved all of the online game assets into it.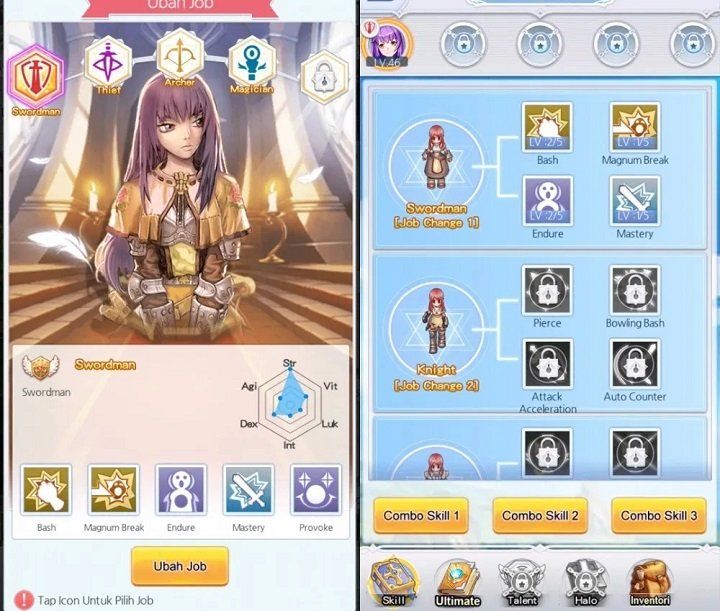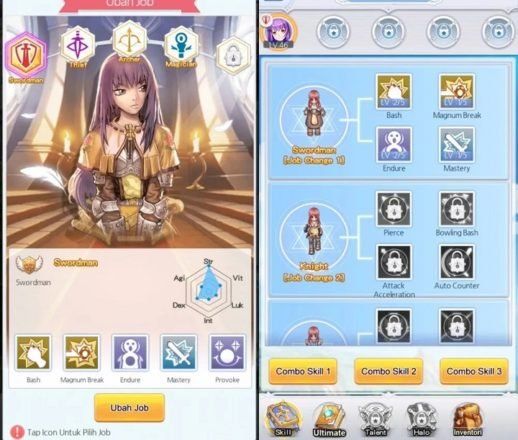 All very familiar animation characters and a variety of enemies that seem silly also appear here. Of course, you remember the iconic enemies like Poring, Poporing, Baphomet, and Phreeoni, who used to accompany you grinding level for tens of hours.
In addition to all the iconic areas in his online game, Ragnarok Frontier also brings back all the music that latched onto his fans' hearts. Unfortunately, the sound quality is not very high, and sometimes the sound of attacks when attacking enemies also does not appear.
Various exciting features can be found.
You will be more preoccupied with managing the logistics side of the character due to the game's idle form. Some of them are to set character statistics when leveling up.
If you still remember the form of character statistics that used to be played, then all can be applied again in Ragnarok Frontier. As you might also know, the character creations at Ragnarok Online are numerous, ranging from the agile Assassin AGI to Archer with high-speed attacks plus high criticism.
But that does not mean you have to bother with these statistical settings, especially if you are busy working because this game has a statistical recommendation feature, which can be accessed by pressing just one button.
Besides, you can also strengthen the character by using a variety of combat equipment obtained from the enemy drop. Then, you can further strengthen it by using the upgrade feature.
At first, we were a bit awkward to upgrade combat gear, because it didn't take long until we got new armor or weapons to replace the existing ones.
Because of this, the upgrade step will only be a waste of money. But our assumption was wrong because this game cleverly overcomes them.
All upgrades made on one type of equipment, for example, on weapons, were not the weapons were strengthened. It turns out that the slot of the weapon is strengthened so that even when changing weapons, new weapons that occupy the slot will automatically become stronger following the amount of upgrade that is there.
A variety of new features will also open along with the character level, and all of these features are very helpful in further strengthening the character. For example, later, you will be able to pair the typical Ragnarok Online monster card, increasing the strength of the card through an upgrade.
Interestingly, you can add new characters to help existing characters, totaling to four characters. To open it, you have to complete a variety of challenges that exist, and it certainly takes a long time.
Conclusion
Ragnarok Frontier relives the memory that we have long forgotten. Not only that, but this game is also able to fill our time without disturbing WFH during this pandemic.
A variety of interesting features and various familiar elements make this game so easy to understand. Maybe one thing we don't like is that there are so many icons on the game screen that interfere with visuals.
Naturally, this is found in free games, but it can be minimized by hiding icons other than premium promos from the game screen. Thus the player can more freely enjoy familiar visuals.
Overall, our impression of Ragnarok Frontier is positive, especially in terms of good memories. The form of the game that does not interfere with work is also a plus for us.
Sophisticated:
The audiovisual brings back memories.
Easy to play and learn.
Many interesting features.
It can be played while working at home.
What's Missing:
There are still technical problems such as the loss of sound effects.
Many icons in the game should be reduced, as it might confuse a few players.
Also Check: 5 Best Android FPS Game with Exciting Storyline