HAPPY GLASS- A PUZZLE GAME WITH ENDLESS FUN
When we say a glass filled with water, most people probably have the psychological question of asking whether they see a glass half empty or half full. This question reflects the overall attitude of life, although I believe that not all people who answered that they see a glass half empty are life pessimists.
However, this consideration would, by its very nature, be more appropriate for another website, at least if the game reviewed today was not called Happy Glass and if the only goal of this game was to fill the glass with water to the brim.
Otherwise, this title is one of the logic games and we find in it a certain resemblance to the previously released titles Sugar, Sugar (where you tried to make enough sugar in the cups) and Brain It On! In both of these titles, we find another common and at the same time very significant element, namely the drawing of the necessary shapes and things, thanks to which the task will be fulfilled.
Imagine that you have a glass on the game screen that you have to fill and a place where water flows. Sometimes you will find other objects on the playing field that you can use to get the water to its place. You also have a pencil that you can paint any lines. Your task is to deal with the laws of physics and draw such objects that the water flows in the right direction. You can probably best imagine this process in the pictures around this review.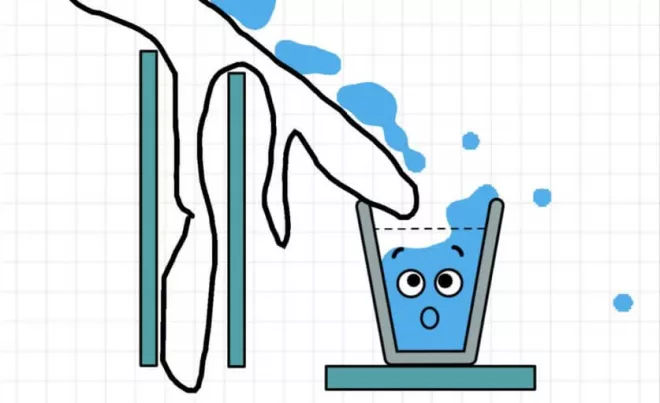 CREATIVITY IN HAPPY GLASS IS (UN) LIMITED
The puzzle game Happy Glass works exactly like this. Unlike the logic game Sugar, sugar lines here are subject to the laws of physics, so in order to make a platform that transports water through a depression, it is not enough to make a straight line. Instead, you have to anchor this line nicely in space (by other objects), otherwise it will fall off the screen or slide to a place where it does not suit you. This way, you will lose the opportunity to fill the glass, because the water will flow elsewhere than you need.
As the title of this chapter suggests, the creativity in Happy Glass is completely unlimited. This means that you can do whatever you want – twist the lines around the glass, hang them behind hanging objects, or write them the necessary shape, which either fits somewhere (fits), or creates a surface for further drawing.
However, this creative activity is not completely unrestricted. Although you can really draw what you want, you have two things in advance. The game does not allow dashed lines, which means that your drawings only have to be created with one line at a time. As soon as you interrupt the drawing, you have finished it and you are just watching the water flow.
Another significant limitation is the length of the line. The game will only give you a limited line to earn one star, two stars and three stars. You cannot use the longer line, otherwise you will not get to the next round. As a result, the difficulty of the game slowly increases. At the beginning, everything goes smoothly, but in time you have levels ahead of you that you would solve even if you just needed, you would just need a little longer lines for that. And so you are forced to find new solutions and simply look at the whole problem in a different way. I appreciate this feature because you train your brain with it.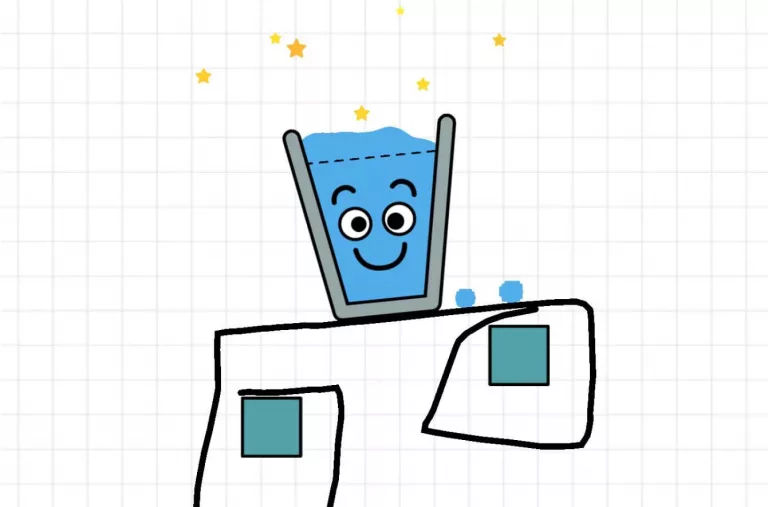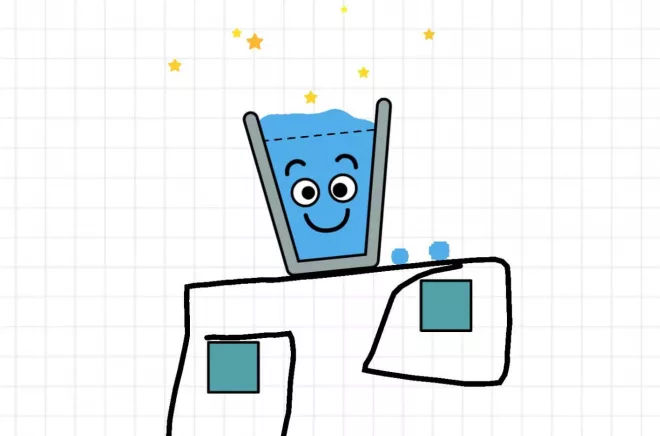 ENDLESS FUN?
If you fall under the spell of the logic game Happy Glass like me, another great advantage for you will certainly be an incredibly large number of levels. Happy Glass basically contains 540 levels, while other levels have already been promised by the creators and we should see them next month.
You go through the levels in Happy Glass like in any other logic game for mobile phones. This means that you get 1-3 stars for passing the level, depending on how well you did. And for these stars you can then unlock another set of levels (the set always contains 10 levels).
Even better, the creators of Happy Glass have virtually unlimited ideas, so you will come across a new topic or logical problem in each set. For example, in the first ten levels, all you have to do is draw simple lines, cover all the depressions with them, and direct the water to the right place. However, in the second set of levels, you have to draw lines to keep the glass in place.
In other sets, various obstacles, shapes and colors will pour in on you, while a memorable set of levels is where the glass is covered and you have to figure out a way to uncover it or move it to a free space. I admit that in these levels I was already finding it quite difficult to find a solution. It often happened to me that I had to postpone the game for a few hours and then return to it. And it was no exception that I consulted the solution with my friends and family. More heads know more, and here it was doubly true.
However, if you can't help with the tasks, you can also use the internal help. You will find it in the upper left corner and it will appear to you right after clicking, without any prompt for confirmation. Therefore, you have to be very careful about what and how you press. I was able to invoke help inadvertently and I was quite sorry because it is a rare commodity.
You can get more help by watching the ads (but no one can guarantee them because the rewards for the ads are in the form of a draw), or you can buy them for money. For the money, you can also buy a version of the game without ads, which is not so important, because there are few ads and they are placed in suitable places. This means that they do not interfere with your play or reduce the overall clarity of the game. This means that Happy Glass is available for free download on Google Play.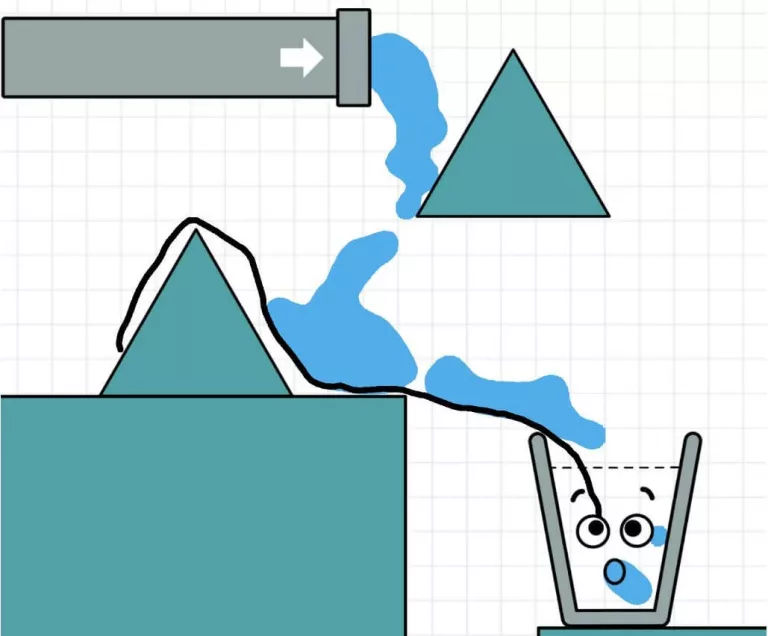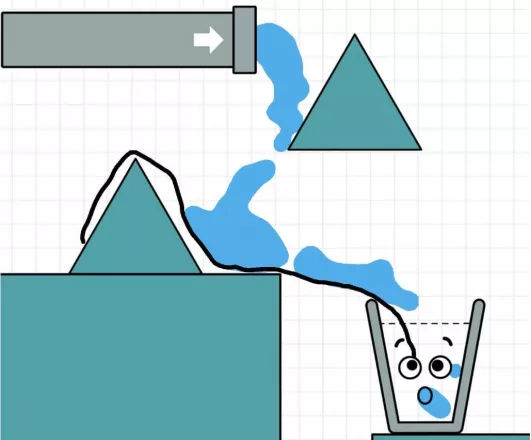 BEWARE OF IMITATIONS!
The logic game Happy Glass has a relatively simple theme and graphic design (but still looks very nice) and maybe that's why it has become the target of fraudsters who offer imitations or even fake sequels on Google Play. So watch out. There is only one original, it comes from the developers of Lion Studios and you can find it in the link below the article. I do not recommend other games for two reasons – the quality is not as good as in the original Happy Glass, and then you beg for some malware.
The development studio Happy Glass already has several interesting Android games, such as Love Balls (where you try to draw lines to bring two balls in love), or Hooked Inc. Fisher Tycoon (where you catch fish), but none of them, in my opinion, reaches the qualities of the logic game Happy Glass. And it's not so much a nice, though really very minimalist, graphic design, but rather a level of logical puzzles. This level constantly conditions you to be creative and plays with your thoughts and ability to solve tricky problems.
Therefore, I dare say that Happy Glass is an absolutely perfect representative of games that are beneficial to us. So if you are looking for an interesting game for your teenagers, you have just found it. Generally speaking, Happy Glass is suitable for all people who have enough emotion to be able to draw at least a little accurate lines.
Conclusion
Happy Glass combines game elements of such titles as Sugar, Sugar or Brain it on! and it's incredibly smart and fun. For this reason, it is a perfect game for teenagers, as well as for all other people who want to train their brains while playing games.
Also Check:
12 Best Online Multiplayer Board Games to Play
Homicide Squad: New York, become a detective