Best File Manager App for Android and IOS in 2021
Not many people realize that a file manager is an important application that must be on an Android smartphone or tablet. This application will make it easier for you to browse through files, find files that you have just downloaded, manage the storage space of the handset, move data from one folder to another folder, etc.
Unfortunately, not everyone realizes how important this file manager application is. They tend to choose to download games or other favorite apps. The file manager application is very important to manage all your data, including games and favorite applications that have been downloaded. Currently there are hundreds of file manager applications available in the market. You might have a hard time choosing one of them. Therefore, Droidcops will share a list of the best Android file manager applications specifically for you.
Best File Manager Apps For Android in 2021
For Android users, here is a list of the best applications that can be used with quite complete features. Starting from Files by Google to Total Commander.
1. Files by Google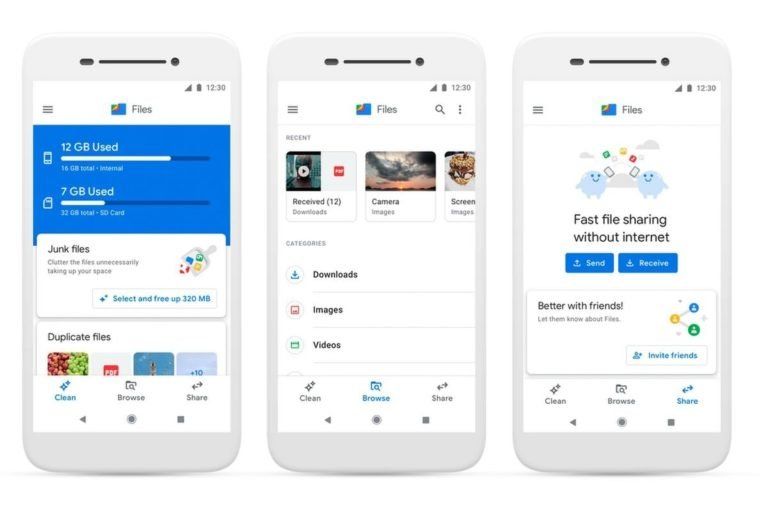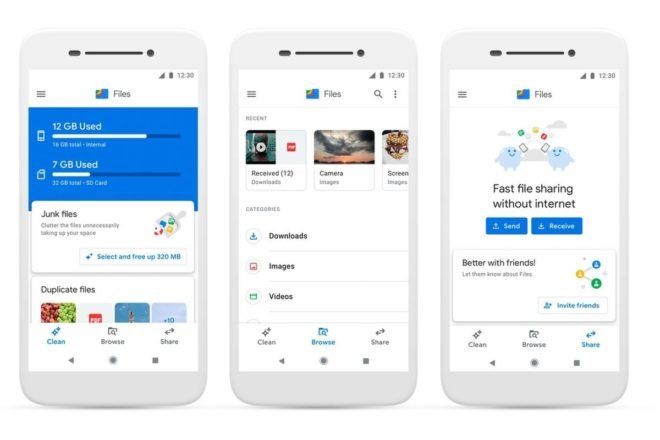 The first application that is quite popular is Files by Google. The design is similar to Google's material with multipurpose features.
This application created by Google will also help you manage all data on your cellphone. In the app, Files by Google has several advantages, such as deleting, moving, and data backup, to delete the cache junk on smartphones. Interestingly, Files by Google can also be used to share files offline.
Not quite up there, Files by Google also spoil users by providing free space up to store data if the memory on your mobile is full. And most importantly, you don't need to worry that the Files by Google application will take up space on your cellphone because Files by Google will only take up 9.6MB of space.
It's completely free to use and you won't be bothered by any ads or privacy concerns either. That's why File by Google is perfect for your Android device.
2. Amaze File Manager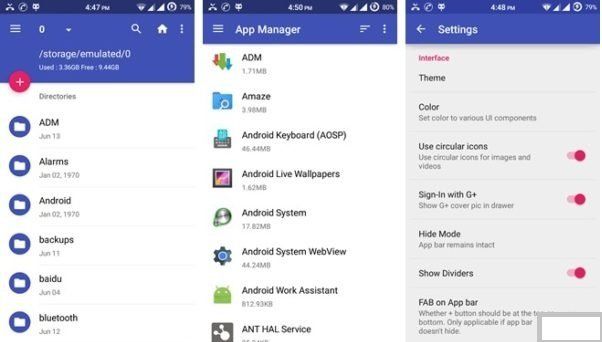 Amaze File Manager is the latest application to manage files on your Android device. Although still relatively new, the best Android file manager application is lightweight and capable of browsing data on your device.
Amaze File Manager offers features such as Material Design, SMB File Sharing, uninstall applications, root explorer, and many more. Amaze File Manager is a free application available on the Play Store. This is a lightweight application because it only measures 3.85MB.
3. File Manager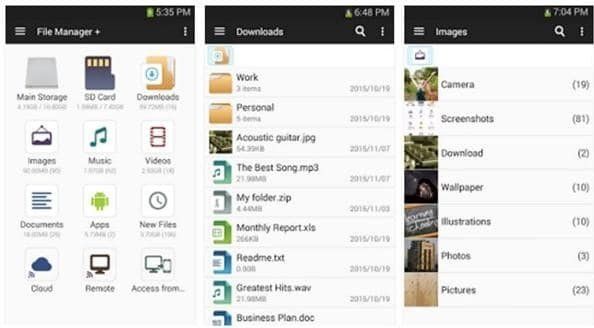 Mobile Clean System Lab has designed a file manager app for android that will help manage folders and files easily. With a user-friendly interface design, the app categorizes files in a very neat way.
This file manager also allows users to share files, back up or uninstall applications directly from here. Moreover, this file manager supports about 19 languages. If you are a person who prefers local languages, then this will be a useful app.
You can compress and decompress files and change the file display mode as list or grid.
The most impressive feature is the app sharing feature built into your phone. You can also hide apps in with the help of File Manager.
This one application can also be your best solution for controlling all the files that you have on mobile storage. This free application offers convenience for users in managing all files and data on the cell phone. Download the app here.
4. ES File Explorer Best File Manager Apps 2021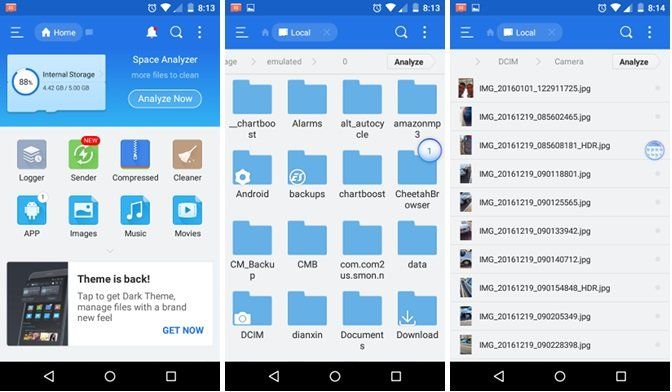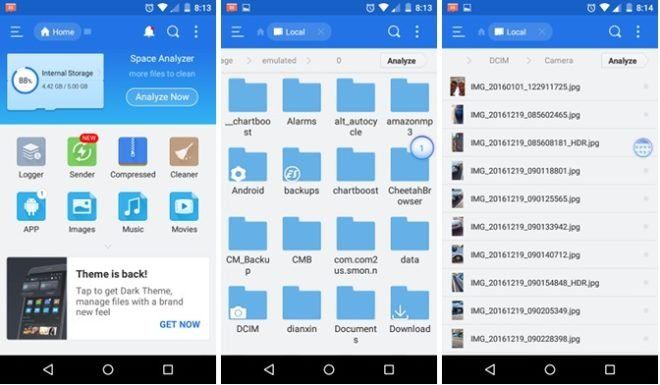 One of the best Android file manager apps that are the most recommended is ES File Explorer. Why? Because this application can browse well to find your data that has been stacked with other data in the handset that is being used.
ES File Explorer is a file manager application that is widely used because it can do good browsing to find stacked data.
It also has advantages ranging from a simple interface design, root access, remote file manager and cloud storage support.
In addition, ES File Manager also supports FPT, WebDav and other useful additional features.
The app is free to use, but it does offer a premium version that can be purchased through the Google Play Store.
ES File Explorer has advantages such as a very simple interface, root access, cloud storage support, remote file manager, FTP, and WebDAV support, as well as several other additional features. This application can be downloaded for free, but ES File Explorer is also available in a premium version which must be purchased through the Google Play Store.
5. File Manager by ASUS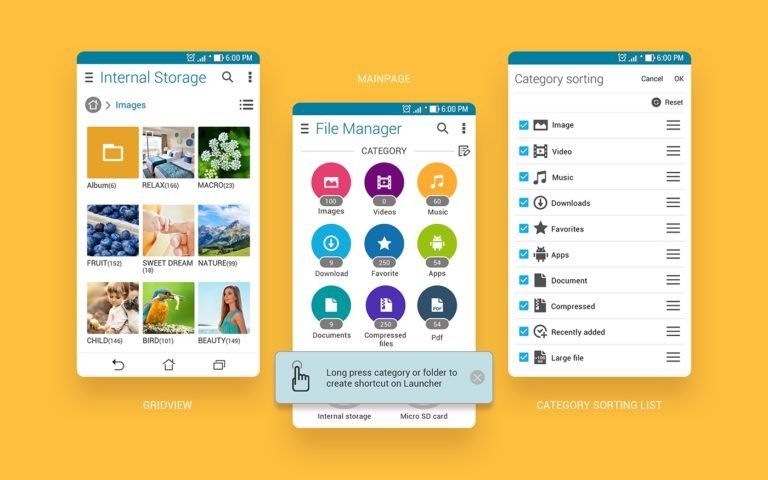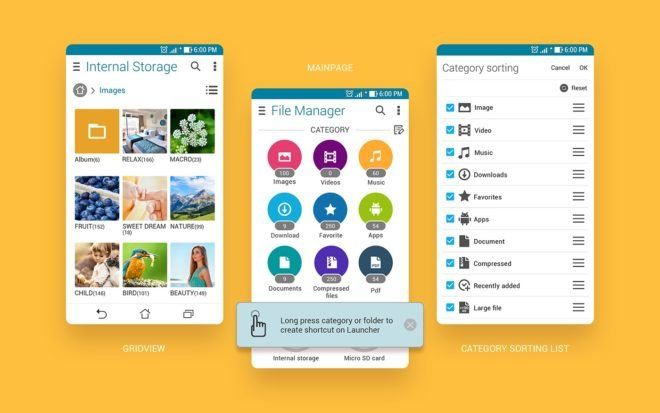 Maybe you think that File Manager by ASUS is only for ASUS devices. Yes, all ASUS devices are indeed equipped with this application. However, this application is also compatible with all devices, even non-ASUS Android devices.
This application supports a simple interface that can connect to LAN and SMB, support for cloud storage, support for various types of files, archiving, and much more. Overall, this application is quite satisfying and can be downloaded for free. However, File Manager by ASUS does not provide access to root.
6. Root Explorer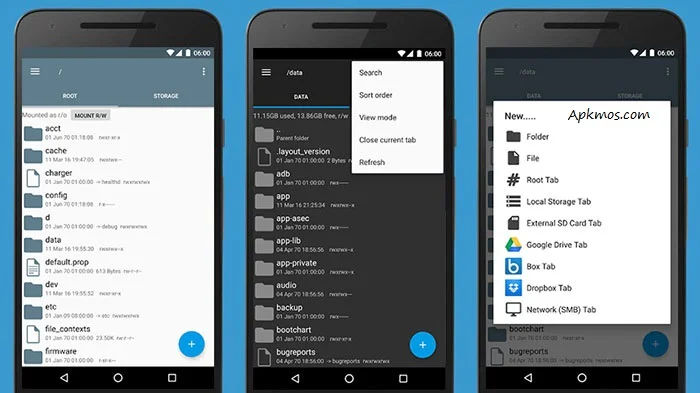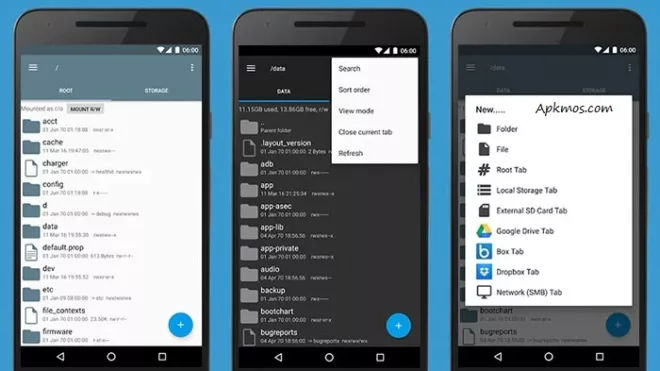 Root Explorer is a file explorer specially designed for rooted devices. It removes many of the features of traditional file managers in exchange for a lightweight and root-friendly experience.
It can eliminate default applications that may be weighing on your phone. This app comes with some root specific features like SQLite database viewer, text editor (for build.prop files), tar support, permission changes, APK binary XML viewer, and more.
Some people have rooted it to get rid of unnecessary built-in applications so that the capacity in the storage space is greater. Well, Root Explorer is an application designed specifically for Android devices that have been rooted.
This application can delete default applications that do not want to be installed on your device. The latest update from Root Explorer is also equipped with support from cloud storage and SMB. This is a suitable application for Android smartphones and tablets that have been rooted. Root Explorer can be purchased at the Google Play Store for $3.99.
7. Solid Explorer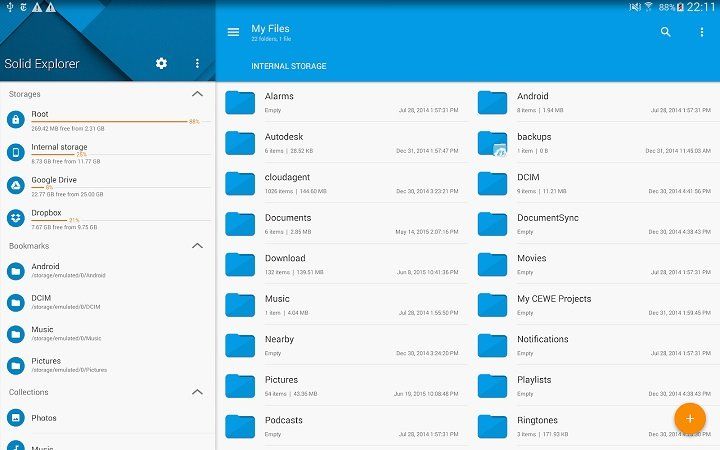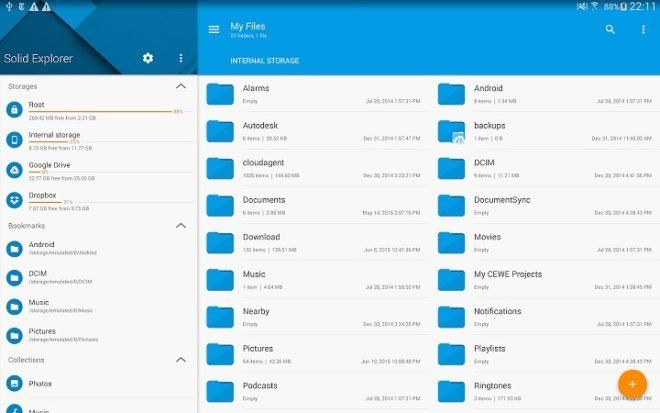 Furthermore, there is the best Android application for managing files that are already quite well known, namely Solid Explorer. This application that has brought Material Design provides support for cloud storage, root, FTP, SFTP, WebDAV, SMB, and CIFS. Do not stop there, and Solid Explorer also offers support for Chromecast, archive, and compression, and available theme options.
Besides, the reason why people prefer Solid Explorer over other applications is the ease of browsing data on your device by using this application. Solid Explorer can be downloaded for free through the Google Play Store.
8. Tetra Filer Free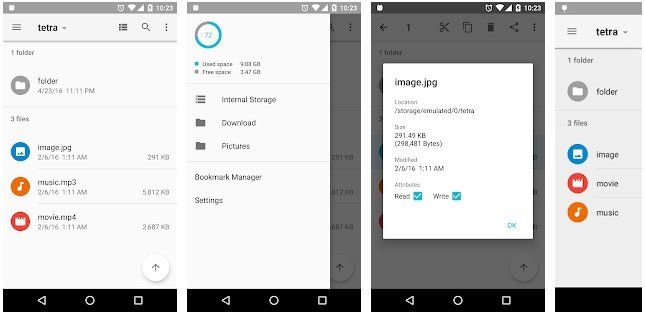 Tetra Filer is a rising app focused on providing a fast and lightweight browsing experience.
It doesn't have a lot of features, but it does provide basic features like compression, file management, and more.
You can bookmark sections of the SD card for faster access (example: downloads folder) and choose from several different viewing options.
The paid version also has themes, the ability to show hidden files, and removes restrictions on bookmarks.
This one file manager focuses on fast browsing capabilities and relatively light application size. Although it doesn't offer many features, the Tetra Filer Free application provides some basic features that are considered important, such as compression, file management, and much more.
9. Total Commander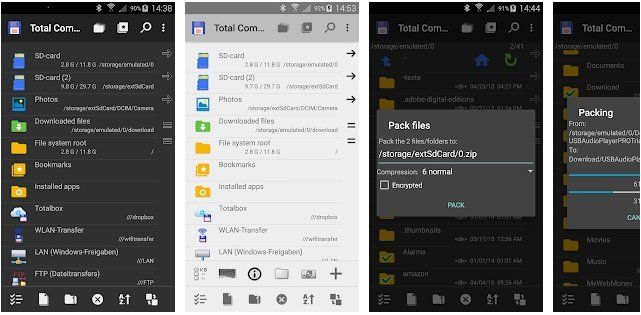 This application is relatively robust and has many enthusiasts. Total Commander provides features that you need, such as network storage support, cloud storage support, plugin support, bookmarks, and other tools such as text editors.
Therefore, Total Commander is one of the favorite applications in the Google Play Store. Total Commander includes apps that are available on the Google Play Store and can be downloaded for free.
10. X-Plore File Manager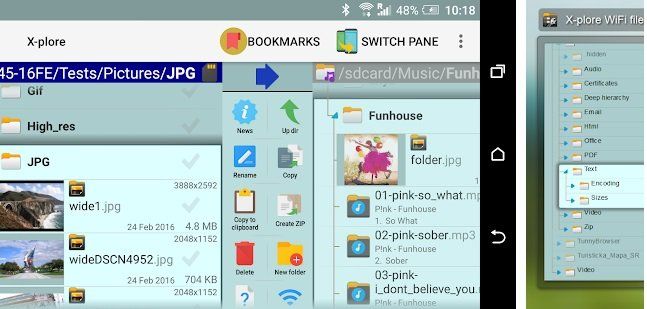 With X-Plore File Manager, you can manage two windows at the same time on one screen. So, what are the benefits of this feature? Of course, this is very easy for you to copy and move files faster.
Not only that, but this application is also one of the best because it provides many features needed by its users, such as support for various file types, cloud storage, network storage (FTP, SMB, DLNA, / UPnP), built-in text editor, support for rooted devices, and more. Another advantage offered by X-Plore File Manager is that this application can be downloaded for free!
In addition to the 10 file manager applications that have been mentioned, Droidcops will recommend other applications that are no less good for managing files on your cellphone. Intrigued by the application we recommend? Next read the full review below:
Also Check: Recover Deleted Files On Android in 2020 Easily
11. File Manager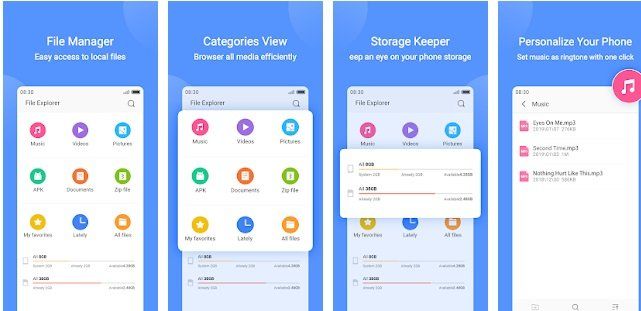 This application has advantages where users can take advantage of the Wifi mode feature. This feature allows you to share files quickly, relying on the hotspot that you created on the cellphone. Besides, this application made by Best App is not only for managing data, you can also use this application to analyze data and clear junk cache. Interested? Download here.
12. APUS File Manager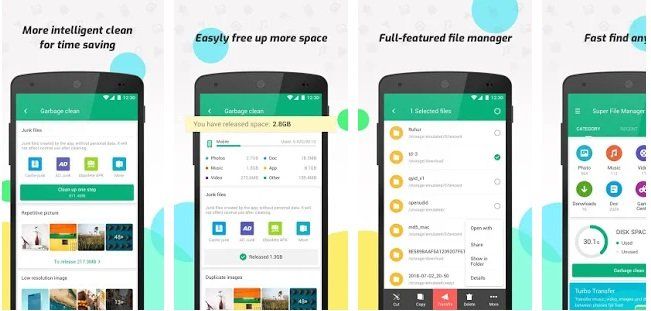 A useful application for managing files on your cellphone is APUS File Manager. This application is also not less complete with other application features. Of course, features such as cut, copy, paste, move, delete, rename, check details, share files, and others present in this free application.
Not only that, but even APUS File Manager also has features to delete junk files and analyze your storage. Also, APUS guarantees speed for making file transfers without delay. How pretty good, right?
13. Android TV File Manager Pro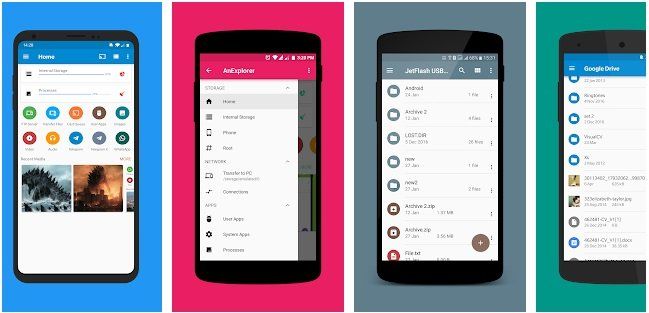 The advantage of this Android TV File Manager Pro is that you can use this application not only on tablets or cellphones. Because every device that uses the Android system, you can use this Android TV File Manager Pro, including Android TV.
Amazingly, this application also supports if used on Chromebook, you know. How about the features? Of course, complete, you can manage every file on your Android device. Even rooted phones can use this paid application. It's good, is not it? If you are interested, you only need to pay Rp 9,000 to enjoy all its features.
15. File Manager – TISNTI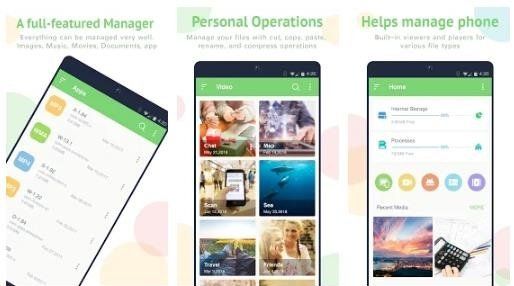 Not to be outdone by other developers, TISNTI has also become one who develops useful applications for file managers. It is a File Manager, where you can easily manage all files on the HP. As for some supporting features such as cut, copy, paste, delete, compress, decompress, search, and many more that you can use in this application.
16. Infinite File Manager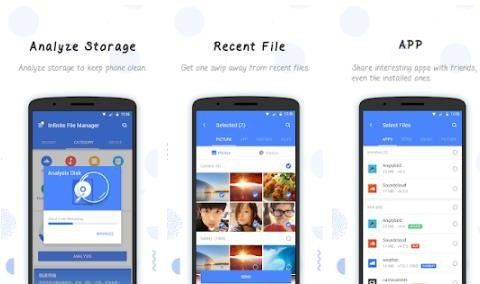 Infinite File Manager can be one of the best applications for managing all your files on mobile. With this application, users can easily copy, cut, paste, rename, and also see the details of each file on the phone.
In addition, Infinite File Manager can also work well for files in the SD Card. There are other advantages where this application guarantees fast file transfer alias; you can send and move files quickly without being slow. Want to try?
It's important to install the best Android file manager application on your device. These apps help you manage files and keep a check on the storage space of your smartphone. Now, which application do you want to install on the device now?
17. FX File Manager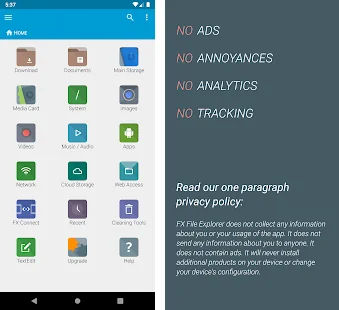 Built with an intuitive material design UI, this file manager offers various functions for managing files and media.
FX File Manager also supports split-screen browsing and provides a unique homescreen that includes typical file manager features.
The interesting features of the application are media player, image viewer, text editor, Shell Script Executor, and archiver extractor.
You can transfer files between devices. This app is also ad-free and will not track your activity.
Best File Manager 2021 for iOS
For iOS users, a file manager is needed to organize and manage multiple files easily. Well, the applications below you can choose to use.
1. Best File Manager Apps 2021 – Documents by Readdle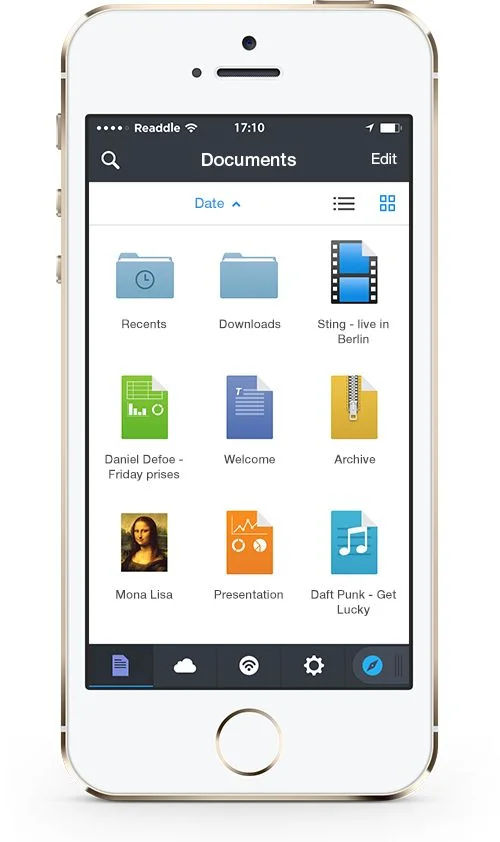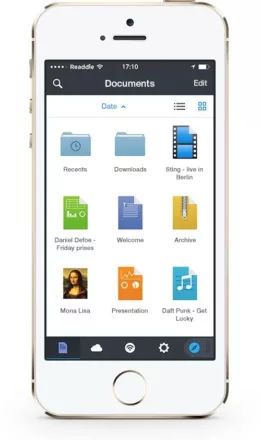 Readdle designed this file manager app specifically for iOS users. You can also manage everything on your iPhone easily.
This application offers a variety of features that are effective and useful. These various features will make it easier to manage complex files on your device.
This document app also allows users to manage all iPhone functions from the app's music library, photos, iCloud files, and more.
The best part is that this app supports zip files, so you can easily install zip files and extract them on your device.
You can also view images, listen to audio files and even read PDF files with this application.
Documents by Readdle can be connected to many cloud services, including One Drive, Dropbox, and Google Drive.
2. File Manager & Browser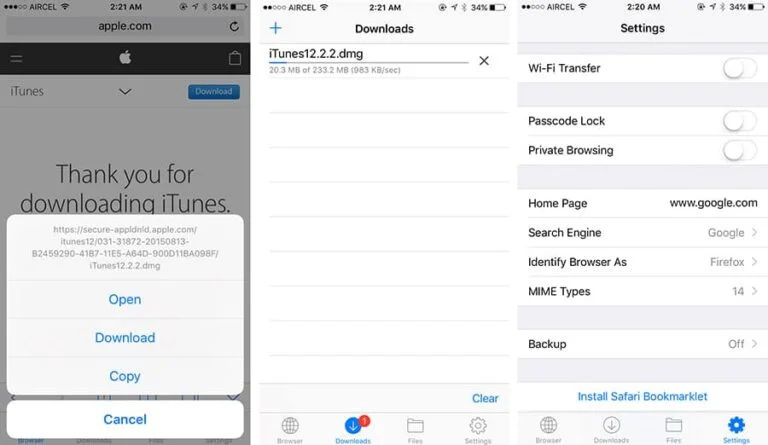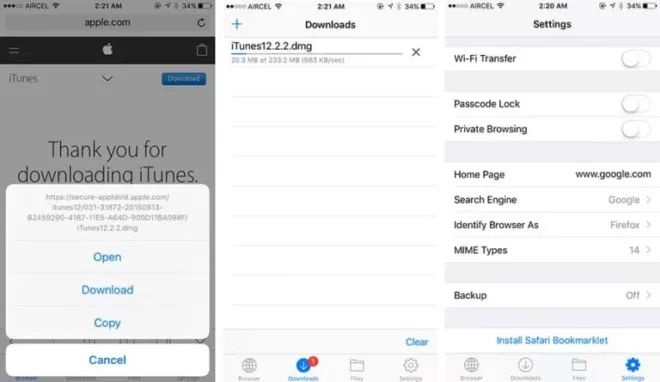 Another best file manager app for iPhone and iPad is File Manager & Browser. It has an attractive user interface design that will manage files automatically according to data types.
It will show recently used files at the top of the page. In this application, you can make audio recordings, create images and new text files.
You can also view images, read PDFs, and play Media files within the app. The file manager & browser feature allows users to transfer files from the device they are using to a PC or Mac.
To transfer files, the app offers various options, which include file transfer via FTP and HTTP.
In the app settings, you will see a password protection option. That way, you can add a passcode in the app to unlock files.
3. File Hub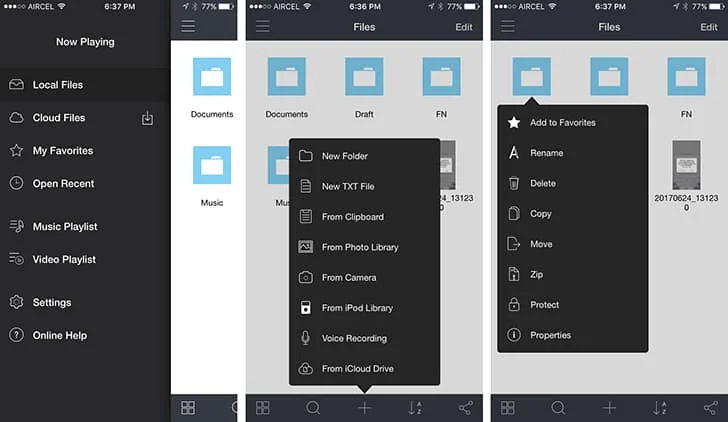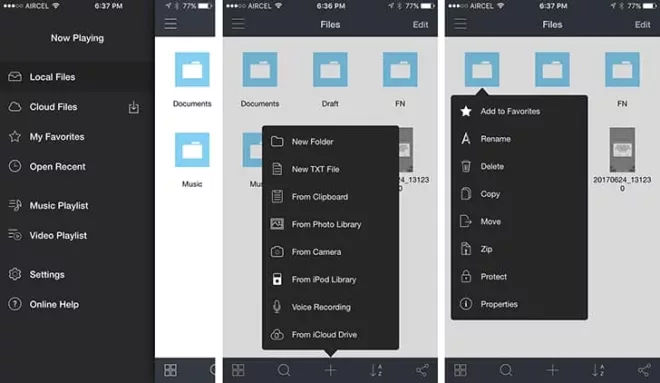 Next up is File Hub, a great app for managing files on iPad and iPhone. You can organize files by creating folders, creating new files from the clipboard, and even creating empty files.
Along with this, you can import files from iCloud Drive directly. A distinctive feature of this app is the sorting option, allowing users to sort files by time, name, and more.
Like any other file manager app, it will also help you transfer and share files to Mac or PC from iPhone via Bluetooth or wifi transfer.
The app is free, but if you want more features, you can upgrade to the pro version, priced at 4.99 dollars.
4. Best File Manager Apps 2021 – File Master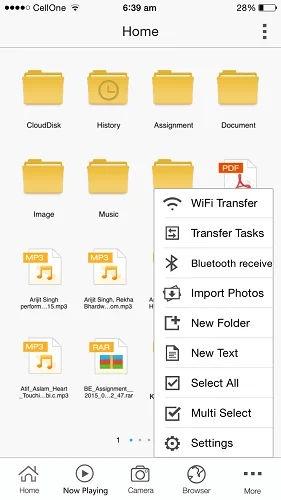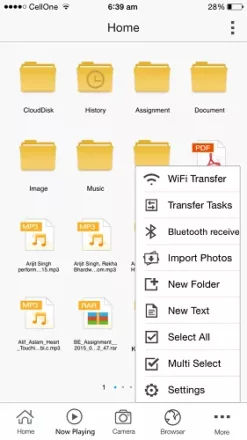 File Master is a file manager application that allows users to have full control over their files. You can also easily access files from their respective folders.
If you forget the password you created, there are options to reset your password, import photos, and multi-choice.
You can not only transfer tasks but also transfer files to Mac or PC from iPad/iPhone. If you want a few more features, there are options to show video subtitles and hide or show files.
5. MyMedia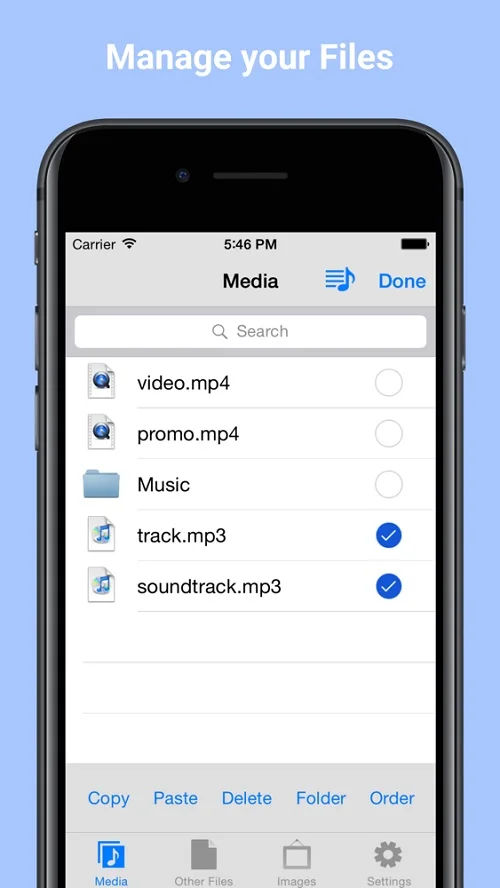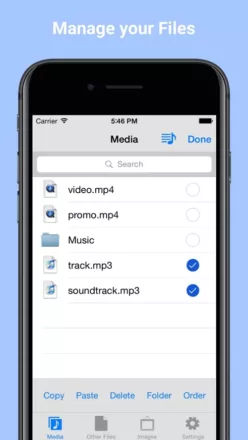 Another best file manager app for iOS devices is MyMedia. This application is made with a beautiful UI design and is very useful for business people and consumers.
With this multitasking application, you can read and annotate PDF files. You can also sync files and folders with services like iCloud and Dropbox.
You can save opened tech files and read them later with just one tap. When you tap on the browser options, you can easily save the web pages you like and read them anytime. Another feature is to set a password to protect files.
Closing
That's the list of the best 2021 file manager applications that will help you manage files so storage capacity doesn't fill up quickly.
Moving, copying, deleting, organizing, and managing multiple files at once is made easier.
Also Check: 5 Different Types of SSD Storage you must know