Best Free Fire Weapon Skins 2021
Weapon skins in Free Fire are an important part of the game. They not only increase the aesthetic appeal of the weapon used, but they also increase its stats, such as damage rate, reload speed, and so on.
There are many free fire weapon skins available in this game developed by 111 Dots Studio. However, not everything can be obtained for free.
The best weapon skins with good stats are not free to get in-game. This article will discuss some of them.
1. Best Free Fire Weapon Skin – Blue Flame Draco (AK)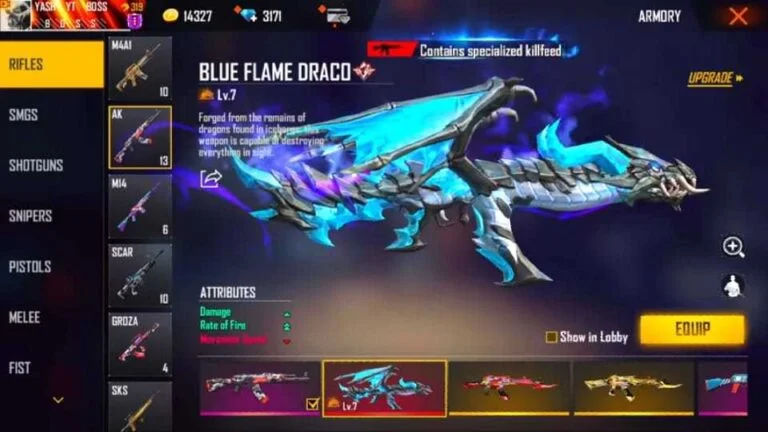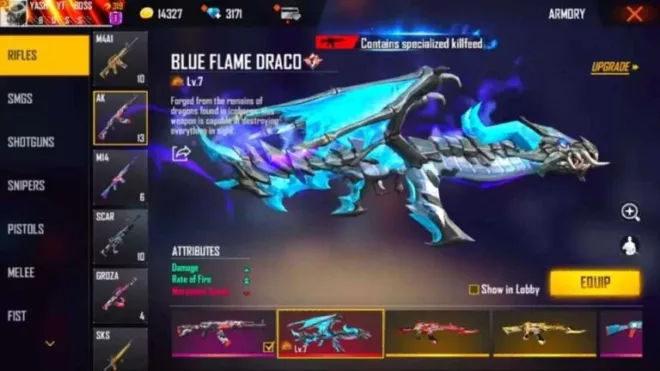 Blue Flame Draco is probably the best skin for AK in Free Fire. It is an Evo Gun skin that players can upgrade up to seven levels.
At each level, players will unlock new perks and appearances for their skins. It has a bonus effect that deals damage to Gloo Wall.
When upgraded to the max level, this skin will turn into a dragon. It increases AK's damage and rate of fire but reduces movement speed significantly.
To get it, you need to spend around 10000 more diamonds or around $168.73. Only the sultans can buy this.
2. Megalodon Alpha (Scar)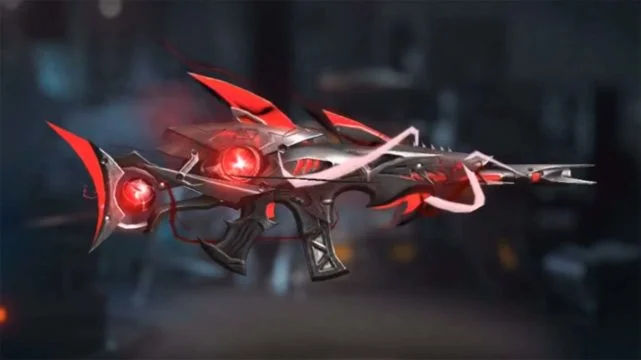 Megalodon Alpha Scar is an upgradeable Evo weapon skin that players can exchange from the incubator via blueprints.
It is a rare weapon skin and is famous for its animation effects. Its design resembles the Megalodon Shark and also has impressive stats.
The skin will also increase the percentage of damage and double the rate of fire. However, Megalodon reduces weapon reload speed.
If the player buys a Token that is used to level up the Evo Gun Scar Megalodon Alpha, the total Diamond that must be issued is 14,500 Diamonds, or the equivalent of $175.76
3. Best Free Fire Weapon Skin – Ultimate Titan (Scar)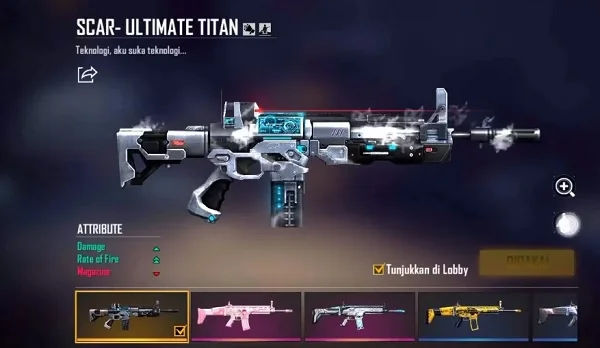 The Ultimate Titan (Scar) is one of the skins from the "Scifi Scar Series" incubator event. It is also a legendary item that is rarely found among players.
The skin will increase scar damage and double the rate of fore. However, Ultimate Titan reduces its magazine capacity.
Even so, the reduction in the magazine is not too pronounced thanks to the increase in Damage and Rate of Fire which is quite terrible.
One of the reasons this Gun Skin is in demand is that this item is very rare even now. Even though Garena has issued Lucky Royale Scar Titan twice, this skin is still quite rare. Players also consider whoever owns it a sultan.
4. VSS Vandal Revolt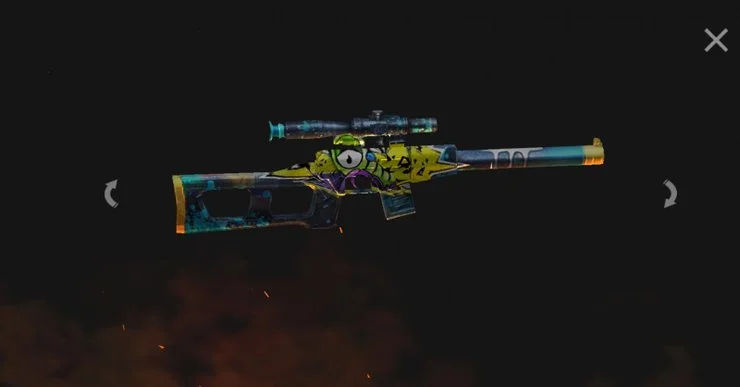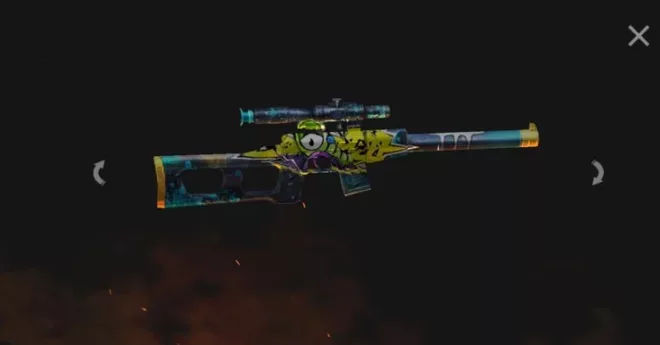 Of all the VSS Free Fire weapon skins, VSS Vandal looks pretty good. In terms of strength, it can double the rate of fire and is more effective and flexible in close combat compared to the original base weapon.
Shots can be shot quickly. The only drawback of this skin is that it reduces the magazine.
Carrying the Steffi character theme, this skin has an artistic abstract color. Using VSS Vandal Revolt will allow players to compete with other SMGs.
5. Duke Swallowtail (AWM)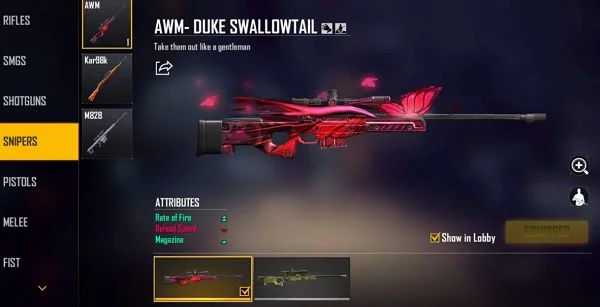 The Duke Swallowtail AWM skin is one of the most visually appealing weapon skins in Free Fire. The Sniper Rifle is decorated with a butterfly flapping its wings.
Its base color is red, with a pink aura swirling around it. The skin will increase the AWM rate of fire and increase the magazine capacity. The drawback, Duke can slow down the reload speed.
Also Read: 100+ PPSSPP Games Download Links For Android
6. Best Free Fire Weapon Skin – Apocalyptic Red (M1014)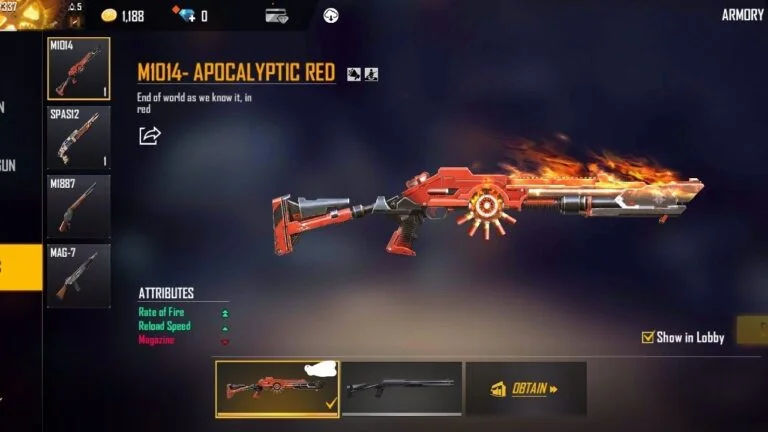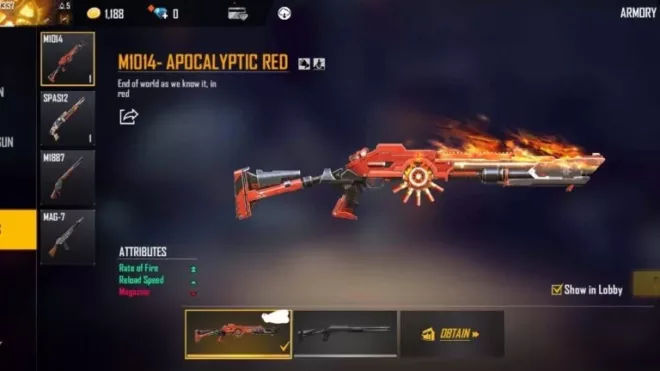 Garena first launched the Apocalyptic Red M1014 skin at the "Rampage Apocalypse" Incubator event.
Apocalyptic Red is one of the rare skins for M1014 ever released. This is evidenced by the increase in his stats which brings two additional points to the rate of fire.
For this type of Shot Gun weapon, this addition is very beneficial. Moreover, coupled with an increase in Reload Speed, ​​that can cover the magazine capacity and reduce ammunition.
7. VSS Pink Love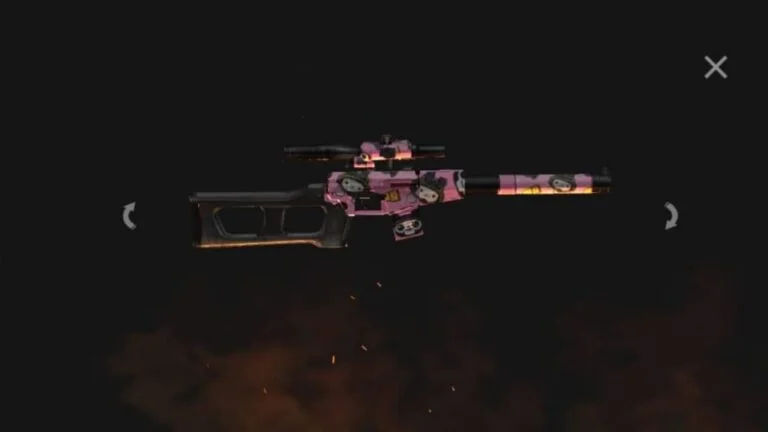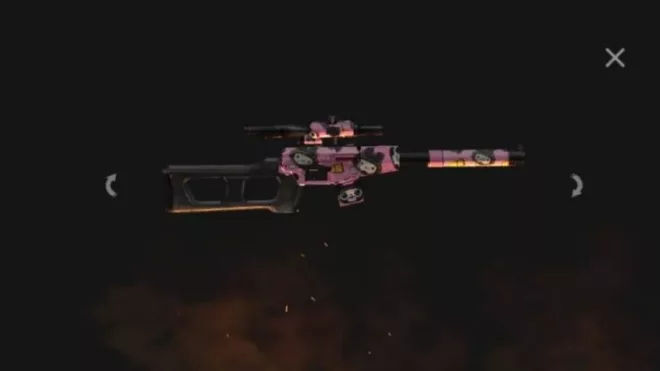 In general, the damage ability and buff effect of this skin is identical to Vandal Revolt. Although it may look less attractive, the reload time becomes shorter when this skin is applied.
Meanwhile, VSS Pink Love will also slow down the reload speed a little but not so much.
8. Red Griffin (M4A1)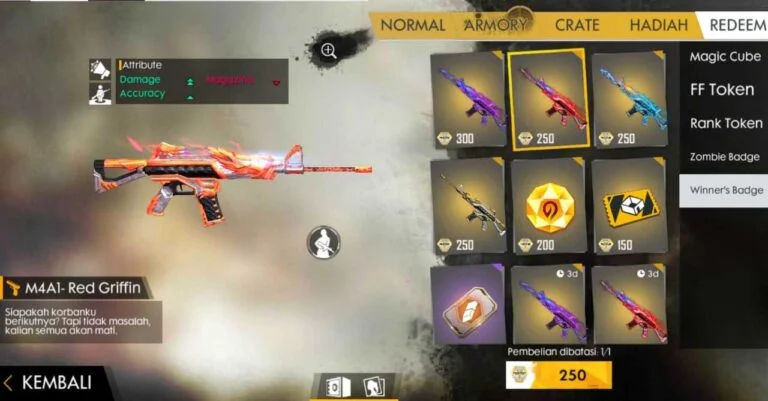 Red Griffin presents a cool skin display and also very large damage and accuracy for M4A1 weapons.
This skin is also one of the sickest and most sought after by players. But unfortunately, it can only be obtained from the Winner Badge, which is quite difficult to obtain.
This skin has been present at the integrated drawing event on the in-game event web page. The Red Griffin is awarded as the main prize and is permanent.
9. Best Free Fire Weapon Skin – Flaming Dragon / Draco (AK47)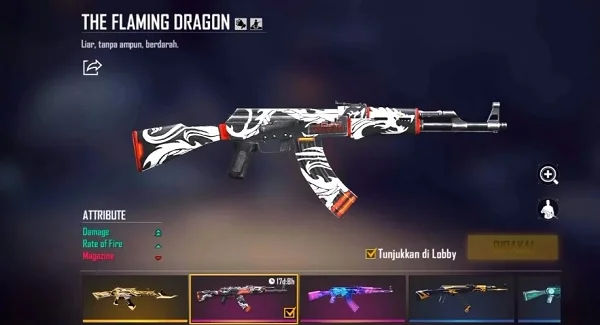 This skin is in great demand by Free Fire players because the damage it produces is so great. Players will get additional damage that will make the weapon very strong.
Flaming Dragon also provides additional shooting speed that will make the enemy fall quickly.
The high damage can still be increased by players. In addition, this skin design is also cool and worthy for you to use.
10. Hand Of Hope (FF M1887)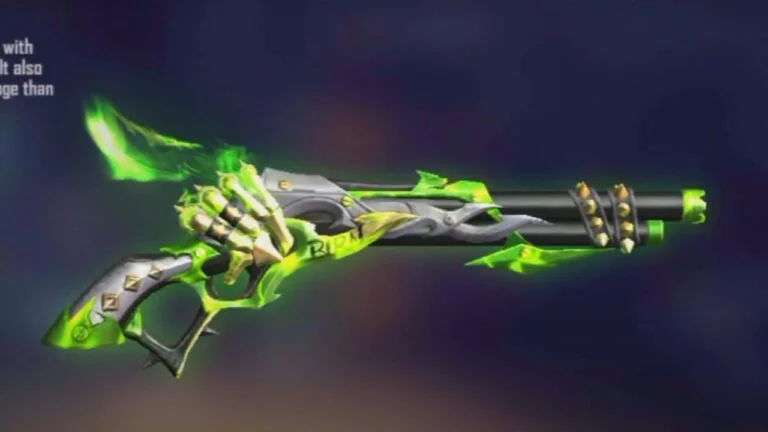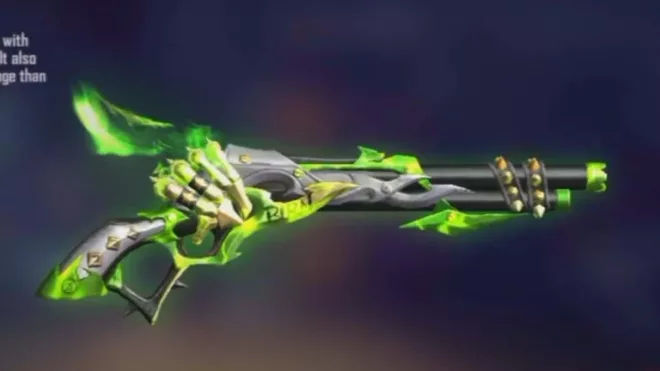 Hand of Hope is one of the most sought-after weapon skins by rushers, thanks to its enormous damage.
The additional stats given to this skin are damage + and Reload Speed ​​++, which are quite impressive. However, it reduces Movement Speed.
In terms of appearance, this skin has a combination of green, black, and silver colors that are quite harmonious. The shape is cool with the front; there are thorns.
While on the back, there are finger bones to grip weapons. This skin also has a fire effect and a green aura.
Also Read: 25 Best Android Games Under 10 MB in 2020
11. Evolution Cobra (MP40)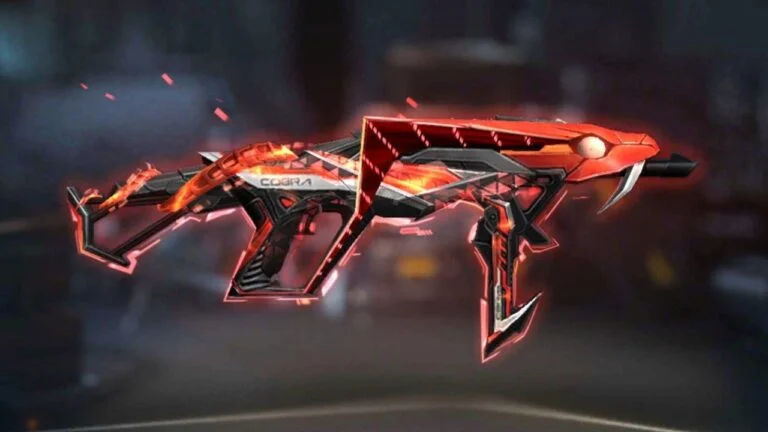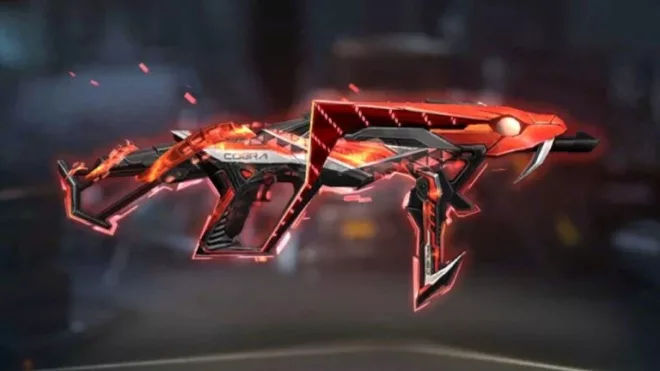 This MP40 Gun Skin comes with a black and red domination display with a futuristic feel. At level 1, it looks like a robot with a side that says "Cobra."
While at level three, the skin changes its appearance to resemble the shape of a snake's head. At the maximum level, the skin is even more complete with the shape of a snake from head to tail.
Evolution Cobra will provide additional damage ++ and rate of fire +, which is quite strong. But in the reload speed section, it will experience a reduction which will make players take a little longer when reloading ammunition.
12. Unicorn's Rage – Golden Era (AK)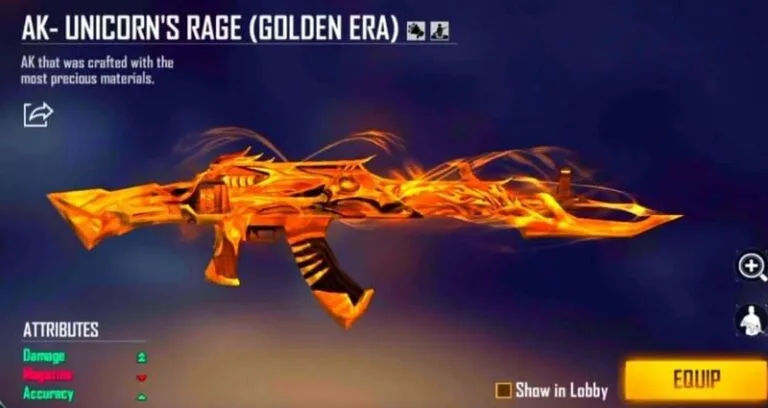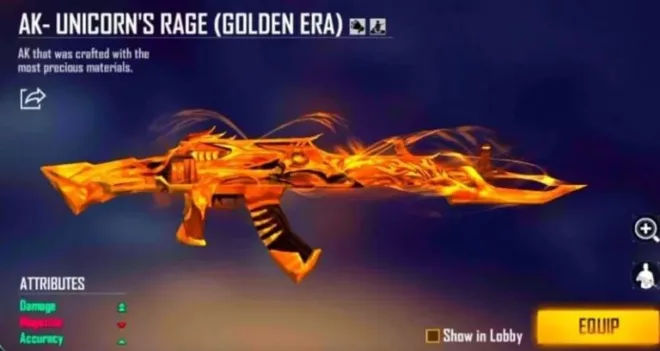 AK is one of the most effective weapons in Free Fire in terms of damage statistics. Damage and accuracy will be doubled when players use the Unicorn's Rage skin.
The only drawback of the skin is that it reduces the magazine size of the weapon, but you can work around that.
To make this weapon work optimally, you can use the Jota character. That's because Jota has the special ability of a Rush.
Later, he will activate his ability if he succeeds in overthrowing the enemy with an SMG or Shotgun.
13. Best Free Fire Weapon Skin – Crazy Bunny (MP40)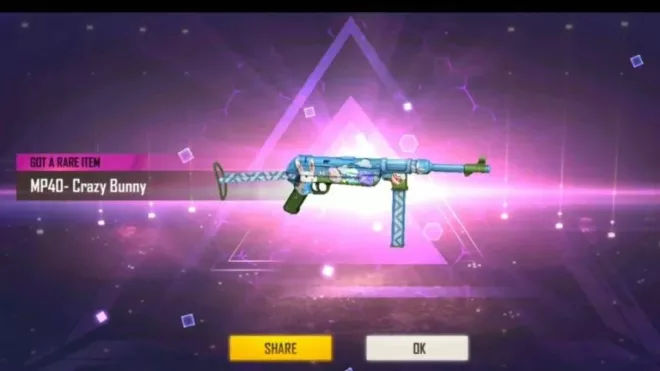 Crazy Bunny MP40 is one of the most popular MP40 weapon skins on Free Fire. It was introduced to the game as part of the Easter Event in early 2020.
Weapon skins are one of the most in-demand because they add damage and rate of fire. It is the perfect choice for players to hunt down their enemies from a medium range.
The MP40 generally has an impressive fire rate and deals decent damage. With its increased range and adequate damage, it can easily replace weapons like MP5, UMP, and P90.
In addition, Crazy Bunny can easily assist players in securing headshots over longer distances.
The only drawback is the reduction in the magazine, which is quite important for short-range combat.
14. Dragon Mob – Gun Skin Thompson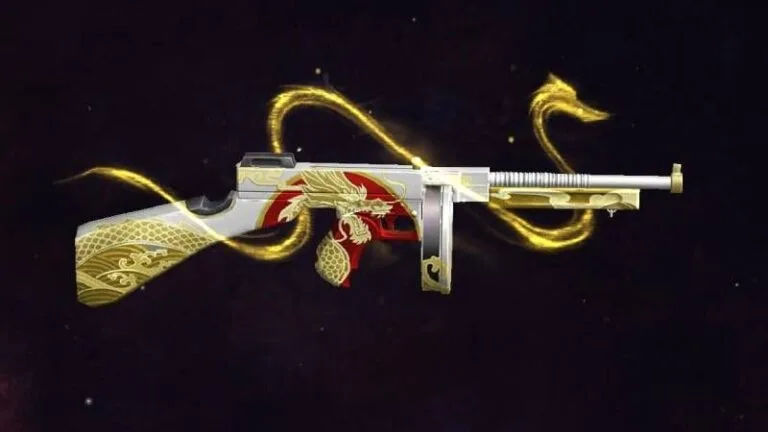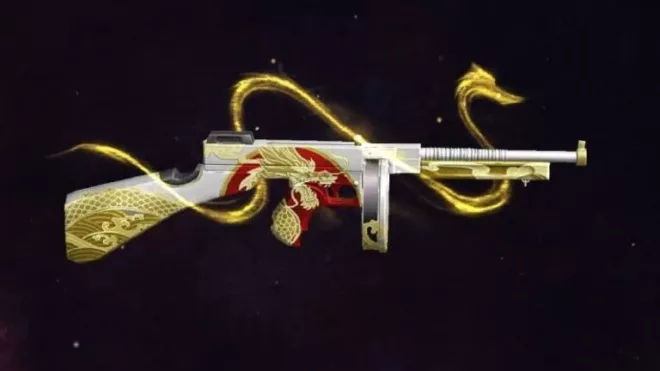 In terms of design, this skin has a very majestic and luxurious appea
rance. In addition, this Thompson Gun Skin also provides additional amazing stats.
Players will get additional magazine ++ and rate of fire+. Meanwhile, the reload speed of the weapon is reduced.
Even so, with these stats, players will get a large weapon buff even though the reload speed decreases.
The weapon magazine will increase quite a lot, and the rate of fire can overthrow the opponent quickly.
15. Best Free Fire Weapon Skin – Lucky Koi (AWM)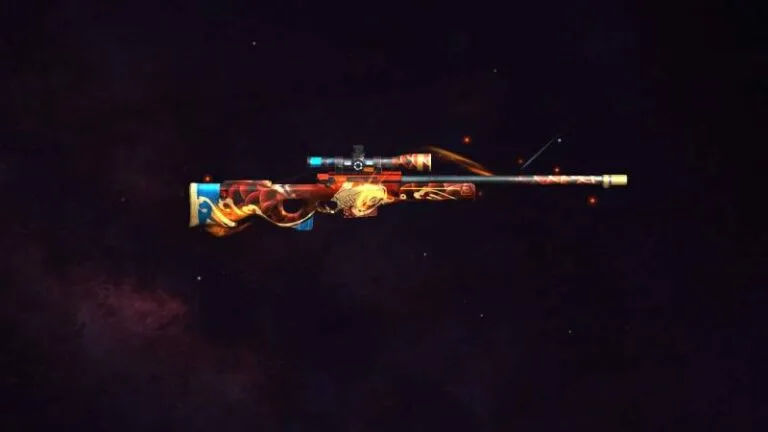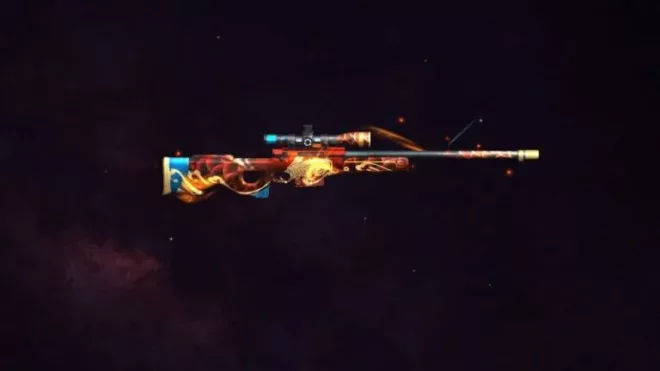 Present as a Gun Skin, Lucky Koi – AWM brings charming stats changes and improvements.
The increase is in the form of rate of fire ++ and armor penetration +. Meanwhile, the reload speed is reduced, but it's not really a problem.
Comes by providing an increase in the rate of fire by twice will make this skin shoot faster.
Armor penetration support will also make weapons more reliable to play. When compared to other AWM gun skins, one of its competitors is the Duke Swallowtail which only differs in terms of Armor Penetration.
The armor penetration is replaced with a magazine. Even so, Lucky Koi excelled because his Armor Penetration was amazing.
Closing
Well, those are some of the best Free Fire weapon skins that will improve your performance. Indeed, most of them are rare skins that are hard to get.
Some also have exorbitant prices, such as Blue Flame Draco and Megalodon Alpha. For those looking for free skins, you can take part in in-game events that often offer free weapon skins and other prizes.