How to Create PST File Archive in Outlook 2016
The PST file acts as a backup copy of events, calendar, task list, meetings, and emails from your online server. For my part, I use the PST file as a local archive to increase the storage capacity and efficiency of my Exchange server. 
It is perfectly possible to remain in control of your mailbox! Do you use Microsoft Outlook to manage your mail folders, calendars and contacts? Then use the archive function (PST) to export your Outlook items, such as messages, tasks, notes and appointments to external archive folders. This will lighten your email program, and allow Outlook to run smoothly and stably.
What is an archived item in Outlook?
An "archived Outlook item" is understood to mean messages, drafts, tasks, notes, and appointments that have exceeded the time limit that you predefined or selected, and that the email software has moved to a PST file (short for Personal Store ).
How to Create an Outlook 2016 Data File (.PST) Archive File
To archive Outlook items, you have two options:
Automatic archiving in Outlook
Manual archiving of various Outlook items
The procedure is explained to you step by step, with many illustrations.
1. Automatic archiving in Outlook
Outlook can be configured so that manual archiving can be performed, but you can also use this email software's automatic archiving.
For some Outlook folders, automatic archiving is enabled by default. Outlook items older than the given period are automatically moved to a PST file. By default, Outlook saves the PST file in the following path:
C: \ Users \ YourUsername \ Documents \ Outlook Files \ archive.pst
The table below shows all of the folders that AutoArchiving in Outlook is typically enabled for, along with the various default time limits.
| Inbox and Drafts | 6 months |
| --- | --- |
| Outgoing mail | 3 months |
| Calendar | 6 months |
| Tasks | 6 months |
| Newspaper | 6 months |
| Sent elements | 2 months |
| Elements deleted | 2 months |
| Notes | 6 months |
If you do not want to use automatic archiving, do the following to deactivate this function:
Step 1: Start Outlook and click on the "File" menu.
TIP: If you use multiple systems them it is better to store the file in OneDrive Folder to keep it synced up with all your systems.
Step 2: In the menu bar on the left, click on "Options". The window with the various Outlook options opens on the screen.
Step 3: Then click on "Advanced options", then on the "Automatic archiving settings" button in the section called Automatic archiving.
Outlook then opens a dialogue window entitled "Automatic archiving".
Step 4: Uncheck the box "Automatically archive every … days" to turn off the auto-archive feature in Outlook.
If you want, you can change Outlook's default settings and tailor AutoArchive to your personal needs.
Decide for yourself, in this case, the interval between two archives.
You can determine this interval for each of the Outlook items.
Specify whether these items should then be archived or permanently deleted.
2. Archive Outlook folders manually.
There are two ways from which you can Archive Outlook folders to pst file manually. Follow the below-mentioned steps for creating a pst file to archive Outlook items.
1st Method to create archieve folder in Outlook 2016
1. Open the Outlook Application
Please open the Outlook application that you have. The outlook is one of Microsoft's products which is currently available on various platforms such as Windows and Mac OS.
2. Selecting the Export and Import Menu
Then, please click Menu File. Choose Open & Export. Then click Import/ Export. This Import and Export function is to upload or download email files.
3. Export File Archive
Well, because this time an outlook email will be backed up, it will be selected Export to a file. Then click Next.
Then select the file type you want to export. Select a file of type (.pst) or Outlook Data File. Then click Next.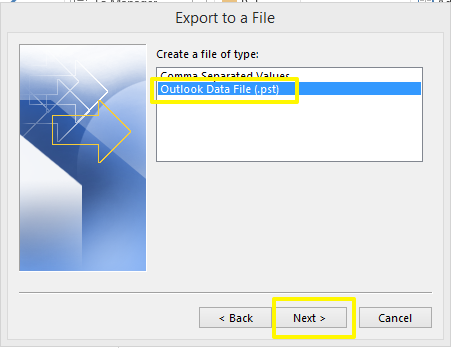 Note: If you use Microsoft in conjunction with Exchange Server, and your business or organization uses Exchange Online Archiving, the "Archive" feature may not appear in your Outlook desktop application. The same is true if the Administrator function has been disabled for your Exchange Server.
4. Choosing the Email, You Want to Back Up
Then, choose which folders you want to achieve in pst format. If you want the inbox folder only, please click Inbox. If you want all emails to be achieved in pst, please click the email address. Then click Next.
Select the location where the email files will be exported. To change the file location, please click Browse > then select the directory where you want to achieve the pst file. Or just leave the default as shown. Then click Finish.
Well, one of the advantages of Outlook is that you can provide a password to the email you want to archive in pst. By providing a password in the pst file, not just anyone can access your email. Please enter the password in the column Password and write your password again in the column Verify Password. Then click, OK. However, if you don't want to provide a password, just click OK. Make sure you don't forget the password of your achieve pst file.
5. Email files have been backed up
Wait a moment for the achieve process to complete. Voila! The pst file has finished exporting. Now try to open the folder according to the location you specified earlier. And the Outlook email pst file has been exported.
2nd Method to create archieve folder in Outlook 2016
Step1: Open Outlook 2016 and Click the Home tab → New Items → More Items → Outlook Data File.
Step2: Then choose a location where you want to save this file.
Name the file and click OK.
Step3: When you have clicked OK you will return to your Inbox, on the left you will see your newly created archive.
To archive mails, you can select mail and drag it to this archive.
TIP: Hold CTRL to select multiple emails or Shift + click to select an entire selection.
You can also create new folders in this archive as if it were a real mailbox.
You do this by right-clicking on the archive and choosing 'New folder.'
Note: that when a .pst files become large (more than 2GB), the more easily corrupt, and thus become unreadable. When there is a large PST file that is also synchronized within OneNote, for example, this can also make the synchronization slower. So create multiple .pst files, for example per year.
Lately, I came across several message boards where users were having trouble finding their PST file on their Windows computer. The default location for the Outlook data file is " C: / Users / (Your user name) / AppData / Local / Microsoft / Outlook " but, it may vary depending on the version of Outlook you are using. It also changes when the user has upgraded their Windows or Outlook operating system.
Conclusion
Depending on the version of your Outlook application, PST file, or Outlook data file is easy to find. However, any corruption in your PST file can be quickly repaired with the help of Scanpst.exe. Scanpst.exe is an inbuilt Outlook repair tool that can repair your PST file and fix minor corruption. However, it is advised by Microsoft officials to create a backup of your Outlook data file before trying to repair PST file using Scanpst.exe.