Facebook business page: 12 tips for more Success
Do you want to reach potential customers via social media? Then a Facebook business page is a must. With a strong Facebook business page you can significantly improve your reach, visibility and brand awareness and build a good relationship with your followers.
No idea how to get started with your own company page on Facebook? No worries. Below you will discover:
what a Facebook business page is
how to create a Facebook page
Here are 12 useful tips to grow your Facebook Business Page.
What is a Facebook business page?
A Facebook business page represents your company, brand or product on Facebook. Every Facebook user can like your page/company on Facebook and receive your updates in his or her news overview.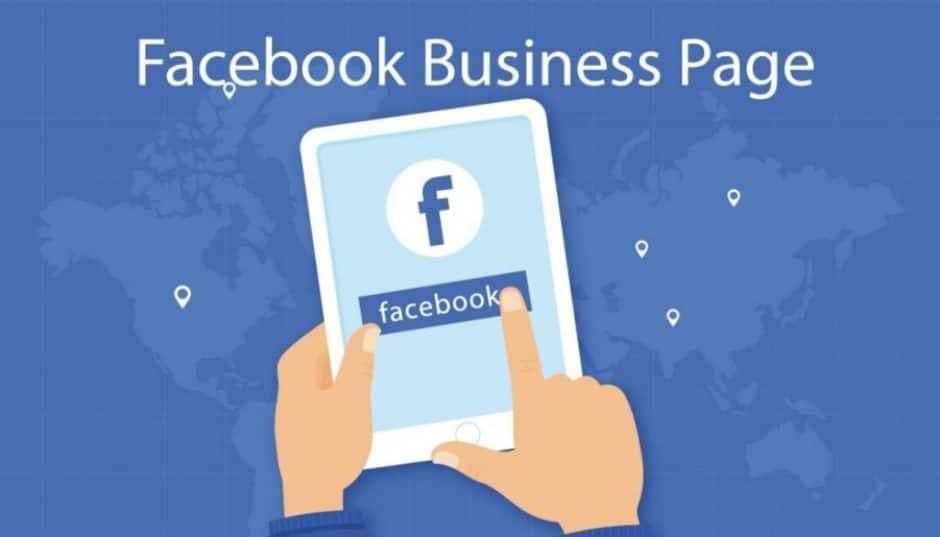 With a Facebook Business page you can:
make announcements (new product, service …)
post reports (events, did you know …)
Share promotions, specials, and updates
promote your company and create brand awareness
talking to customers (proactive and reactive)
provide customer service
build a loyal fan base
analyze the involvement of your fans and (potential) customers with page statistics
to organize events
add apps to increase interaction with your followers
Interesting tool for your company, right?
Note: There is a difference between Facebook profiles, pages, and groups. According to Facebook policy, only a page can officially represent your company. In addition, pages provide unique tools for businesses.
How to create a Facebook business page?
Don't have a Facebook Business Page for your company on Facebook yet? Through these steps you can easily create your own Facebook company page:
Go to https://www.facebook.com/pages/creation.
Choose a page category – for your company, choose "company or brand".
Choose a name for your page and a more specific category from the drop-down menu and fill in the required information.
Click "Get Started" and follow the onscreen instructions.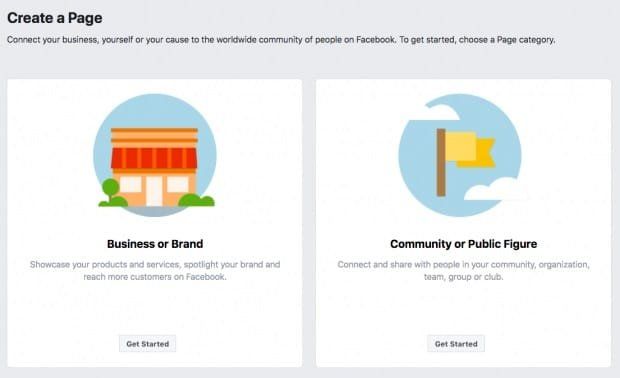 And There you go. As simple as that!
Note : Only official representatives are allowed to create a Facebook business page for a brand, company, organization or famous person.
Facebook for Business: 12 Tips and Best Practices
So. Now that you have a Facebook business page, you can use the tips below to expand them further. To work!
1. Create a username for your Facebook Business Page
Of course you have to enter the name of your company when you create a company page, but you can also give your page a " username ".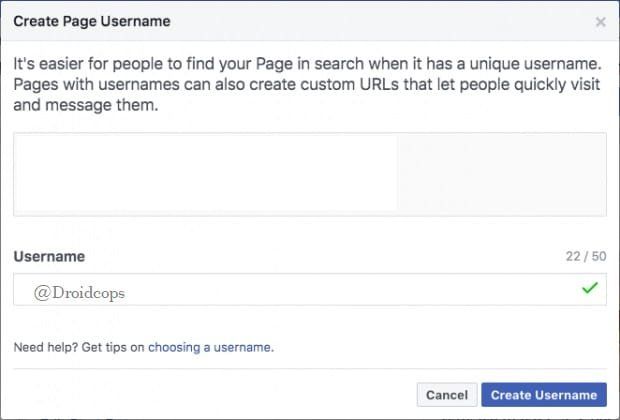 Such a username has 2 major advantages:
People can find your page faster and easier in Facebook 's search function.
User name pages can also create personalized URLs. This allows people to quickly find, share or contact your company. (The URL of your page consists of a series of random numbers by default: not useful!)
Note: You can only change the username of your company page if you are the administrator of that page.
2. Add a good profile and cover photo
Add a recognizable " profile photo " to your Facebook business page that matches the corporate identity of your company. Your company logo, for example. In any case, keep in mind that your profile picture is displayed very small – so a picture with many small details is not the best option.
Your profile picture will appear at the top of your company Facebook Business Page, next to all your updates and comments, and in the Facebook search results. So important!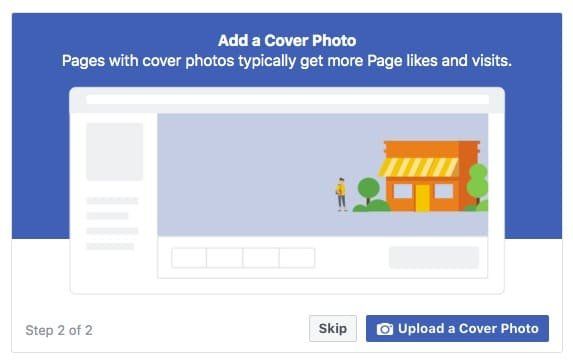 Also add a good " cover photo " to your page. Choose an original and inviting image that represents your company and page well, such as a picture of people using your product.
You can also use a video as a cover photo.
Note: Always take into account the dimensions that Facebook uses for profile photos and cover photos. This way you will not be faced with surprises! The profile picture is also shown as a circle – so make sure your logo fits nicely there.
Tip: Always give your profile and cover photo a relevant description. You can also include a link to your website in that description!
3. Optimize your Facebook Business Page data
The information section of your company page is – just like the 'About us' page of your website – one of the first places that people view when they visit your Facebook Business Page.
Fill in your " Page data " under the tab "info" as completely as possible! Make sure visitors know right away:
What you stand for
What you offer
How they can contact you!

Note: Do not forget to complete the "category" of your company, contact details, link to your website and opening hours! That information always appears in a box in the right bar.
4. Be "Very responsive to messages"
Facebook keeps track of how quickly you respond to private messages from visitors. Do you react very quickly and consistently? Then Facebook will reward you with a green badge: the badge "Very receptive to messages".
Such a badge looks nice and customer friendly. So try to get them! To get the badge, you must have page 7 consecutive days:
get a response rate of 90%.
get a response time of less than 15 minutes.
Go for it!
Tip: Also use express reactions. This gives visitors an automatic reply to their message immediately. Express responses do not count towards the green badge, but they are a great way to reassure your visitors and inform them when to expect an answer.
5. Add milestones to your Facebook Business Page
"Milestones" are special page messages that allow you to highlight important events and events. Awards, product launches, etc.
Milestones are given a prominent place in the news overview of visitors and are shown in a separate tab next to your Facebook Business Page information. Together they provide a nice overview of your company history and achievements.
What are you waiting for? Create your first milestone via the steps below! No worries, you can also add events that are already over!
Click on the 3 dots at the top of your page next to "share" and choose "Create Milestone".
Enter the requested information and add a photo if necessary.
Click on "save".
Be sure to add an appropriate Call-To-Action button on your company page. That is a simple button that encourages visitors to a certain action. Some options are
"Book now"
"Call now"
"To contact us"
"To send a message"
"Shopping"
"Register"
"To send an email"
"More information"
7. Personalize your tabs
When you create a Facebook business page, tabs are automatically added to your page: "Home", "Info", "Photos" and "Videos" for example.
Tabs are displayed on the left below your profile picture. Visitors can click them to view certain areas of your page, such as your page information, reviews and photos.
In addition to the standard tabs, you can also further personalize your page with numerous apps :
Restaurants can add a reservation system tab.
Companies can add a tab with vacancies, an overview of their services and an overview of their events.
Clothing stores can add their Instagram and Pinterest feed.
Web design and marketing agencies can add a tab with their newsletter.
A real added value, right? So be sure to check out the possibilities for your business or company!
8. Publish unique and valuable content
With the tips above, you can set up your page like a real pro, but to be really successful you also need to publish interesting, entertaining, useful and relevant posts.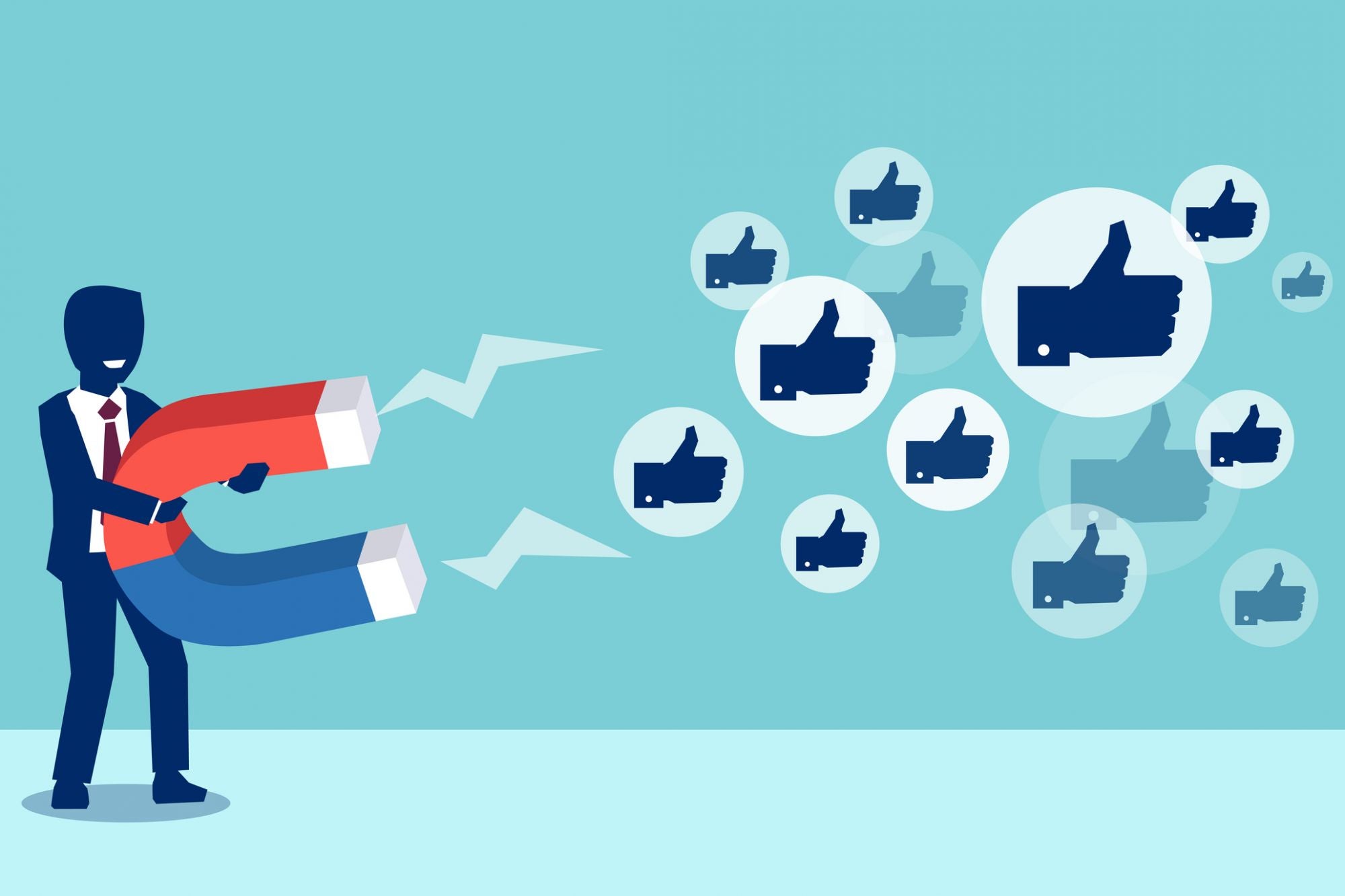 Offer your followers added value:
Post only qualitative messages (quality over quantity!).
Post different types of content : articles, quotes, infographics, etc.
Publish your own content (for example blog posts), supplemented with content from others.
Always add beautiful visuals to your messages: photos, videos, etc.
Add a catchy description to your posts, possibly with hashtags.
Post consistent en frequent (but don't overdo it!).
Post when your followers are online.
Tip: With Canva and Canva for Work you can quickly and easily create images for your Facebook messages with the right dimensions!
9. Tell your story in a report
In a Facebook report you will have the opportunity to tell the story of your company. You also have much more freedom here to design your text than in a message or with your Page data: after all, you can leave a longer text here with formatting, which you can subdivide with titles and subtitles.
As icing on the cake, a report offers you an extra chance to share your contact details and links to various parts of your website and you can add a nice photo.
You can find the report at the top of the right column. To edit it, click on it and then click the "Edit report" at the top right.
10. Enter into a dialogue with your followers
A Facebook business page is a two-way street! So be sure to enter into a dialogue with your visitors and your followers.
Respond to or "like" comments and see what users say about your company and products on your page. In this way you build a bond with your customers and ensure more engagement and interaction!
Be sure to check your inbox to follow up on private messages and provide smooth customer service!
11. Promote your best posts and experiment with ads
Once the steps above were enough to get a large reach on Facebook. But since Facebook 's Closer Together Update, your company's posts are only shown to a small percentage of your followers.
Do you want a large reach on Facebook today? Then you will have to advertise. Fortunately, advertising on Facebook is relatively cheap and offers many advantages and possibilities.
This way you can easily promote your best page messages: for just a few euros/dollars you can significantly increase your reach. And you can also use other Facebook ads to expand your 'fan base', network and customer relationships.
Furthermore, Facebook is an ideal advertising platform if you want to quickly create visibility, brand awareness and social proof around your company, products and services.
With Facebook advertisements you make people aware of your company and products and you bring them to your website with calls-to-action, even if they are not necessarily looking for your products or services.
So definitely experiment with Facebook ads is a good idea!
12. Follow your company page with Statistics
Measure, analyze and optimize your Facebook page with Statistics. With the handy Facebook Statistics you get information about the performance of your posts and your page:
actions of visitors
views
likes
range
involvement
etc.
For each message you post, you can view the reach and involvement, for example. So you can check which messages score well and which don't! Valuable info, ladies and gentlemen. Take advantage of it!
Questions or interest?
Did you find this article interesting and did it help you? Share your thoughts in a comment and if you have any suggestions or a point that should have been included feel free to share your opinion.
Thank you for Reading
You Might also Like :
10 Best New Ways To Earn Money online on internet in 2020