8 Best Ways to Make Windows 10 faster 2020
Have a slow laptop or PC? Then you can make it faster yourself again. So you don't have to buy a new one right away. Here we are to help you make Windows 10 faster.
Windows 10 is by no means a slow operating system. At least not when the operating system has just been installed clean on a PC. But that's just the pinch. Because the longer you use your PC and install more and more apps and save files, the slower Windows will become.
And this may create the need to make Windows 10 faster. Making Windows 10 faster is certainly possible and can be done in the following ways.
Best Ways to Make Windows 10 faster
A regular cleaning is therefore strongly recommended. You can also improve performance with tricks. And if nothing helps, you can always use coarser guns by replacing parts.
1. Remove unnecessary programs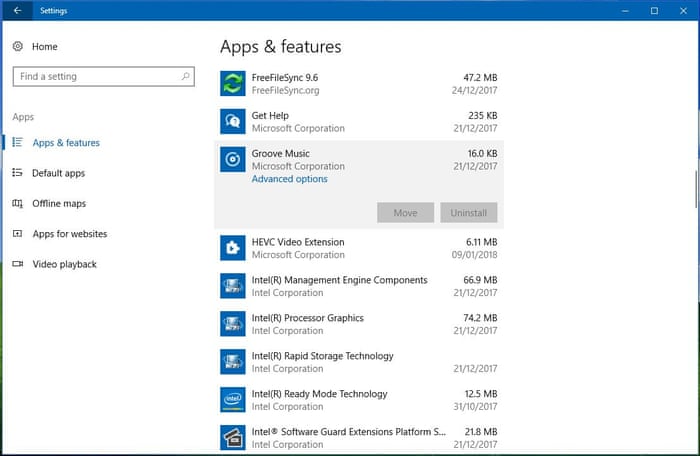 From time to time, take a critical look at the programs on your computer and clean up the programs that you are not using. In Windows remove programs quickly, but often there are leftovers. Think of folders, icons and settings in the Windows registry.
The free Revo Uninstaller cleans up a program and all remnants. With Revo Uninstaller you also get an overview of unused programs that Windows or the PC manufacturer has put on the PC.
2. Disk Clean Up
All programs use temporary files, which are often not cleaned up when you no longer need them. In the long run, that can slow things down considerably, especially if you have little space left on the C drive.
With the 'Disk cleaning' program you can clean up these programs and easily create space. This is a standard part of Windows. Click Start and type 'Clean Disk' in the search bar ('Search programs and files') to start this program.
Still short of space? The free programs CCleaner and PrivaZer analyze your computer and indicate what you can remove. We recommend that you uncheck the box that removes your internet history from the settings. Don't adjust the other settings if you don't know what they mean.
3. Disable auto-start programs by default
Your computer is also faster if programs don't start automatically. This way you avoid useless loads on your system. Anti-virus packages should always be on, but other programs often do not.
Programs that start automatically are often located at the bottom right of your taskbar. You can do 2 things:
When installing the program, pay close attention to whether you can disable automatic start-up.
After installation, you can disable this yourself via the settings menu of the program, or in the Windows settings (MSCONFIG or via task manager):

Click the magnifying glass next to Start, type 'MSCONFIG' in the search bar and open the program.
In the 'Startup' tab you will see a list of programs with a check mark in front of them. Uncheck the programs you don't need.
Press 'ok'.
Restart the computer to check the changes. (If necessary, repeat to turn off more programs, or to turn programs back on again.)
To disable auto start using Task Manager you can follow this steps :
In the following way, check what starts up as soon as you start Windows. You can also use this method to disable parts that start up unnecessarily. This is done as follows:
Press the key combination Ctrl + Alt + Del (ete)
Click on the Task Manager option .
Click the More details option if you only see an overview of apps currently in use on your PC.
You will now see an overview of everything that is currently happening on your PC, divided into different tabs. Click the Startup tab .
In the Startup tab you get an overview of all program components that start simultaneously with Windows. You can also see how much influence each program component has on startup. As soon as you click on a program item in the overview, the Disable button becomes available at the bottom right of the window. Allows you to disable the selected program component.
5 Password Manager To Back Up & Secure Your Password
4. Use an adblocker
Advertisements on web pages significantly slow down internet browsing. With a so-called 'adblocker' (ad stopper), the internet pages on your PC load 2.5 times faster. In addition to advantages, the ad blockers also have disadvantages. You can use Brave Browser which has many features including adblocker.
5. Disable visual effects
Low budget systems generally do not have a very fast graphics card. This can cause such a system to choke on the visual effects of Windows. Fortunately, Windows also works fine without visual effects. Windows has graphical effects that can slow down the system.
Disable unnecessary visual effects in the following way:
Click on the magnifying glass next to Start, type 'system' and open the corresponding window (also accessible via the control panel).
Click on 'Advanced system settings' and in the window that opens, go to the 'Advanced' tab.
Under Performance, click 'Settings'.
Select 'Best Performance' to turn off all visual effects. You can also manually uncheck the boxes.
Another way to Disable unnecessary visual effect :
Open Windows Search from the taskbar.
In the search box, type: sysdm.cpl
Click on the search result sysdm.cpl
This opens the System Properties window . Click the Advanced tab .
Click the Settings button in the Performance section .
This opens the Performance Settings window .
Click the Best Performance button.
This disables all visual effects that are not necessary for the proper functioning of Windows. Since disabling unnecessary visual effects will relieve the graphics card, Windows will perform noticeably better.
6. To Change Parts
More modern programs often place higher demands on the components of your computer. But developments are moving so fast that electronics quickly become obsolete. Most programs list the system requirements. This way you can easily check whether your computer is satisfactory.
1. Expand RAM (RAM)
Working memory (also known as Random Access Memory, or RAM) keeps the computer running smoothly by temporarily storing certain program information and then re-using it when needed.
4GB RAM is the minimum, but actually not enough for advanced users. A doubling makes for a noticeably faster PC and costs around € 30.
Expanding the working memory is a simple operation on most computers. With laptops it is often behind a cover at the bottom. At desktops, you can easily reach it by removing a part of the housing. The retailer can tell from your computer what kind of memory you need. Check whether there is room for an extra memory bar.
2. Replace hard disk
Does your PC start up slowly? Then consider replacing your hard drive with an SSD . This type of storage is much faster and quieter than the old-fashioned hard disk. This operation requires a bit more work than expanding the memory because you also have to move all your files and programs.
If there is enough space in your PC, you can also choose to use an SSD as an addition to the hard drive. Then you put the operating system on the SSD and use the hard disk to store your files. Please note that with most SSDs you need an extra cable to connect it (Serial ATA), which is not included.
6. See how Power Management is set up
Windows 10 has a power saving mode. This can be set via the Power Management section. In itself it can be quite nice that Windows has such a mode. Because it ensures, among other things, that the battery charge of a laptop lasts longer.
One drawback, however, is that energy savings are usually at the expense of the system's performance. When working with your laptop on power from the socket or working with a desktop PC, it is recommended to choose High performance in Power Management . It will make your PC or laptop run significantly faster.
High performance is set as follows:
Open Start menu and click the Settings button in the far left part of the Start menu
In Settings, click the System item .
In System, click the Power Options and Hibernate item .
In Power Options and Sleep , click the Additional Power Settings link .
In the Power Options window that opens next, you have the option to click the High Performance button.
Enables high performance for your PC. Something that will make Windows 10 faster.
7. Take the help of Windows troubleshooting
So far, we've done a number of things manually to make Windows faster. But there are also certain things we can get Windows to do ourselves. This can be done through the Troubleshooting section .
Speed ​​up Windows through troubleshooting in the following way:
Open Windows Search from the taskbar.
In the search box, type the command: troubleshooting .
Click on the search result troubleshooting .
This opens the Troubleshooting window . In this window you will find, among other things, the link Perform maintenance tasks . Click on this.
In the window that appears next, you can read Solving computer problems and helping to prevent them . The Next button activates automatic troubleshooting.
After some time, Windows will automatically provide you with information about what issue was found and if and how it can be solved.
8. Reinstall / Reset Windows
Not long ago, reinstalling Windows was something for professionals and others who knew about computers. But Windows 10 installs by itself on most modern PCs.
But you can also decide to reinstall Windows using the Repair this PC in Windows component. Even then, Windows is, as it were, completely reinstalled on your PC.
If you choose Reset this PC , you can do that while keeping files. This means that personal files are kept, but settings and programs you use are all erased. You will have to reinstall programs after restoring the PC. Just like when you reinstall Windows from USB stick.
Reinstalling Windows or resetting the PC are the most effective methods to restore your PC to its original speed. Especially when you have faced persistent spyware, viruses or other malicious software on your PC. Or when system files are damaged.
Reset your PC as follows:
Open the Start menu and click the button on / off .
Then hold down the Shift key and click on the Restart option .
After a few moments, a blue screen will show a number of options, including the Troubleshoot option . Click on this option.
In the next window, click the Reset this PC option . Then you choose whether you want to keep personal files or delete everything.
After a few moments another blue screen will appear. It will ask you if you just want to delete files or clean the hard drive completely. Select the option Delete files only if you want to continue to use the PC, but have Windows reinstalled.
Windows will then again warn you that everything will be removed from your PC, including apps, settings and your personal files.
Indeed, that means that once Windows has finished resetting your PC, you have, as it were, a new fresh clean PC.
Once Windows has been reinstalled you can of course go through other steps like disabling visual effects and other things mentioned.
Dell Alienware Aurora R9, rounded design hides a great gamer