USB Type C Explained What Is It, How it works
Today we are going to talk about what USB Type C or Type C is, what it can be used for, and how it differs from the other connectors available for USB. It is an increasingly popular type of connector that your new mobile phone probably already has if you just bought it, but that can be used for various things.
If in the last couple of years, you were lucky enough to get a new smartphone, there is a high probability that it has just such a port for charging and, possibly, even for audio. It is officially called USB Type C, and no matter which side you plug the cable into the device, you will not be mistaken. However, the new standard is not just a universally connected version of the old micro-USB. Let's take a closer look at what USB Type C is and what advantages it gives.
USB Type C Close-up
For starters, a little history. The USB connector itself comes from 1996, this is the same USB Type A that you can still see on laptops and PCs. In 2000, a micro-USB connector appeared along with USB 2.0, and until the advent of USB Type C in 2014, most mobile devices were equipped with it.
USB Type A, B, micro and mini differ only in the shape of the connector itself, and all the primary internal connections are the same. Faster USB 3.0 cables and ports boast an optional high-speed data link. USB Type C has three times more pins than USB 3.0 – 24 instead of 8. Thus, it is not just a universal connector, the number of possibilities in USB Type C along with the number of pins has increased significantly.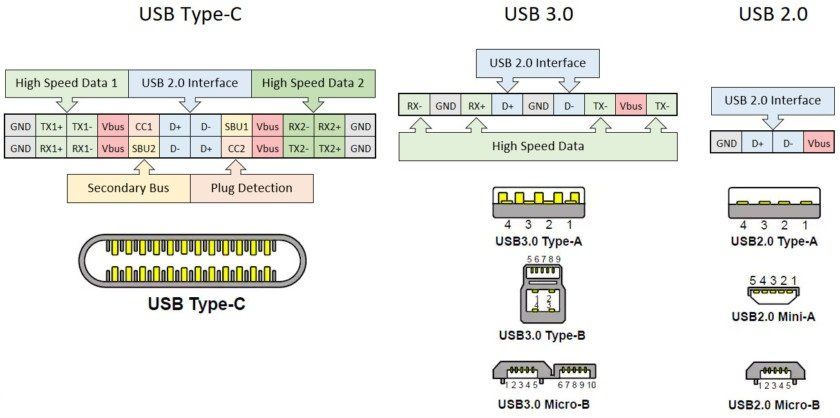 Two other types are the old MiniUSB that years ago were used in cameras and mobile phones, and a more recent MicroUSB that has been used in most smartphones until the recent arrival of USB Type C. So, we can say that USB Type C is the successor to MicroUSB. It is being standardized for use in different types of technologies.
But despite such an increase in the number of pins, USB Type C is a very small connector that takes up no more space than the old USB micro-B. This is why it spread so quickly in smartphone manufacturing. As you can see in the graph above, USB Type C is backward and compatible with USB 3.0 and even older 2.0 cables, and it retains the pins used for these traditional data transfer protocols. There are a huge number of USB Type C cables on sale – Type-A or micro-B, but with them, you will not be able to take advantage of several benefits of USB Type C, and this situation has led to problems with the fast charging of smartphones.
Data Rate and Charging
The new pinout had a positive impact on both the data transfer rate and the charging of devices. In terms of speeds, USB Type C was designed to provide the same speeds as USB 3.1 / Gen2, i.e., up to 10 Gb / s. This is twice the capacity of the standard USB 3.0, which gives 5 Gb / s, and more than 20 times the capacity of USB 2.0 with its 480 Mb / s.
Switching to the USB Type C connector was supposed to simplify the situation, assuring users that all new devices give the highest possible speed. However, due to the need for backward compatibility, only full-fledged USB Type C cables and connectors guarantee data transfer speeds at the USB 3.1 level. Many devices can only provide speeds at the USB 2.0 level, despite the presence of a new connector. It is also worth remembering that if you connect to connectors that are backward compatible through an adapter, such as from USB Type C to Type-A, you will only be able to access the lower speeds typical of, the older connector.
Moreover, the USB Type C connector is also used in the Thunderbolt 3 standard, which provides even large peak data rates of up to 40 Gb / s, as well as support for video transmission through the DisplayPort connector.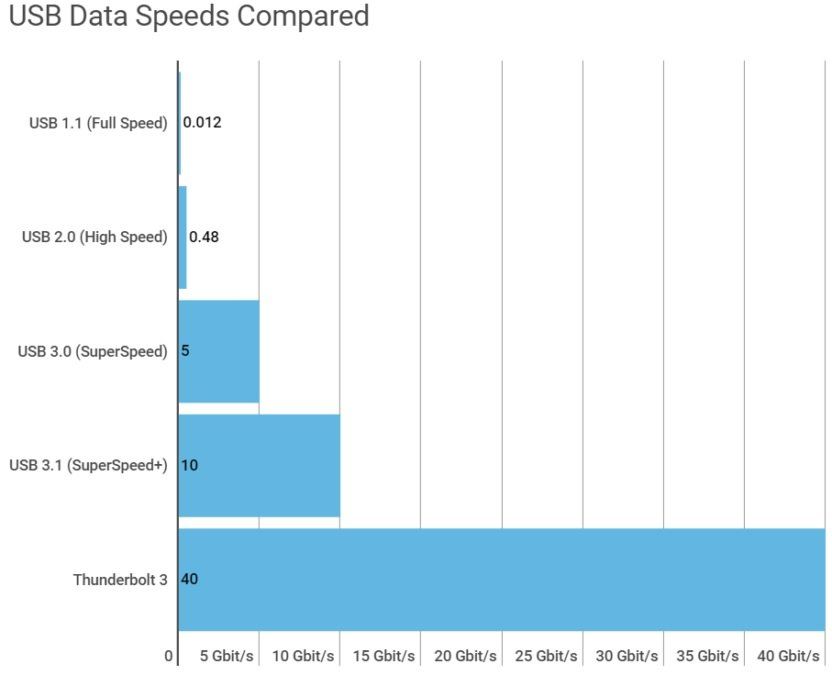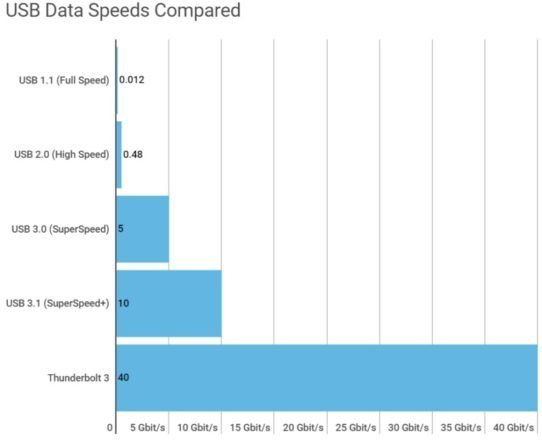 USB Type C is designed not only for data transfer, but also for charging any gadgets, and not only mobile. The connector can receive and give up to 100 watts, making it suitable for charging laptops and other devices. And here, everything gets complicated because there are many different standards and protocols for charging USB devices.
By default, the USB 2.0 connectors provide charging up to 5 V, 0.5 A, the values ​​for the 3.0 connectors increase to 5 V, 0.9 A. USB Type C surpasses them, having support for the current strength of 1.5 A and 3.0 A due to the dual connection. Again, the very shape of the connector does not guarantee you specific charging capabilities, but theoretically, USB Type C provides a faster-charging speed of the device out of the box.
In addition to the default charging capabilities, USB Type C devices can be fully compatible with USB Power Delivery specifications. These can be used as an addition to the necessary charging capabilities, giving up to 100 watts. However, Power Delivery is limited only to devices with USB Type C and works when connected to Type-A and other connectors with the desired characteristics.
In summary, USB Type C devices should provide faster data transfer and charge than their predecessors. However, the specific results depend on the manufacturers and, optionally, on the type of connector.
Many tasks – one port
In addition to data transfer and charging, USB Type C is designed to support a wide range of different modes and standards, that is, as a universal solution for a number of technologies. A certain amount of audio and video modes are supported, and the connector here is intended to replace 3.5 mm and an HDMI cable.
In terms of audio, the connector supports digital audio according to the USB Audio Class specification, including the latest version 3.0. Analog headphones are also supported through the connector in Audio Adapter Accessory Mode, which reassigns SBU ports and CC pins from left to right and provides a microphone connection. With this connection, devices can also receive power with current parameters of 5V 0.5 A.
Video through the connector can go in various standards, such as HDMI, superMHL, and DisplayPort. They work through Alternate Mode, which frees up SBU pins for high-speed data transfer for use by other standards. HDMI Alt mode is available through an adapter, supports resolutions up to 4K, sound around, and even playback of content in 3D.
Display Port over USB-C is supported by USB 2.0, 3.1, and Thunderbolt connectors, providing 4K 60 Hz 24-bit HDR playback, maximum 8K resolution, and multi-channel audio. Finally, superMHL works with USB 2.0 and 3.1 through an adapter for USB Type C with a resolution of 4K and 8K up to 60fps on relatively fast devices. Dolby Atmos is supported, as is backward compatibility with existing MHL specifications.
However, all these modes also require additional hardware and software capabilities, not only the desired port, so in each case, you need to look at the capabilities of your particular device.
Also Check: 60+ Best Secret Codes To Explore Android 2020
USB Type C Features
As it has already become, I hope, it is clear that the new connector is more than just USB and much more. In, if I may say so, the "basic" configuration, it provides USB 3.1 with all the advantages of this new version of the interface.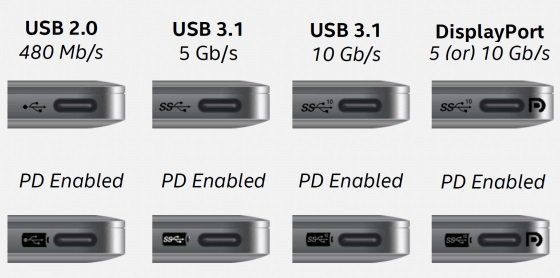 All other "buns" are alternative USB Type C operating modes, which are marked in a certain way on the device's case. Moreover, changes can lead to both the expansion of the capabilities used, and to the fact that USB 3.1 can be replaced with 3.0 or even 2.0. Here are the options that may occur at the moment, because the capabilities of this connector are far from exhausted.
| | |
| --- | --- |
| | DisplayPort. Through USB Type C, you can connect an external display with a maximum resolution of 3840 x 2400 pixels. Such an opportunity should be marked either on the laptop case with a corresponding icon, or indicated in the specification for the device. |
| | HDMI Now, you can connect external devices without adapters directly using HDMI version 1.4. |
| | Thunderbolt. Support for Thunderbolt 3 protocol compatibility mode. |
| | Power Delivery (PD). The specification of the new standard, providing current transmission with power up to 100 W in both directions, allows you to charge the laptop through this port, or, conversely, power an external device connected through it, for example, an external display. On the device's case, such a connector is usually marked with PD beeches, by putting a battery icon, although there may be other options. If there is no PD support, then the maximum output current will be 1.5 or 3 A, depending on the modification. |
| | Support for USB 3.1 Gen. 1. Support speed up to 5 Gb / s. |
| | Support for USB 3.1 Gen.2. Support speed up to 10 Gb / s. |
What functions does USB Type C installed in a particular laptop model support, is marked on the case, or is written in the specifications?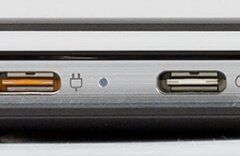 For example, consider a laptop-transformer Lenovo Yoga 910. It is equipped with two USB Type C ports, one of which works on USB 2.0 (by the way, here is an example of the fact that no one promised mandatory USB 3.1), and the second 3.0 with DisplayPort support. Moreover, the function of supporting the charging mode through this connector is simply marked with the icon of an electric plug, without frills like the "PD" logo, etc. The same applies to the support for connecting the monitor. This is clear only from the documentation for the laptop.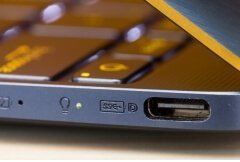 Another example is the Asus ZenBook 3 UX390UA ultra-book, where only one USB Type C is installed except for the audio jack. But it can do almost everything: power supply is connected to it. Through it, you can display an image on an external display, exchange data with external media at speeds corresponding to the USB 3.1 Gen.1 interface. By the way, pay attention to the marking of the connector on the case. Everything is clean, clear, and understandable.
How is it different from the rest?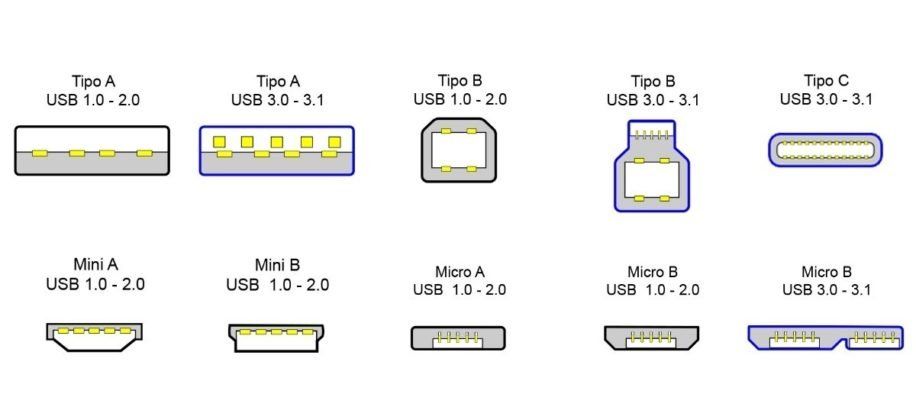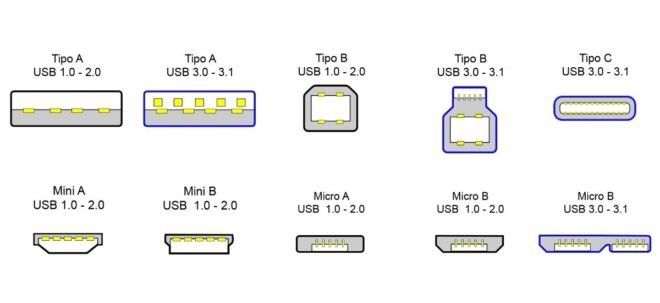 As we have explained a bit above, although inside it can support different technologies, this connector has a very different appearance from the rest. It is very small, the size of the MicroUSB, and has a fully symmetrical oval head on both sides, which is currently unique to this type of connector.
This means that USB Type C is the only connector that allows USB cables or skewers to be reversibly connected. If you see that you have to connect a cable or spike on one side, it will be Type A, B, Micro or Mini, but it will never be Type C.
At the beginning of this last section, you can see the available types of connectors. In them, you can see how exactly the shape of the rest of the connectors is, and how none is exactly the same.
It also differs in the technologies it contains, which we have already mentioned. Especially in that USB Type C only uses the USB 3.1 standard, it does not support USB 1.0 or 2.0. With this, you ensure you have great speeds, although it may depend on whether you also use other types of technology.
In terms of these speeds, USB 3.0 has a data transfer rate of up to 4.8 Gbit / s (600 MB / s), ten times faster than USB 2.0, and USB 3.1 is even faster with rates up to 10 Gbit / s (1.25 GB / s). Being this the one that is usually used with USB Type C, the speed that you will find is the highest if you use these protocols. If you opt for Thunderbolt 3, it will be faster, reaching up to 40 Gbps (5 GB / s).
Prospects
The specification for the next version of USB, 3.2, is currently under active development. In this case, Type-C will be used, and the possibility of working with PCI Express and Base-T Ethernet protocols will be explored. In general, this connector is the future, although it is promoted so far not so actively. The reason is a huge number of devices for old connectors, to connect them you will have to buy adapters and hubs.
Conclusion
Thus, USB Type C is a complex connector, not only due to its physical characteristics. This standard provides a wide range of capabilities – more than ever, from faster data transfer and charging to additional multimedia capabilities.
And despite all the advantages that should attract users, this standard is the most difficult for them to understand. One connector – many functions: it sounds attractive; however, the optional support leads to the fact that just by looking at the connector, you can not exactly find out its capabilities. The buyer of the device is required a particular savvy in the matter – to understand that you have purchased the right product with support for USB Type C and the right cables, it is more complicated than with previous standards. And there is nothing good in it.
And although USB Type C is much more than just a universal connector, ironically, it is the ability not to make a mistake by inserting a cable into the connector, making it such an attractive feature when choosing a device.