Complete Review of GeneratePress Premium Themes: Is It Worth It?
Have a dream website appearance, but unfamiliar with coding? The practical solution is of course using a theme.
The problem is, in this world there are thousands of themes. If we surf the internet looking for dream themes one by one, it is like looking for a needle piled with hay.
So this time, we will review one premium theme that might be able to answer all your website needs, namely GeneratePress Premium .
Hm, definitely paid premium, right? What's so special about this theme? What are the features and is it worth the price?
You can find the answer in this article. Come on, see the full discussion.
What is GeneratePress Premium?
GeneratePress is a WordPress theme that excels at speed and usability. That's why this theme is made as light and stable as possible so that the website has maximum performance.
This theme is basically a free download. However, in order to work optimally GeneratePress released a premium version.
Well, this premium version is what WordPress users want. Apart from being lightweight and stable, the premium theme features are very complete for customizing every part of the website.
The proof? During six years on the air, this theme has been downloaded more than 3 million times, with 300,000+ active users!
Free vs Premium
If you can use the free one, why pay?
If you ask like that, the answer will roughly be like the table below:
| | | |
| --- | --- | --- |
| Features | Free | Premium |
| Price | Free | USD 59 – 249 |
| Number of Site Usage | Unlimited | Unlimited |
| Layout Settings | Limited | Unlimited |
| Mobile Friendly | ✓ | ✓ |
| SEO Friendly | ✓ | ✓ |
| Periodic Updates | ✓ | ✓ |
| Translation | ✓ | ✓ |
| Site Library | Х | ✓ |
| Unlimited Colors | X | ✓ |
| Typography | X | ✓ |
| Elements | X | ✓ |
| WooCommerce | X | ✓ |
| Menu Plus | X | ✓ |
| Spacing | X | ✓ |
| Blog | X | ✓ |
| Secondary Navigation | X | ✓ |
| Backgrounds | X | ✓ |
| Sections | X | ✓ |
| Copyright | X | ✓ |
| Import / Export | X | ✓ |
| Disable Elements | X | ✓ |
Very visible difference, right?
At first glance, you can see that the features of the free version are very limited and the customization is not flexible.
The story is different from the premium version, complete features that let alone personal websites, to develop online stores or other blog niches are also very capable.
Why Should You Use GeneratePress Premium?
Even though it's paid, GeneratePress Premium is still the theme that WordPress residents want. Why? Here are three main reasons why this theme is worth considering.
1. Maximum Performance with Minimal Theme Weight
GeneratePress carries the jargon of Light and Responsive . We can check the truth for ourselves.
We will check with the two most popular tools for comparison, namely Google Pagespeed Insight and Gleek Flare.
The first, with Google Pagespeed Insight , the resulting speed is at a score of 92. It is optimal for websites with many image elements.
The same thing was also found when checking from Gleek Flare . As a result, the score for website performance reached 94 with loading less than 1 second!
One of the speed factors for the malaspulang.id website is that the GeneratePress Premium features can be activated or deactivated according to the needs of the website.
That's why the website can work lighter and faster. Because it only runs certain systems that actually work. So, website performance is also getting maximal.
Website performance is very important because it affects several things, for example:
Provides maximum experience for visitors – According to Google , 53% of visitors will leave a website with a loading longer than 3 seconds.
Increase trust – 79% of visitors will not return to a slow website.
Helps rank high on Google – Speed ​​is one of 11 factors that influence Google Ranking.
Keep in mind that one thing that causes a slow website is to use a "heavy" theme .
For example, additional elements that are not very useful, such as extra toolbars, lots of sliders, and others.
The more elements, the more complex the programming code, the longer it will take to load.
2. Ready Support
To help its users, GeneratePress Premium has three support tools. Such as documentation instructions, the official GeneratePress support forum, and support services on WordPress.
Let's discuss them one by one.
Documentation
The first is documentation assistance in the form of documents containing instructions, tutorials, and others.
This documentation is very useful for early users of GeneratePress Premium because the tutorial provided is quite complete.
Support Forum
If you have questions or problems with the theme, the solution you can use is GeneratePress official support forum .
There, there are a lot of topics that have been discussed previously. For example, how to design a podcast website, setting a mega menu, etc.
So you can find and read topics around the question first. Who knows to find a solution and save time too, right? Hehehe.
Apart from that, you can also contact the support team at any time. There, your questions can be answered by other GeneratePress Premium users.
WordPress Support Service
And finally, you can also take advantage of support services on WordPress . Just like the official support forum, here you will also be answered by live members of the GeneratePress community.
Response time is relatively fast and interactive, so it's like you live chat only!
3. The Most Superior Premium Module
Do you still remember what features are in the premium theme ? Now is the time to discuss one by one.
However, before going any further, please note that the features in the GeneratePress Premium theme are called modules . This module can be activated and deactivated.
Now, it's time for us to dive deeper into each module. Come on, come on.
1. Site Library
The Site Library is a collection of website theme demos that can be selected as needed. A website demo is a ready-to-use theme layout that can be imported onto your website.
This demo collection is divided into three according to the type of editor used. Some use the standard WordPress editor, Elementor, or Beaver Builder.
2. Colors
As the name implies, you can set 60 color options on your website. To do this, go to Appearance > select Colors and Activate > Customize > Colors .
The image on the right is the parts you can customize.
For example, if you want to adjust the color on the Body of the website, then you will be given coloring options in the image on the left.
This module is very useful for those of you who want to build business branding . Because you can set the dominant color or other colors on each corner of the website.
In full, you can adjust the color to the smallest part on your website . For example, a different color between links that have not been and have been clicked on by visitors.
3. Typography
In the free version, you will only find a few font choices with very limited settings. It's different in premium themes which provide more complete setup options.
The setting is easy, namely, go to Appearance > select Typography and Activate > Customize
Next select Typography and you can edit the typography in the sections of the website below. Unmitigated, there are a total of 70 parts that you can adjust the typography!
Feel free to experiment when setting up typography. For example, font selection, font combination, font size, layout, and so on.
4. Elements
You have chosen one of the demos in the site library, but how come it seems that something is missing?
With module elements, you can edit the layout of your website as desired. For example, adding a hero page, setting the header, sidebar, footer, CTA, and so on. No limits!
It's very easy, please go to the menu Appearance > Elements > Add New Element .
What's more, there are GP Hooks tools. You can insert elements into any area of ​​your website, without messing with the core code or the whole code.
For example, the post before the header below.
If it is a regular theme, it needs custom html and css specifically. However, with GeneratePress Premium, you can input code to specify the display location in the WordPress editor.
5. WooCommerce
WooCommerce is the best free online shop plugin on WordPress. The features of WooCommerce are very complete for an online store class.
For example, managing products, orders, coupons, discounts, to store address settings, and various other benefits for online businesses .
So, if you are a GeneratePress Premium user, you can practically activate this plugin! Just click Appearance > select WooCommerce and Activate .
Furthermore, you can customize your online shop by selecting the WooCommerce option on the left side of the screen or clicking the Shop menu in the visual editor.
WooCommerce customization is also very easy. Because GeneratePress Premium allows you to see a live preview after clicking. Like the example below.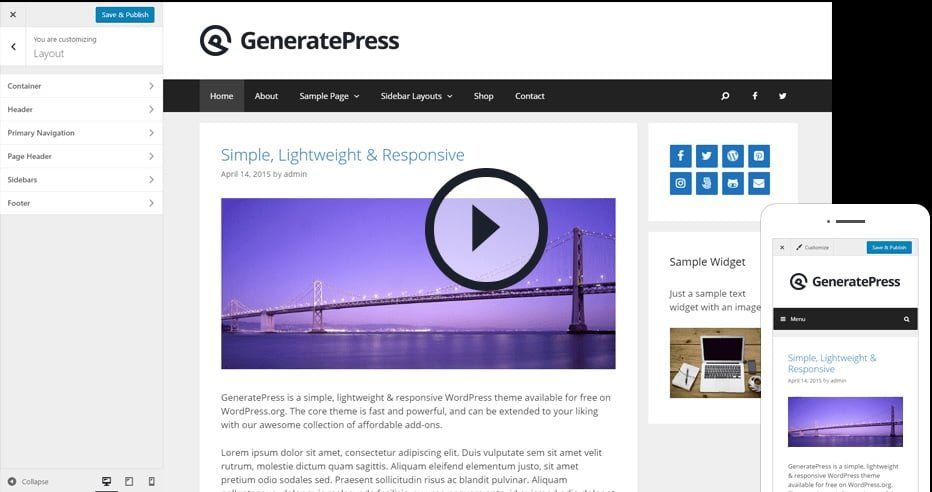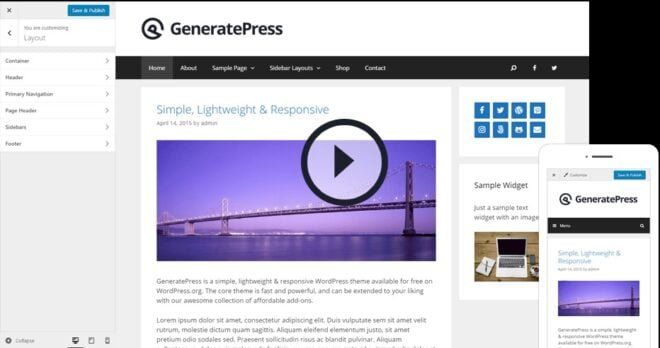 6. Menu Plus
The Menu Plus module allows you to create custom navigation . For example, sticky navigation, off canvas panel, and so on. Like the off canvas panel example below.
For customization, all options are complete in the Layout menu , with easy settings.
However, make sure other modules like Colors, Spacing, and Typography are also active, yes, because they are used together.
7. Spacing
If you build a website with HTML, you will often encounter spacing settings. Such as adjusting the element size, padding, and margins for each element.
Eits, that won't happen if you use the GeneratePress Premium theme. Because there is a Spacing module, so settings can be done more easily, without coding.
First, activate the Spacing module first, the method is the same as activating other modules.
Then, select the Layout option > select the element you want to edit, for example the Container option .
This module really helps you build a website that is authentic and different from the others.
8. Blog
Want to have a stunning blog appearance?
GeneratePress Premium gives you full control over every post , whether it's a blog archive or a single post.
You can find the settings in Layout > Blog . There are complete customization options there. For example, excerpt settings for articles, tags, categories, etc.
What can you do?
For example, you want to hide or show posts, featured image settings, locations, infinite scrolling, even things as simple as column settings, and many others.
Not enough primary menu? Relax, you can add to the secondary menu.
This menu serves to expand website activity that is side but very important. For example, the login / logout form, My Account, shopping cart for online stores, and so on.
This module must be activated in conjunction with the Colors, Spacing, and Typography modules. You can freely adjust the secondary menu. For example, menu width, layout, menu location, fonts, colors, and so on.
10. Background
Want to use a photo on a website background? You really can!
When you have activated the background module, you can set it in Customize > Background Images .
In the free version, you can only provide a photo background on the body of the website. For premium, which background can be edited?
Above are the parts that can be set the background, from header to footer. You can set size, position, scroll style, and more. Wow, it's so complete!
11. Sections
You can create multile sections in a single website page?
Usually this page is very suitable for use on the homepage or landing page , because it looks neat and distinctive. Options like this are very rarely found on other website themes, especially free ones hehehe.
At first glance, it seems that coding is quite complicated, huh? Eits, let us tell the secret.
First, first activate the Sections module, then create a new page by means of Page > Add New > activate it with the Use Section .
There you can add sections as desired. For example, the background is different for each section, adding special HTML code, parallax effects, and even adjusting the spacing of each section.
12. Disable Elements
This module is arguably the key to the speed of the GeneratePress Premium theme.
If on a page there are elements that you do not need or want to remove, you can disable those elements. So, you can get the look you want.
This point also makes loading on your website page faster. Because it only displays useful elements.
There are several elements that can be disabled, as shown below.
13. Copyright
At the very bottom of a website you can add your copyright
It is usually located at the very end of a footer. Well, this article shows whether a website is valid or not.
However, if you use a free theme, you will not be able to edit the copyright. Because you don't have a license to use the theme.
It's a different story if you use GeneratePress Premium, you can activate the Copyright module. Then arrange it in Layout > Footer > Copyright
To get the words "Copyright © ️ Your Business Name 2021", you can write "Copyright% copy% Your Business Name% current_year%" (remove the two quotes).
Likewise, if the position wants to be changed. It's free!
14. Export / Import
If you already have a website, you can easily import it to GeneratePress Premium.
Do the same if you want to export part or all of the website to your other site.
How to Install GeneratePress Premium
With just a few clicks, you can use a premium theme. Really, the installation is really easy! You can follow this short tutorial.
First of all, because it is designed as a WordPress theme, you must first activate the GeneratePress plugin.
To do this, log in to the WordPress dashboard > Appearance > Themes > search for the generatepress keyword > Install > Activate .
After that, login to your GeneratePress account and download the GP Premium Plugin. The plugin document will be downloaded in .zip format.
Return to the WordPress dashboard, then click Plugin > Add New > Upload Plugin > select the GP Premium .zip file that you downloaded earlier and click Install Now .
And, Activate Plugin .
Next, activate your plugin premium automatic updates. To do this, go back to your GeneratePress account, then double click on your GP Premium license number.
In the WordPress dashboard, click Appearance > GeneratePress > and copy the License Key in the Updates column , then Save .
OK! Your GeneratePress Premium is ready to use.
Pros/Cons of GeneratePress Premium
Before actually using it, we will compare the pros and cons of this paid theme. Hope it can help you make your choice.
| | |
| --- | --- |
| Pros (+) | Cons (-) |
| Guaranteed and stable security. | Paid. Fee per year: USD 59 Lifetime: USD 249 |
| The default theme setting is less than 10 kb per page. | |
| Optimal speed. | |
| Various choice of modules. | |
| Can choose the module used. | |
| Light. | |
| Built on SEO. | |
| Has used the WCAG 2.0 standard for access for persons with disabilities. | |
| Mobile-friendly. | |
| 100+ customization options. | |
| Full access to the site library. | |
| Dozens of ready-to-use site demos. | |
| Compatible with various plugins. | |
| Support RTL language. | |
| 24/7 support and complete documentation. | |
| 30 days money back guarantee. | |
Conclusion – GeneratePress Premium Theme?
To get the maximum website, the effort required is minimal.
Because it is very helpful with premium modules, easy installation, help from experts, and others. Not to mention the above average speed so that the various choices of premium modules are very tempting!
In conclusion, you have nothing to lose in spending some money for optimal website performance.