10 Best Logitech Headset| Buying Guide 2020
A headset is an audio device that combines headphones with a microphone. This device helps you hear more clearly and communicates more smoothly. One brand that produces quality headsets is Logitech. Logitech offers various types of headsets that you can choose according to your needs.
So you don't make a wrong choice, check out our tips on choosing a Logitech headset. Do not miss it. We will provide recommendations for you, such as Zone Wireless, Pro X, H600, and G633. Listen carefully to this article and find the best Logitech headset for you.
How to choose a Logitech headset
Logitech has a variety of headset products with different advantages. Below, we provide a few important points that you should pay attention to when choosing a Logitech headset.
Choose based on your usage.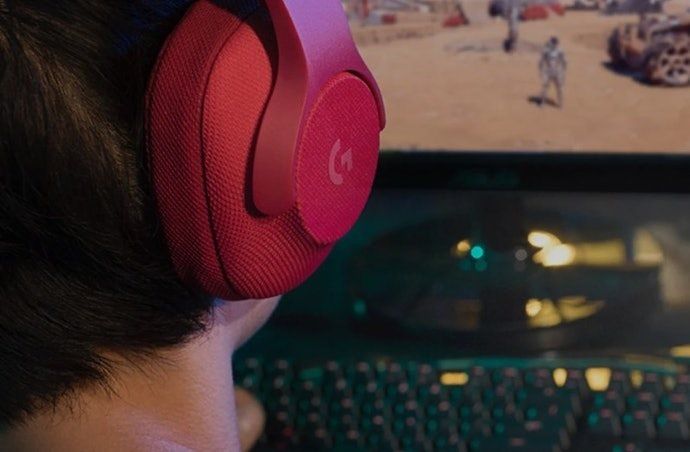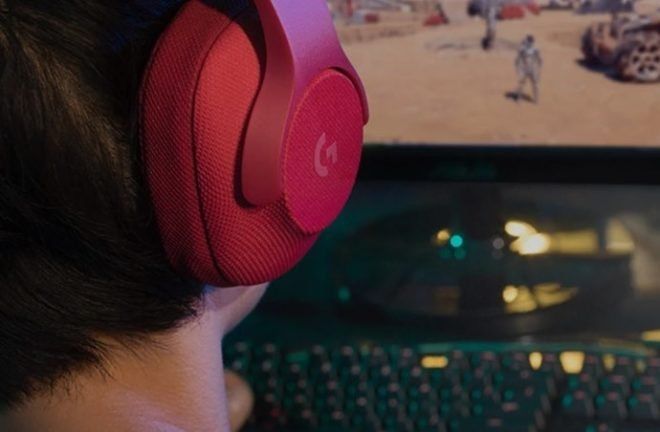 Based on its use, Logitech provides two types of headsets, namely for ordinary activities and gaming. Both of them have different characteristics. Headsets for ordinary activities have a smaller size than a headset for gaming.
The ear cup on the gaming headset has a larger size so that it can cover the ears perfectly. Besides, the material is also softer and soft so comfortable to wear for hours. Another distinctive feature is the RGB light on the side of the headset.
In addition to its physical form, the sound quality of a headset for gaming is also more qualified. The audio technology uses surround type so that it provides a more interesting gaming experience. No wonder the headset for gaming has a higher price.
You should choose the type of headset that is suitable for your use because of the different features and prices. Thus, you will get more optimal benefits.
Choose based on the type of connection.
Like a mouse, a headset also has two types of connections, wired (wired) and wireless (wireless). Of course, each type of connection has its advantages. What's the difference? We will explain it in the following points.
Wired: trouble-free charging
Logitech produces more headsets with this type. Typically, a wired headset has a 3.5 mm audio jack cable end. This audio jack cable can be used on a variety of devices, ranging from computers, laptops, smartphones, tablets, to Play Station. However, remember always to check your device because some devices do not provide a cable jack connection.
In addition, some headsets use a USB-A connection. This type of connection can usually only be used on a laptop or computer. Generally, other devices don't have that connection unless you buy additional cables.
The presence of cables does make you feel very limited when using a headset. You must always be near the device to connect. However, the advantage is that you don't have to bother charging. So, consider carefully before you choose a product.
Wireless: free anywhere without limited cable
Wireless headsets are quite popular because they can be used more freely. You do not need to be close to the device when wearing it. Usually, wireless headsets are widely used while exercising. Of course, there is still a maximum distance between the headset and the device to connect.
This type of headset requires a connection with a USB-A or Bluetooth -shaped nano receiver. Connection with USB-A can only be used on a computer or laptop, while a Bluetooth connection can be used on all devices.
Unfortunately, wireless headsets require charging, so their usage time is quite limited. Please make sure you always check the headset's power so that it can still be used, yes.
Choose based on features offered.
So you know more about headsets from Logitech, we will introduce some of the features provided by Logitech. Look at these features carefully when you want to buy a headset.
Active noise cancellation: comfortable to use in public places
When working in a public place, it is often noisy enough to disturb you. The noise is making you and the other person can not hear clearly.
For that, Logitech has a noise cancellation feature that will minimize the sound around you. The person you are talking to will also only hear your voice, without being interrupted by the noise around. So, you can communicate more smoothly.
Surround sound: make the gaming experience more interesting.
Surround sound is the type of audio that you will get on this type of gaming headset. This type of audio emits a 3D sound so you can determine the origin of a sound when playing games. The sound of steps, gunfire, and explosions will be heard more clearly and real to the ear.
Foldable headset: easy storage
Some headsets from Logitech have a unique shape that can be folded. This model is very fitting for those of you who often carry a headset when traveling. You can easily carry the headset without worrying about breaking when stored. More practical and efficient, yes!
On-ear control: adjust volume without opening the device
Logitech also provides two types of features that make it easy for you to muting calls or adjust the audio volume. You can use the on-ear and in-line control features to do this without opening the device. Certainly very useful when you are busy working or exercising.
On a gaming headset, the on-ear control can be set to its use, such as to continue to the next song until the control command. They are playing more exciting and efficient with the button.
Pay attention to the compatibility of the headset with the device.
Not all headsets can match the device you are using. Therefore, first, check the compatibility of the headset with the operating system (OS) and the type of your device. The good news, most headsets from Logitech are suitable for use on all types of OS.
The compatibility of the headset with the device depends on the type of connection. The use of a jack cable you can use on almost all types of devices. For gaming headset users, you can also use it on Xbox, Nintendo Switch, and Play Station.
Remember always to check the compatibility of the headset of your choice, yes. Do not let you choose a headset that is not right to use.
Pay attention to specifications relating to sound quality.
To find out the sound quality of the headset, you can check the sensitivity and frequency. The frequency range indicates the ability of a headset to capture sound. The numbers written at the lower bound are the bass sound, while those written at the upper bound are the treble sound. The greater the range, the better the headset's ability to output sound from various types of music.
There are two types of sensitivity in headsets, namely in the headphones and microphone. Headphone sensitivity shows how loud the headset can produce . Usually, this sensitivity is assessed in decibels or dB. The higher the decibel value, the greater the sound you can hear. Thus, you do not need to adjust the volume to the maximum.
However, be careful because too much sensitivity can cause ear problems. The average headset currently has headphone sensitivity above 100 dB.
Next is the sensitivity of the microphone. The sensitivity of the microphone is assessed by how much the voltage produced by a sound; the unit is dBV / Pa. The microphone sensitivity indicator number has a negative value, for example, -40 dB / Pa. A microphone with a sensitivity of -40 dBV / Pa will be more sensitive than a microphone with a sensitivity of -50 dBV / Pa.
Microphone for gaming headsets from Logitech uses a unidirectional microphone. This microphone can only capture sound coming from in front of the microphone. The microphone will not catch all sounds outside the reception distance. This one model certainly makes the gaming experience more exciting.
In addition to frequency and sensitivity, you also need to check the impedance of the headset. Impedance is a common obstacle to the headset; the unit is Ohm. The resistance on the headset is relatively small if the impedance number ranges from 15-150 Ohms.
10 Best Logitech headset recommendations
After knowing the points of choosing a Logitech headset, do not let you miss the best products. Check out our recommendations as reference material for you.
10. Logitech H370 USB Computer Headset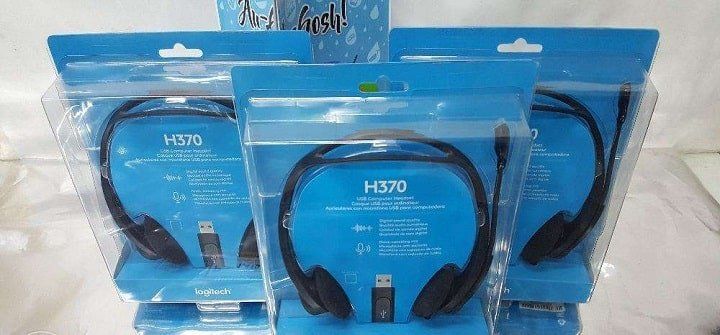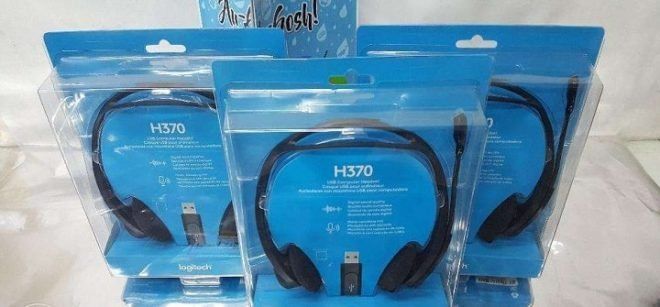 Slim and lightweight models used daily
Headsets tend to have a size that looks bulkier. If you want a sleek headset, you can choose the H370. The headband tends to be lighter and fits right in the head, thanks to the basin. Of course, you can also adjust it to the size of your head.
Besides, the in-line control of the headset is equipped with indicator light. Thus, you can find out whether the microphone is in muted mode or not. Plus, the audio is quality digital audio so that it can produce crisp sounds in the ear.
9. Logitech H390 USB Computer Headset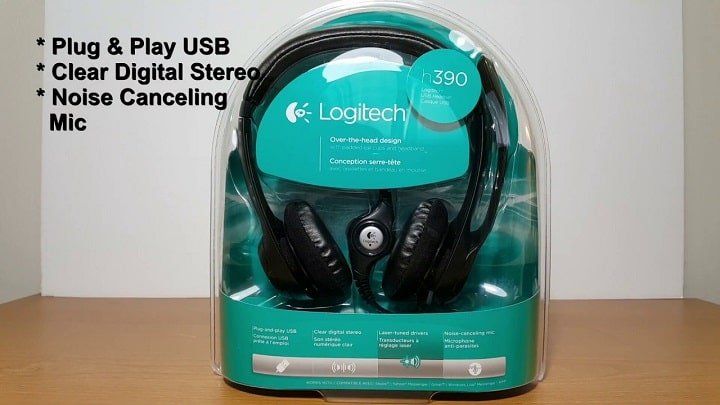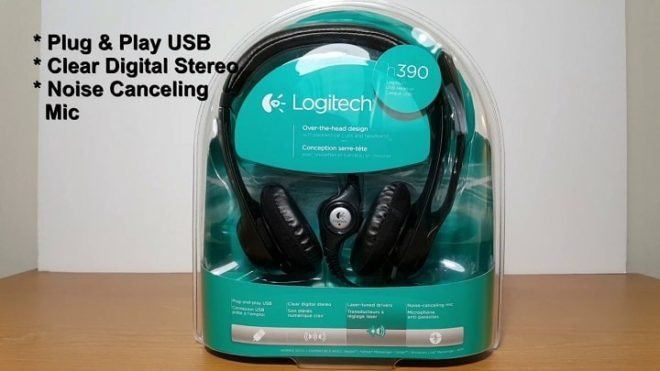 A more elegant look with synthetic leather
Do you tend to be more comfortable using the microphone on the left? Try an H390 headset that has a microphone on the left side. The cable is quite long, up to 233 cm, so you can stretch your body more freely without the need to remove the headset. In addition, this headset ear cup is made of synthetic leather, so it looks more classy.
8. Logitech H540 USB Computer Headset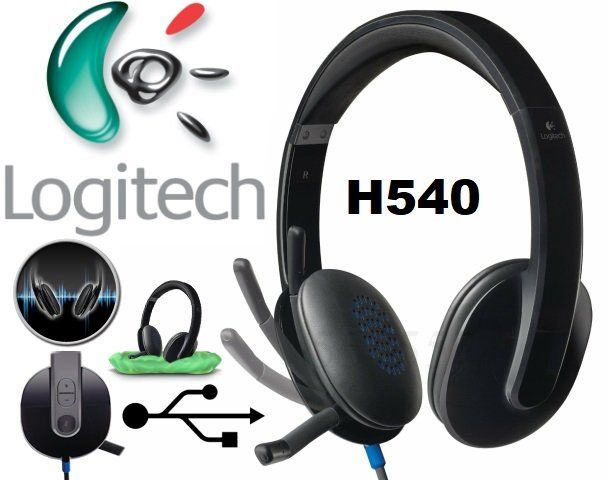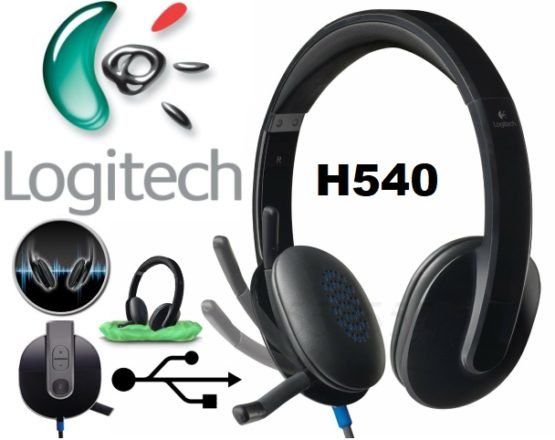 Have ear cups that are without hollows, are more comfortable on the ears
This headset has a different ear cup shape without any holes. Perfect if you have a larger ear size. Besides, the ear cup headset is made of synthetic leather that feels comfortable on the ear. Plus, the H540 selects high-definition audio with a laser-tune driver. Thus, you can adjust the sound settings according to your convenience.
7. Logitech H151 Stereo Headset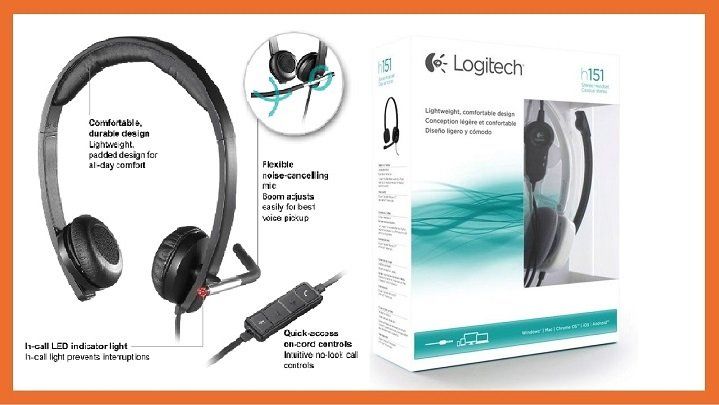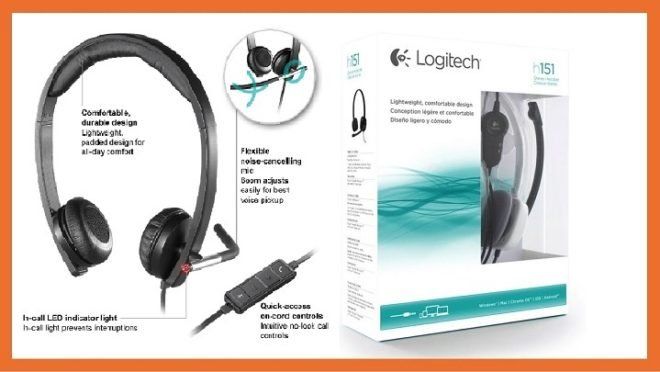 Economical price with qualified features
Do you have a limited budget to buy a headset from Logitech? You can still purchase it, you know. This product has a very friendly price in the bag, but the quality does not need to be doubted.
This headset gives you stereo sound. In addition, all platforms and OS will be compatible with this product. Not only that, the H151 already has a noise-canceling microphone and in-line control. The use of a 3.5 mm audio jack cable makes it usable on smartphones.
6. Logitech G633 Artemis Spectrum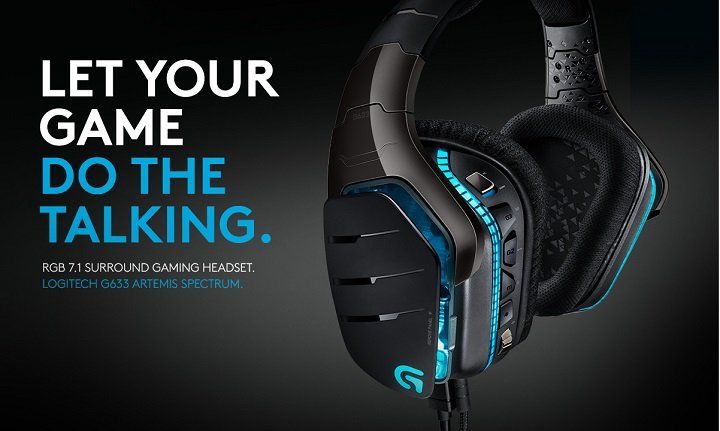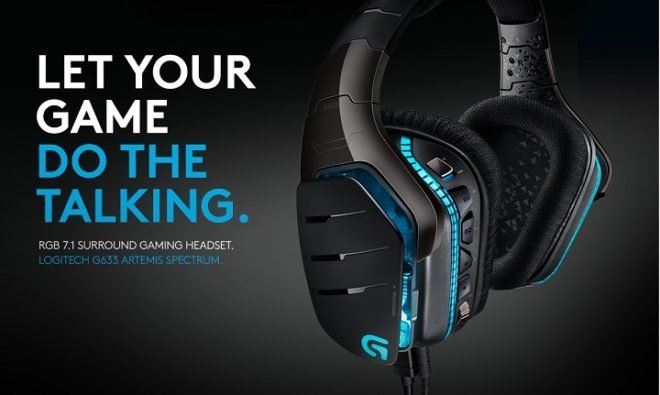 Listen to sounds from two devices, smooth out multitasking jobs
Do you often miss important calls while playing games? Now, you don't need to stop playing games when you want to answer phone calls. With the multi-source audio mixing feature of the Artemis Spectrum G633, you can listen to sounds from two different devices. It happened thanks to the addition of analog inputs.
This headset has 2 RGB light positions that can be set on. The lights are on the side of the ear cup and the Logitech logo. In addition, Logitech uses breathable and comfortable sports mesh materials. You can also wash it to keep it hygienic.
5. Logitech G935 Wireless 7.1 Surround Lightsync Gaming Headset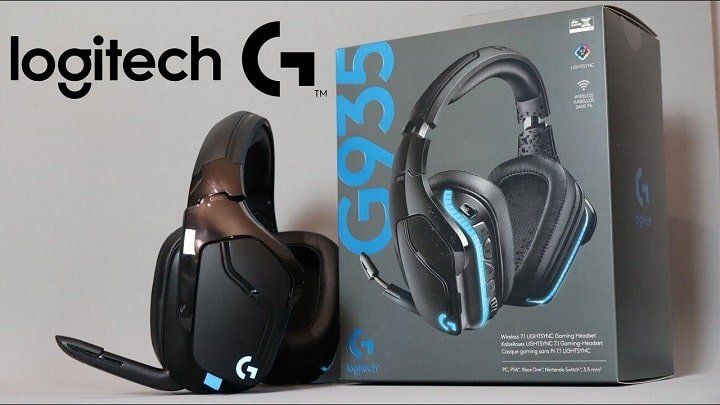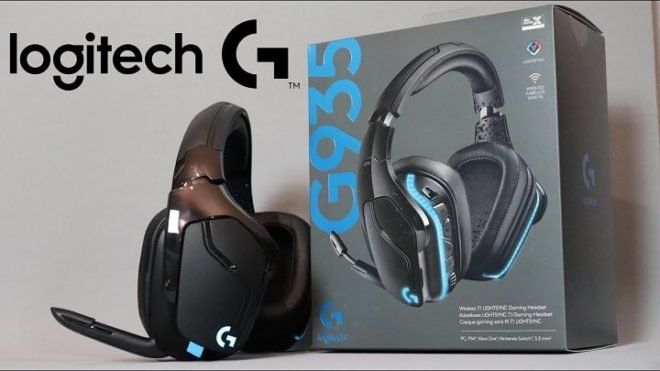 Wired or wireless? Choose as you like!
Wired and wireless headsets have their advantages and disadvantages. Now, you don't need to choose wired or wireless because both are in this gaming headset. If the battery runs out, you can switch to a wired connection.
The ear cup portion is larger so that Pro-G drivers can deliver richer sound to the ear. Besides, the flip to mute feature makes it easy for you when you want to turn off the microphone when playing games.
4. Logitech H600 Wireless Headset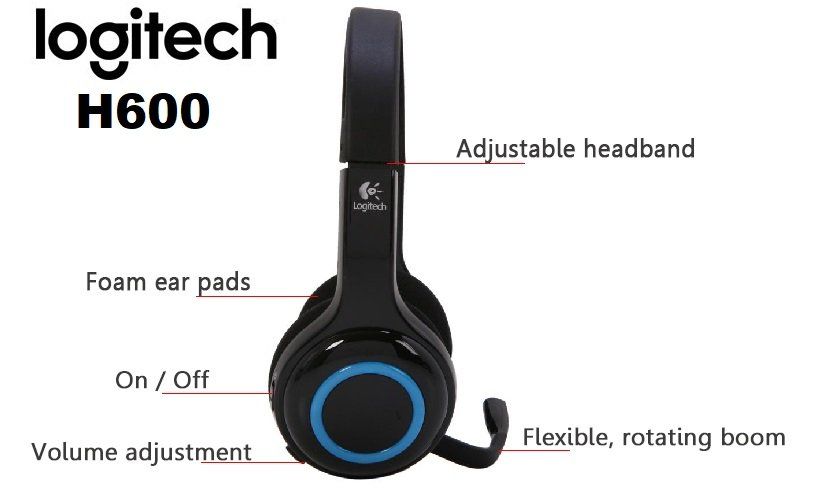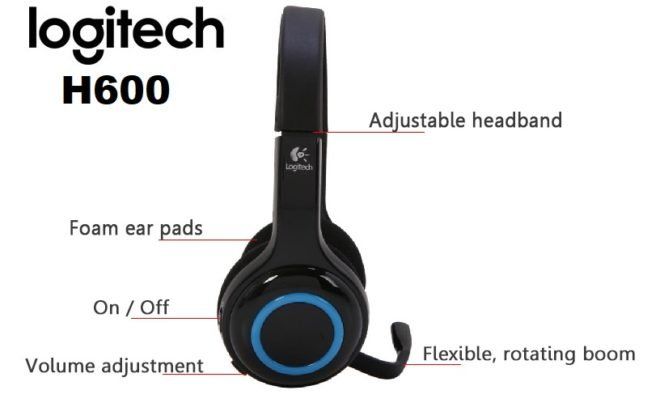 Look cool with a minimalist and stylish design
The H600 is a Logitech wireless headset with a relatively simple and minimalist design without any "decoration." Suitable for you who like simplicity. The appearance also makes you look more stylish.
You can enjoy crystal clear sound for up to 6 hours of use. Besides, you can connect with devices with a maximum distance of 10 meters. Carry it while traveling is still practical because this headset can be folded.
3. Logitech G433 7.1 Surround Gaming Headset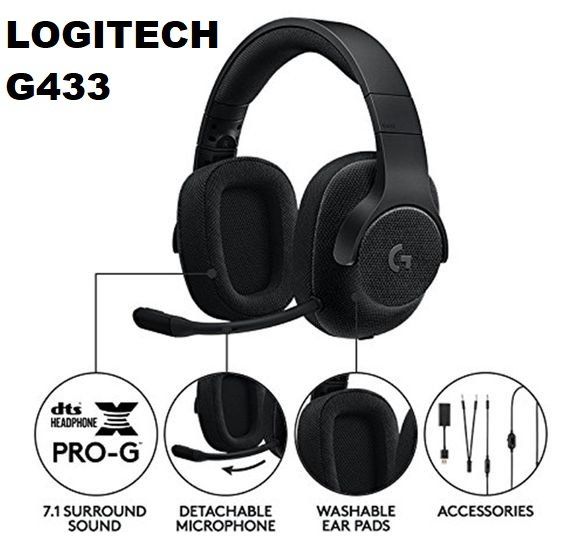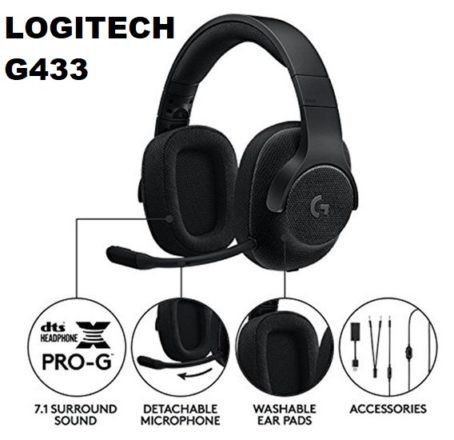 The lightest gaming headset, play more comfortably
The online multiplayer battle royale game has a very sensitive sound. To hear it more exciting, try this headset. With the G433 gaming headset that uses artificial intelligence, you can feel 3D sound. This sound quality allows you to detect the origin of the sound, including the enemy's voice that settles behind you.
Interestingly, this headset has a very lightweight, only 259 grams. The gamers that mobile will be very pleased with its lightweight. G433 is available in 3 colors, blue, black and red, and 1 special edition with a camo pattern.
2. Logitech Pro X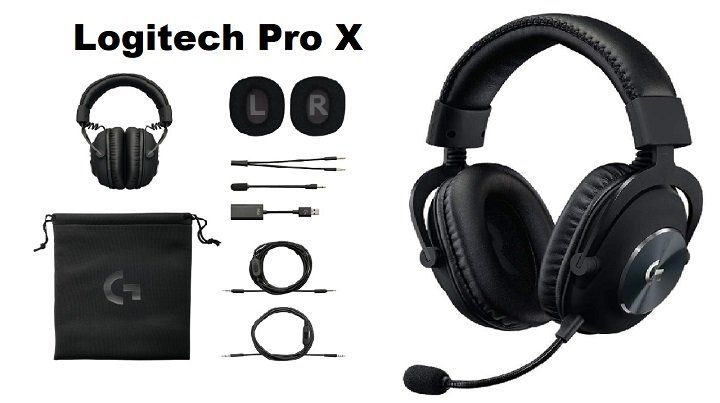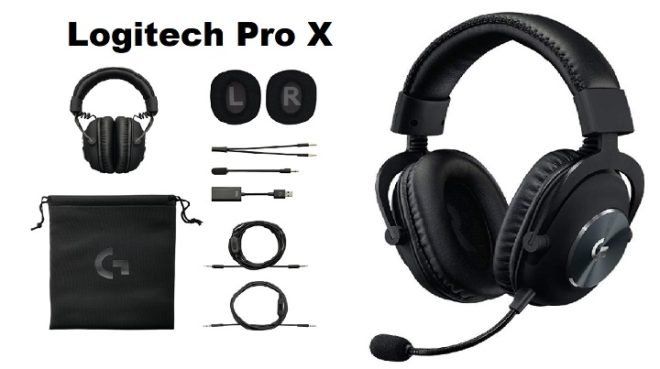 Blue Voice produces crisp and clear sounds
If you are a gamer Youtuber, the quality of your voice is important. For that, you can use Logitech Pro X. Your voice will sound clearer with the Blue Voice microphone feature, which is a real-time sound filter.
You can also adjust the sound's frequency that can be received by the headset so that the surrounding noise is not heard. Besides, this ear cup headset uses memory foam that is comfortable to use for hours. The gamers Professional is suitable to use for the tournament without being disturbed by the ear cup.
1. Logitech Zone Wireless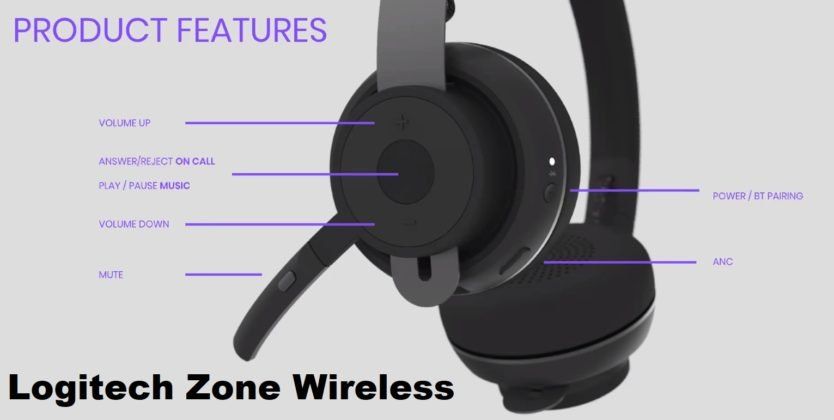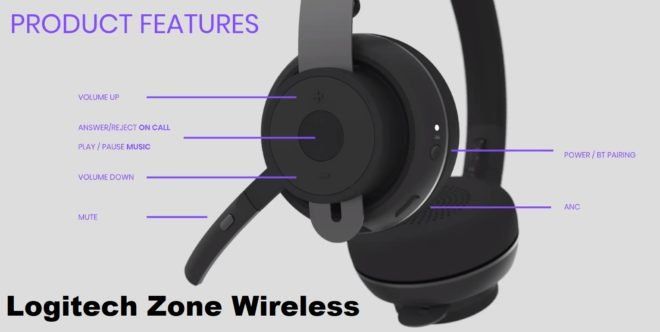 Smoother business communication, free of miss-communication
Communication in business must be clearer so that all problems can be resolved via telephone. Now, you can communicate more smoothly with Zone Wireless. The noise cancellation and noise-canceling mic features make communication clearer, even when outdoors.
Besides, the flip to mute feature makes meetings feel more comfortable when you have to wait for your turn to speak. Microsoft Teams have also certified this headset so you can have meetings using the Teams application. With just one touch, you can pick up calls in Teams.
Also, read other headset recommendations here.
In the market, you can find a variety of headsets with various types of usage, shape, and connectivity. In addition to this Logitech headset article, we have various other articles that can help you choose a headset. Click the link below to get more information.
10 Best Wireless Gaming Headset & Buying Guide in 2020
FiiO FH1s Hybrid Earphones In-depth Review
Lenovo HD200 & HD116 Wireless Headphones Review
Conclusion
Logitech production headset certainly has a quality that can be relied upon. So that you get the maximum benefits, choose a Logitech headset that suits your use. Besides, determine the type of connection that fits your device. You also need to consider the various features of Logitech, which ones you need and which you don't. Finally, adjust it to the budget you have.
That's all for this article and hope you find it helpful with our tips. Congratulations on choosing!