Asus TUF FX505DU Review: Best Gaming Laptop?
Playing the most fun games is playing games that can be done anywhere. Because of this, gaming laptops gained significant popularity. This makes many manufacturers present various gaming laptop variants from cheap to expensive. ASUS is one of the many manufacturers of gaming laptops. ASUS TUF FX505DU is one of them. This laptop is sold in the range of $800 to $1000 The price is certainly quite interesting if you view the specifications offered by laptops that have the full name ASUS TUF Gaming FX505DU.
What are the specifications? In the title, I have already given instructions that this laptop is equipped with AMD Ryzen 7. But, for full specifications, you can refer to the following. After seeing the specifications, you can refer to the discussion alias review of this gaming laptop.
Asus TUF FX505DU specifications
Screen: 15.6-inch FHD (1920 x 1080) Anti-Glare LED-Backlit 120 Hz
Processor: AMD Ryzen ™ R7-3750H 2.3GHz Processor (6M cache, up to 4.0GHz)
Graphics Card: Radeon ™ RX Vega 10 Graphics, 6GB Discrete Graphic
RAM: 8GB DDR4 RAM up to 32GB
Storage: 512GB SSD NVME
Connectivity: Integrated 802.11 AC (2 × 2) 10/100/1000 Base T, Bluetooth V4.2
Ports: 1 x COMBO audio jack, 1 x Type-A USB2.0, 2 x Type-A USB 3.1 (Gen 1), 1 x RJ45 LAN Jack for LAN insert, 1 x HDMI
Battery : 3 Cells 48 Whrs Battery
Design and Connectivity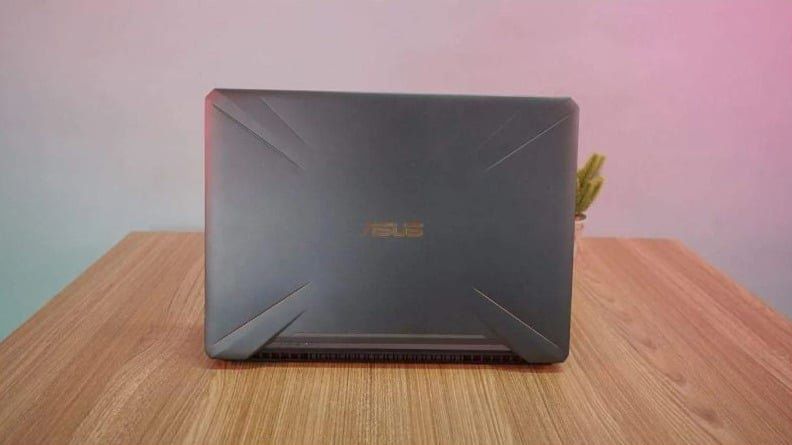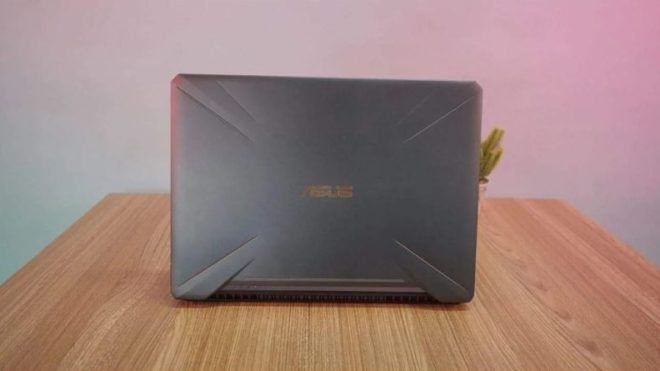 As usual, the review of an ordinary product starts from the design. Because before seeing the "contents" of course have to look outside first to understand overall what is offered by this one laptop.
ASUS FX505DU comes in Gold Steel type. This type comes with a fairly sturdy body design. The design lines tend to be simple but this shows that this laptop is seen as an elegant gaming laptop.
Asus TUF FX505DU is more elegant because the back surface is made of sturdy metal. While the inside of this laptop is still made of plastic. Although it is still plastic, but this material does not indicate that the laptop feels fragile but rather sturdy.
When held by the body of this laptop, feels very sturdy. Feels very strong if this laptop. Moreover, this laptop has received MIL-STD-810G certification which confirms that this laptop is tough.
Information about this certification can be seen on the sticker attached to the right of the touchpad. In the sticker, there are information features that are owned by this laptop.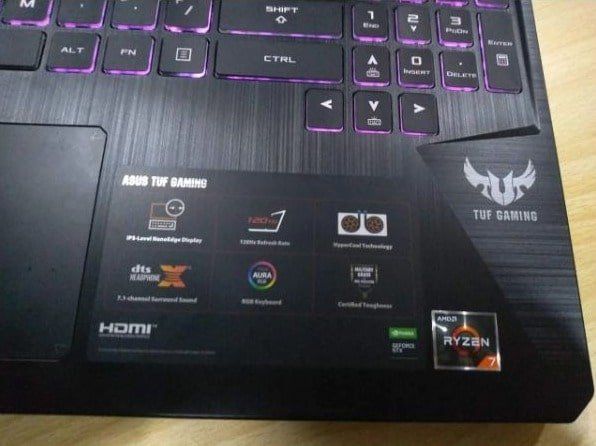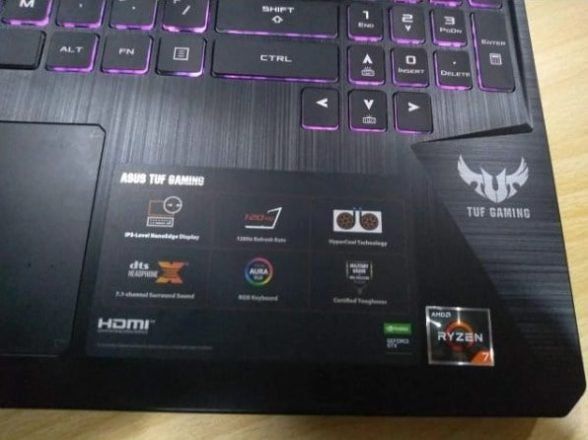 These features are IPS-Level NanoEdge Display, a screen with a refresh rate of 120Hz, HyperCool Technology, DTS7.1-channel Surround Sound, AURA RGB Keyboard, and MIL-STD-810G certification.
With the MIL-STD-810G certification, the ASUS TUF FX505DU means that it has passed various military-grade endurance tests. Based on information on the ASUS website, this laptop has successfully survived various conditions including exposure to solar radiation, high altitude, and extreme temperatures.
That is, Asus TUF FX505DU laptop can remain sturdy when used every day. Although in use, accidentally fell from the table or slightly impacted. So, for those of you who are always worried about the durability of a laptop, the ASUS TUF FX505DU can be a relatively attractive solution.
The ASUS TUF FX505DU comes with dimensions of 36 x 26.2 x 2.5 cm. Judging by its dimensions, the thickness of this laptop is quite standard for a gaming laptop.
For its weight, this laptop weighs 2.2 kg which can be said not too heavy. Certainly not relevant when compared to ultrabooks which tend to have a weight range of 1 kg.
For a gaming laptop, the weight of this laptop is still a reasonable category. Although the load will be a bit heavy because the laptop charger or power adapter is quite large. To be taken to travel will indeed feel heavy but still in reasonable form. Especially if you are accustomed to carrying bags freely heavy.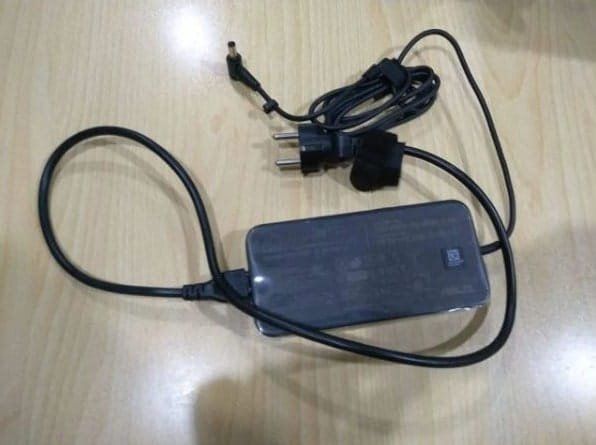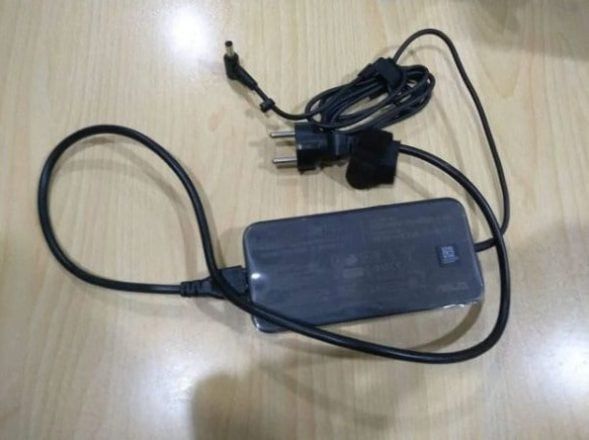 One thing I like about the design of this laptop, is the four corners are diagonally shaped, not circular. This gives an interesting impression and makes the laptop more handsome.
If probing from the right side, the laptop feels very clear and firm simplicity that is present on the laptop. Because, on the right side, there are no ports, except for Kensington Lock whose presence is not too prominent.
Actually in this section, it will be more interesting to add ports considering the number of ports on this laptop can be said to be not too much. But enough. The absence of a port on the right side is understandable because ASUS wants the right side to not interfere too much with the right hand that uses the mouse.
Then, what are the ports on this laptop? To find out, let's look at the right side of this laptop.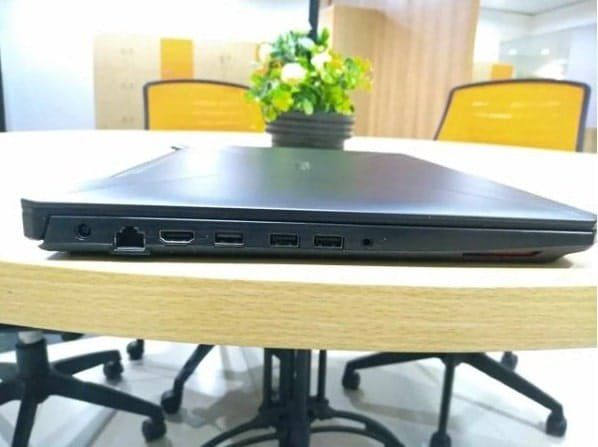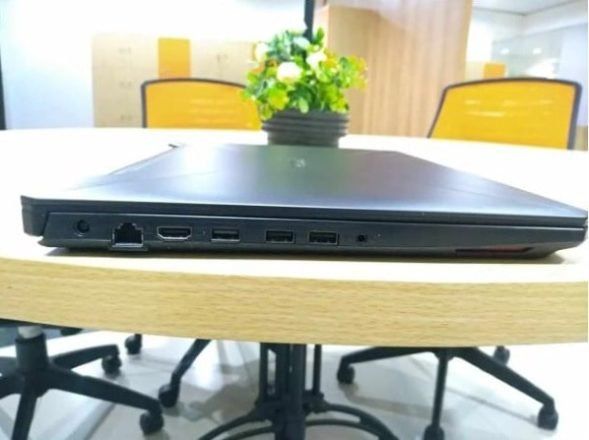 As shown in the picture above, on the right side there are ports consisting of charging ports, RJ45 ports, HDMI, USB 2.0, 2 x USB 3.1, and audio ports for headsets or microphones. Certainly it would be more interesting if you add a USB Type-C port or increase the number of USB 3.1 ports on the right.
For the back of the body of this laptop, it turns out there are two air ventilation holes. The presence of two vents on this laptop because this laptop has two fans in it. To prove it, let's open the back of this laptop.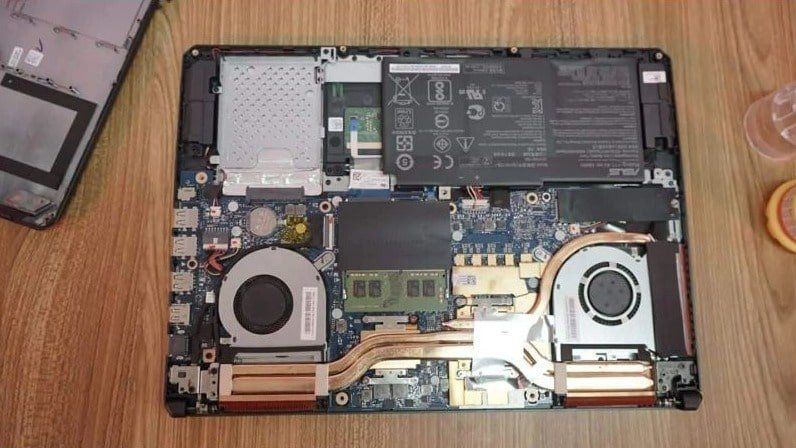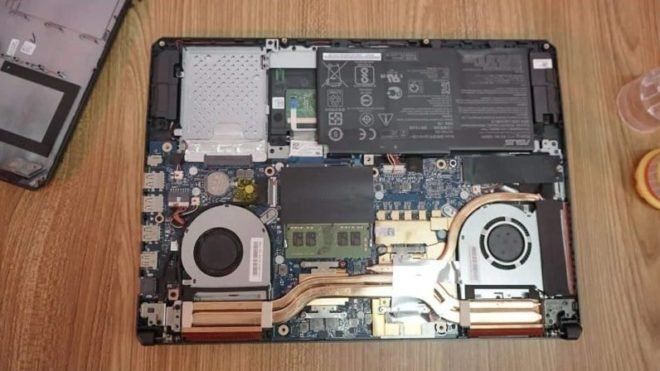 As seen above which is there are two fans, on the right and left. This fan comes with HyperCool technology, as written on this laptop's body sticker. With this technology, this fan can adjust its speed automatically when playing games.
In the picture, you can see RAM, which is quite close to the left fan. RAM on this laptop itself comes with 8 GB of DDR4 RAM which is not onboard. There is an additional slot to add RAM so that this laptop can be upgraded to 32 GB
While on the left side of the fan, which is next to the battery, there is an empty slot. This slot can be filled with 2.5-inch type HDD or SSD storage.
10 Best Wireless Gaming Headset & Buying Guide in 2020
Keyboard, Touchpad, and Armory Crates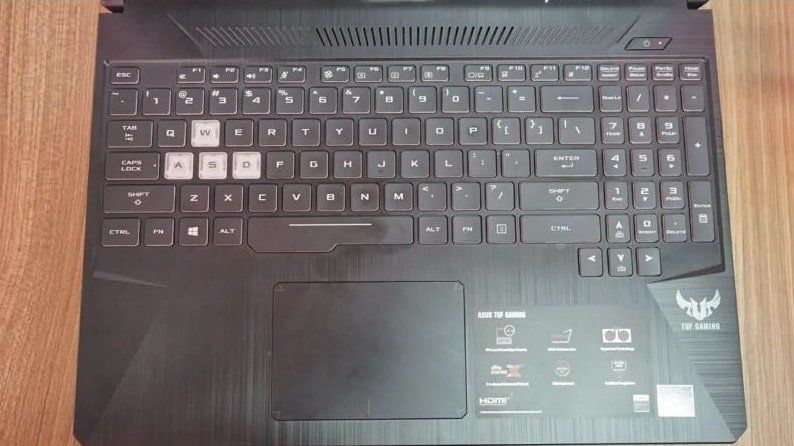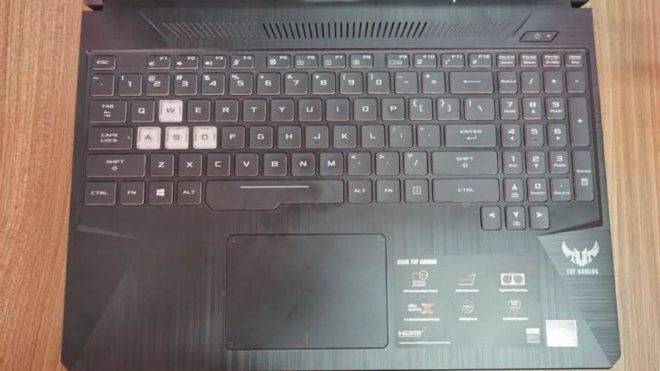 Next, let's discuss the touchpad and keyboard. Let's discuss the touchpad first. Why touchpad? Because the touchpad on this laptop is nothing too special. Even so, the touchpad on this laptop is quite comfortable when used.
Now, let's talk about the keyboard on the ASUS TUF FX505DU. This keyboard comes with a full-size layout. This type of keyboard is similar to other keyboards in the ASUS TUF Gaming series.
This keyboard has white WASD keys and is more striking. The goal is of course to make it easier when playing games. Remember the WASD button is a button that is often used to play games on a Desktop PC or laptop.
The keyboard on this laptop is quite comfortable to use. With a 1.8 mm travel key, typing on this laptop feels comfortable and comfortable. No need to fear the durability of this laptop keyboard too. ASUS itself claims that this laptop keyboard comes with features overstrike technology and pressure resistance up to 20 million times.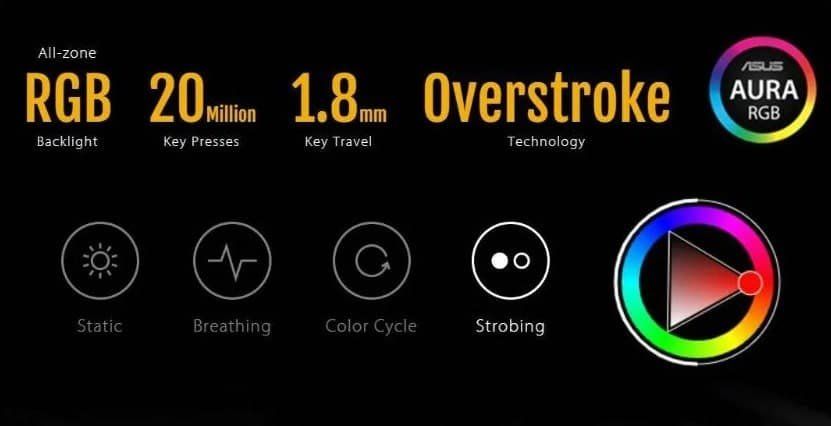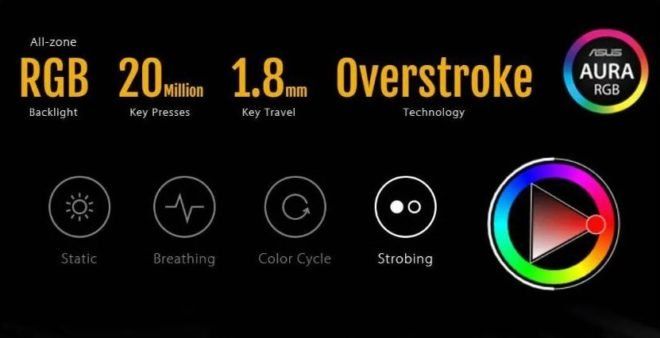 As seen in the picture above, this laptop offers AURA RGB. This means that the laptop is equipped with a LED backlight. It's just that the LED backlight is just one color zone, aka the same color on each keyboard key.
Backlight LED on this keyboard is very helpful when using this laptop in dark conditions. When I invited this laptop to play games or type and surf, the experience was quite enjoyable because the LED backlight helped illuminate the keyboard keys so that I didn't type the right keyboard correctly.
Although LED Backlight is only one color zone, this LED backlight can be adjusted according to our color. To set it up, you need to open Armory Crates.
In this Armory Crate, there are four light settings on the keyboard (static, breathing, strobing, and color cycle. There are also settings to change the color cycle on this laptop keyboard if you choose the color cycle effect option.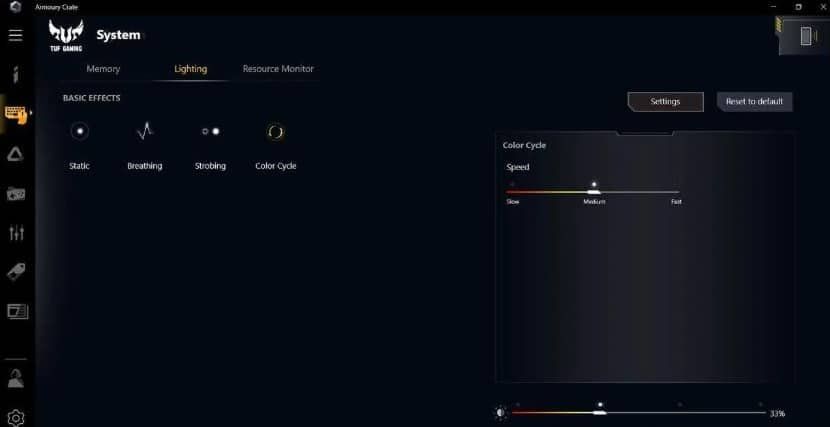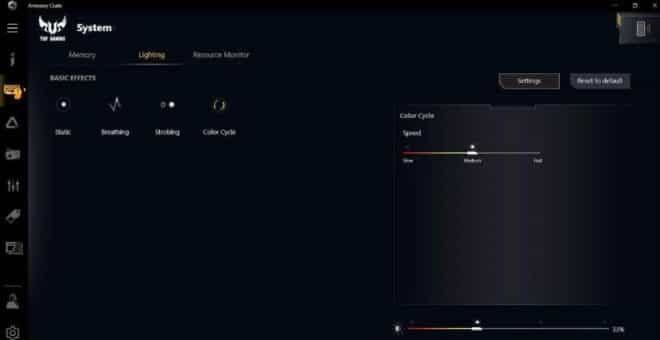 The presence of this Armory Crate in Asus TUF FX505DU certainly makes this laptop feel once as a cool and attractive gaming laptop. Indeed the RGB gimmick on this laptop is not too much but this is something good.
Armory Crate can also be used to profile the use of this laptop. You can choose a silent, balanced, and turbo profile.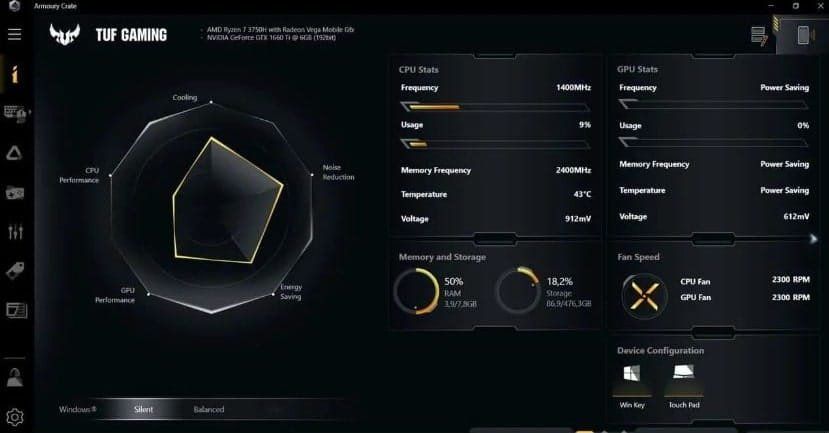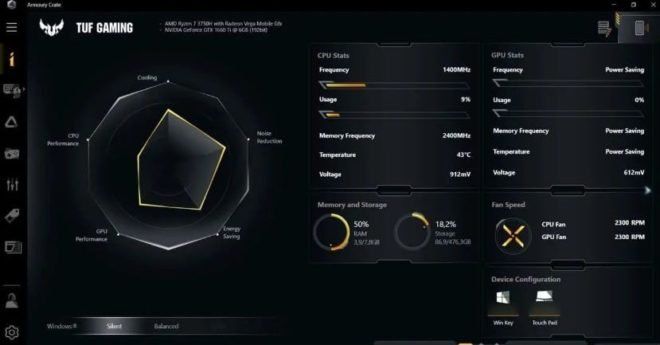 If you use this laptop for browsing, typing, and light work, the silent mode option can be an option. While the balanced mode can be used for rather heavy work. And turbo mode can certainly be chosen when you want to run a relatively heavy game. It's just that the turbo mode will make the fan spin faster.
The presence of the Armory Crate feature in Asus TUF FX505DU certainly makes this laptop more attractive. Moreover, for performance settings that make you more free to determine what kind of mode you want to run when you want to open a particular application or game.
Screen
Asus TUF FX505DU comes with a 15.6-inch screen with full HD resolution. The screen is already using LED-backlit with NanoEdge Display technology. Technology makes this laptop bezel thinner, which is 5.5 mm.
With a thinner bezel, this laptop can present interesting visuals. Why not, the right and left sides of the laptop are not wide and make the screen look compact. The top bezel also tends to be thin and fit enough for a webcam
Asus TUF FX505DU laptop screen can present bright visuals. The screen is quite nice and quite clearly seen from any perspective. The use of IPS panels is certainly the most influential which makes the laptop's perspective look good from any angle.
To be used for watching, obviously this laptop is visually classified as bright. Unfortunately, the screen on this laptop only offers 45% NTSC which will certainly be very influential for design creators and video editors. But this will not be too pronounced if the focus of using this laptop for playing games, watching videos, or office work.
Despite offering 45% NTSC, Asus TUF FX505DU already offers an IPS-level panel with a 120Hz refresh rate. Support screen refresh rate of 120Hz makes this laptop capable of displaying super smooth gameplay with minimal motion blur.
NanoEdge Display technology combined with a 120Hz IPS-level refresh rate panel makes this laptop screen quite okay. The visual technology on this laptop offers consistent color visuals even if viewed from another perspective.
CPU performance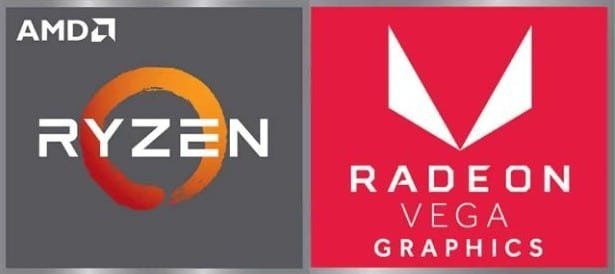 The real attraction of this laptop is the processor used. This laptop is equipped with a processor from AMD, AMD Ryzen 7 3750H. This processor comes with 4 cores which has speeds reaching 4.0GHz.
Also included in this processor is the integrated graphics processor AMD Radeon RX Vega 10 which performs very well and helps the processor to handle various computing tasks.
The combination of Ryzen 7 processor and Radeon RX Vega 10 on this laptop gives its own experience. I can run various applications on this laptop very quickly and well.
For information, the ASUS TUF FX505DU also comes with an additional graphics card (discrete graphic). It's just that, in the usual use mode, the graphics performance relies a lot on the performance of the Radeon RX Vega 10. Of course to play games or need faster power, discrete graphics will work.
In synthetic benchmarks testing on this laptop, the model chosen is a silent mode, so benchmarks like PCMark 10 will assess the performance of AMD Ryzen 7 and Radeon RX Vega 10. For the score, you can see in the image below.


Seen from the picture, if AMD Ryzen 7 and Radeon RX Vega 10 can produce a score of 3,824. This score is relatively high and fast to run a variety of heavy applications.
Another synthetic benchmark, namely Novabench, gives this laptop a score of 626 for the CPU. While for the GPU, the score given is 467.
The GPU score, as shown above, is the GPU Radeon RX Vega 10. The score is fairly high for an integrated graphics processor. For comparative information, I once tested Novabench on a laptop with discrete graphics that were classified as good for playing games. The Novabench score obtained for the GPU is 283.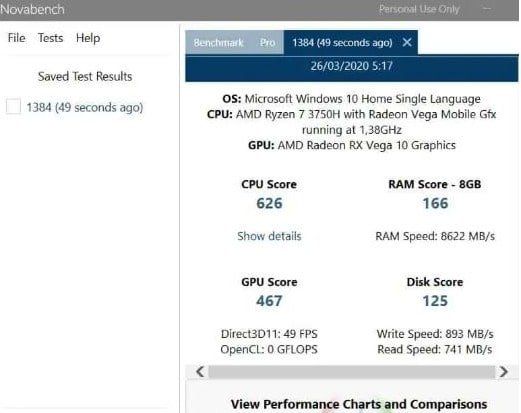 Of course relying on 2 synthetic benchmarks will be felt less. Because of that, I also did another synthetic benchmark, namely using Cinebench R15 on this laptop in a balanced mode.
In the first test, Asus TUF FX505DU was able to get a score of 754 CB. High scores for balanced mode. The second to tenth test, the score obtained is stable under 700 CB. Twice, the value rose above 700 but most were below 700.
I also briefly did a Cinebench R15 benchmark on this laptop using turbo mode. The score is not too far away, which is in the 700s. However, as discussed earlier, when the turbo mode is activated, the fan turns faster and tends to be noisy.
Besides that, I also did a rendering test using Blender. The Blender test I tested used the image rendering test method from BMW images using the CPU alias using AMD Ryzen 7.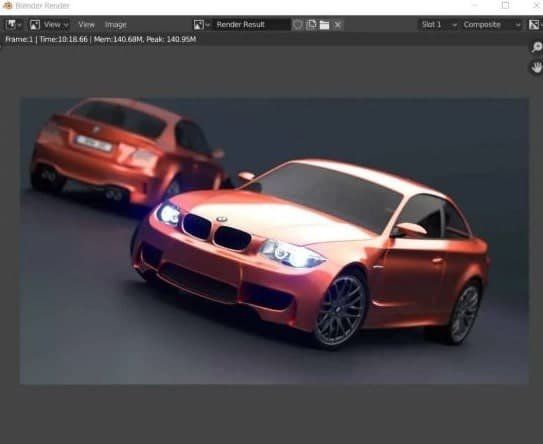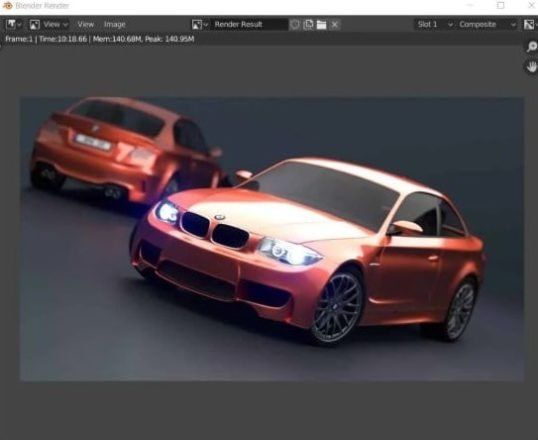 This blender tests how long a system renders graphics. And for ASUS TUF FX505, the time consumed is 10 minutes 18 seconds. This time duration is quite good.
Usually if the Blender test takes more than 10 minutes (for the same test simulation), for example 11 minutes and up, the results can be said to be quite long. Therefore, the duration of time obtained by ASUS TUF FX505 in Blender Image testing is quite good.
Next, I did a benchmark using Geekbench 5. I rarely use this benchmark for laptops but it doesn't hurt to be used and could be an additional benchmark for subsequent laptop reviews.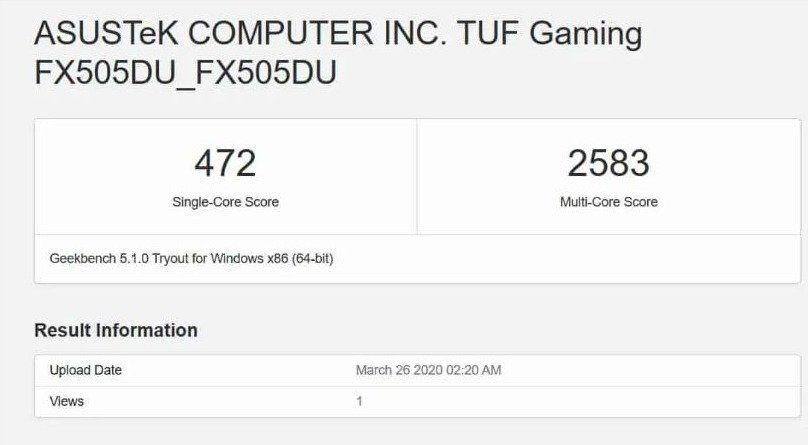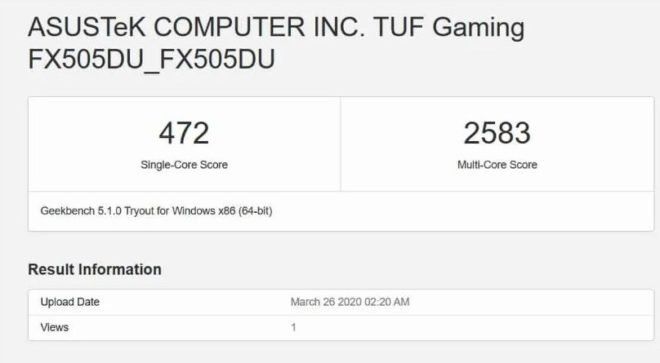 Geekbench 5 benchmark results can be seen in the picture above. It can be seen, if the processor in this laptop has a single-core score of 472 and a multi-core score of 2,583. I can't say whether it's good or not, but looking at the high numbers, the tendency is positive.
Graphic Performance
Asus TUF FX505DU is equipped with 6 GB discrete graphics, as mentioned earlier. This graphics card will work when a laptop requires maximum performance, especially for playing games.
To see the performance of the graphics card on this laptop, I did an OpenGL test using Cinebench R15. The result, can be listened to in the image below.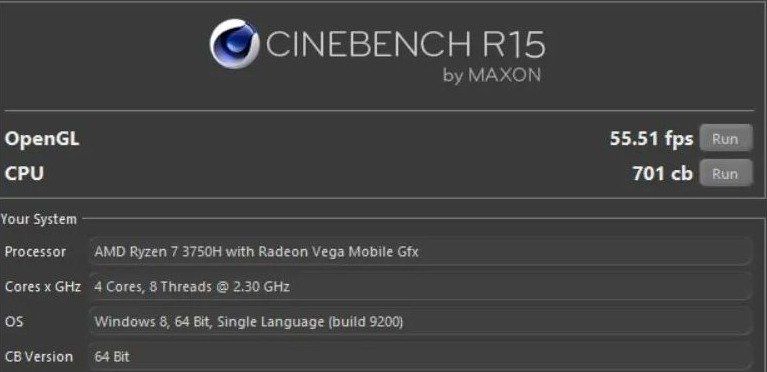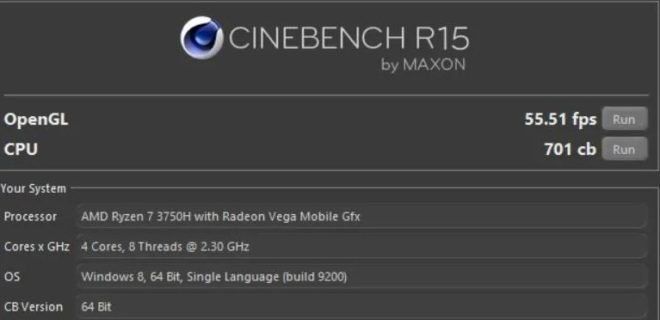 In the picture, it appears that the graphics card in the ASUS TUF FX505DU has a value of 55.5 fps. This figure is quite good, although not yet close to 6o fps.
Of course to illustrate the performance of the graphics card on this laptop, it needs direct testing. Because of that, I run a game to view the overall performance of this laptop, especially the combination of AMD Ryzen 7 and 6 GB discrete graphics on this laptop.
The game I tested is APEX Legends. This game can be played with the right flat graphic settings. This game turns out to be running smoothly and can get FPS in the range of 120 fps.
Of course a 120 fps score is a high score. Moreover, this fps score can be integrated with a refresh rate of 120 Hz on the screen. The effect is that the game experience becomes more fun because the visuals are smooth.
Oh well, don't forget, when invited to play games, this laptop will run the fan to cool the processor and GPU. The goal is that the CPU and GPU have a temperature that is maintained which affects the quieter playing experience without worrying about rising temperatures.
Storage
Next, let's talk about storage in this laptop. Storage used in this laptop is SSD M.2 NVMe which I will certainly appreciate. Remember, "No SSD No Party".
Usage, SSD is very necessary for today's computing needs. Not only for playing games but also other computing tasks, SSDs can offer better performance. An example is the 512 GB SSD (476 GB readable) on this laptop.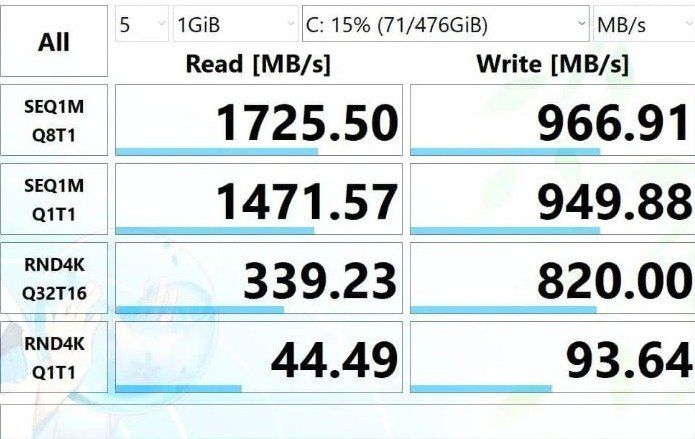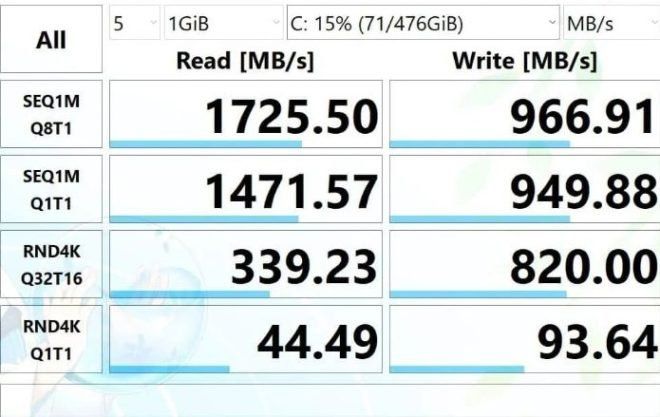 The picture above is a picture from the CrystalDiskMark test. CrystalDiskMark is widely used to test HDD and SSD read and write speeds. And for SSDs on the ASUS TUF FX505DU, the score obtained is 1,725 ​​for reading speed and 966 for writing speed.
Is the score good? I can say more than enough. CrystalDiskMark scores for high-end SSDs can reach three thousand more for their reading ability. But for a gaming laptop in its class, the SSD score obtained by this laptop is already classified as more than enough.
Battery
The ASUS TUF FX505DU uses a 3-Cell 48 Wh Battery and a 180-watt power adapter. The battery in this laptop is quite okay, certainly for the size of a gaming laptop. ASUS itself did a test of the performance of this laptop battery with results that can be seen in the following image.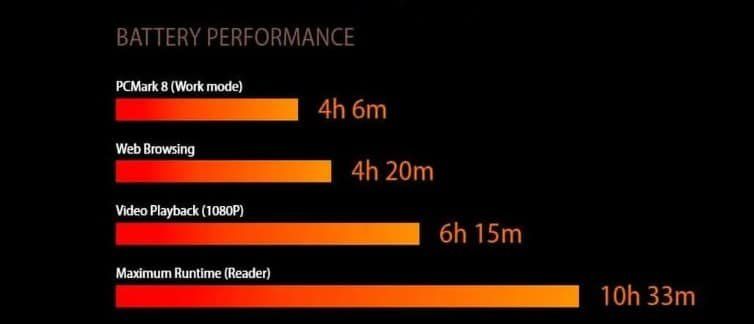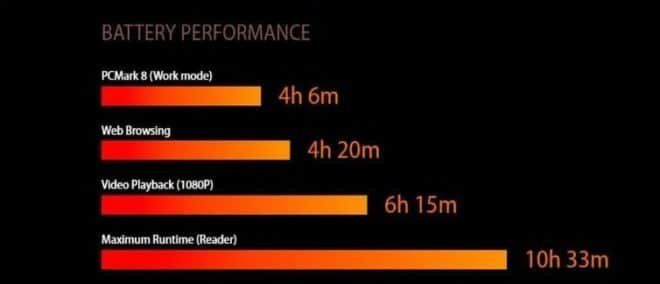 Of course, the results will be different as in the picture, because the specifications are usually slightly different. For example, in tests conducted by ASUS, the RAM used was 32 GB dual channel. While the ASUS TUF FX5O5DU that I tested uses 8 GB of RAM.
Therefore, I will explain the use of this laptop battery based on my experience. For the use of typing, internet, while opening Youtube videos, this laptop battery can be reduced by 89% within 4 hours 24 minutes. In a way, the battery life of this laptop is quite close to 5 hours.
On another occasion, I watched an HD video with a duration of 40 minutes. Laptops in a state of the internet die alias "airplane mode". While the brightness level of the screen is moderate. The result, the battery is only reduced by 15%.
Meanwhile, for charging time, classified as general. Of the remaining 11% power to 100%, it only takes an hour and a half. From these results, my assumption, if the battery reaches 0%, and is charged up to 100%, the time required can approach 2 hours.
How to play the game? I don't recommend playing games using batteries. This will make the power drain quickly and the gameplay performance is not optimal. Therefore, to play the game, always make sure the laptop is connected to electric power.
Conclusion
ASUS TUF FX505GU can be said as a laptop that is capable of use in playing games or for other heavier jobs. For the needs of design and video editing, this laptop is also quite good. It's just that you have to compromise with a screen that is only NTSC 45%.
After using the ASUS TUF FX505GU laptop and testing, I was able to conclude some interesting points from this laptop. The points are as follows.
Simple design without a lot of gimmicks
Robust body and body endurance thanks to MIL-STD 810G certification
AURA LED keyboard
Performance profile at Armory Crate
Screen refresh rate of 120Hz with a thin bezel
The performance of AMD Ryzen 7 and Radeon RX Vega 10 is fast
Powerful GPU performance for playing games
HyperCool Technology Cooler (though a bit noisy)
DTS 7.1 Surround
For the last point, namely DTS 7.1 Surround becomes an interesting advantage of this laptop. Why? Because the sound produced is quite loud and clear and easy to hear.
After reading this review, are you interested in proposing to ASUS TUF FX505DU? If interested, make sure you set up funds in the range of $800 to propose this laptop.
One last suggestion, if you have already bought this laptop, you should, immediately buy additional RAM, at least 8GB. The goal is that the ability of RAM can be dual-channel 16 GB. Moreover, the performance of AMD Ryzen 7 will be more optimal if you use dual-channel RAM.
If you are looking for a gaming CPU this one is the best have a look Dell Alienware Aurora R9, rounded design hides a great gamer