Complete Drupal Guide for Beginners|2020
When choosing a content management system (CMS), surely you have seen Drupal several times as one of the best CMS alternatives. This is natural because, so far, Drupal is the fourth largest market share CMS in the world.
So what makes Drupal into the ranks of CMS that should be considered? What are the advantages compared to other CMS? How to use it?
Don't worry; the main theme of this article is learning Drupal for beginners. So, you will learn a variety of basic material about Drupal. Curious? Let's see more!
What is Drupal?
Drupal is a CMS that is famous for its customization capabilities. In other words, you can create any website with this CMS, whether it's a company website, blog, forum, to an online store.
You can enjoy these benefits because Drupal is open-source. That is, users can freely add and modify its features.
But, aren't other popular CMS like WordPress and Joomla also open source? So what are Drupal's advantages? Let's discuss this in the next section.
What Are the Benefits of Drupal?
Let's look at Drupal's basic features first:
Abundant features – You can add various features on your website through the use of modules. Examples such as Devel, which functions as a web development support tool or Metatag that helps in SEO implementation.
Active community – In addition to contributing to a large number of modules available, the Drupal community also continues to assist when other Drupal users are looking for solutions.
Tight Security: Drupal experts and their contributors regularly test tight security – Drupal's security system. Additionally, the Drupal directory is locked by default, and its configuration files cannot be accessed directly.
As we explained earlier, Drupal's customization capabilities make it more flexible in terms of website development.
Although beginners may need more time to learn about its use, this CMS is ideal for developers. Because of its ability to create specific types of websites. Following are examples of popular websites that use Drupal:
Has it varied, right?
Okay, now you know the various fundamental features of Drupal and its advantages. But maybe you are still not sure because you still want to compare its advantages with other CMS.
Below, we will show Drupal's comparison table with other popular CMS, namely WordPress and Joomla. The comparison is seen from various dimensions. They are ranging from ease of use to security.
Drupal
WordPress
Joomla
Ease of Use
– An intuitive and easy-to-use dashboard.

– Interface is less attractive.

– Website settings options are quite detailed
– Dashboard is very user friendly

– Ease of content customization
– Dashboard makes it easy for users to configure a website.

– Quite complicated to use for beginners.
Display Design & Customization
– Choice of themes is quite limited.

– Complete customization is done through Drush.

– Themes can be accessed through the Drupal theme directory.
– Choice of themes very much.

– Ease of installing themes.

– Themes are available in the WordPress theme directory and theme buying and selling platform.
– There are choices of front-end templates and back-end templates .

– Template customization can only be done via HTML and CSS

– Templates can be obtained through third parties for free or paid
Compatibility
– Suitable for websites that require high security.

– Very good for large-scale websites, such as news portals, magazines, or academic journals.
– Suitable for websites that need content flexibility.

– Easy to use for blogs, company websites, or online stores.
– Suitable for websites with complex data systems. Like an online shop or news portal.
Additional Applications (Plugins)
– Additional applications in Drupal in the form of modules.

– There are 6 module categories available by default.

– In total there are more than 45 thousand modules to choose from.
– Additional applications in WordPress in the form of plugins.

– Plugin functions vary greatly.

– There are more than 55 thousand plugins to choose from.
– Additional applications in Joomla in the form of components, modules and plugins.

– Each extension is grouped according to function.

– There are more than 7600 extensions to choose from.
Security
– The security gap is very tight.

– Security tests are carried out routinely.
– The security gap is quite large.

– Plugins and themes that are not updated have the potential to endanger security
– Provides security checklist for users.

– Need extension help for additional security.
How to install Drupal?
Are you interested in using Drupal? Now you want to know how to install it. But remember, before you must have subscribed to hosting and domain first.
If so, you must access cPanel from the dashboard of your hosting account. After entering cPanel, follow these steps:
1. Look for the Software section, then click Softaculous Apps Installer.


2. On the left menu screen, click Portal / CMS. Then choose Drupal.
3. Click the Install Now button.
4. Select the version of Drupal to be installed, then enter your website domain.
5. Fill in your website's identity. Starting from the website title, username, password, to the admin email.


6. After everything is filled, click the Install button.
7. Wait for the installation process to run. When finished, enter the Administrative URL to login.

8. Login to the website using the username and password that you have specified previously.
9. Done! Now you can start managing your Drupal website.
Also read: Complete Guide to Install Drupal CMS
How to use Drupal?
In this section, you will learn about using Drupal, starting from understanding the various elements on the dashboard, creating content in it, to making updates.
See one by one!
Get to know the Drupal Dashboard.
When you first enter the Drupal website, maybe you are still confused about how to manage it.
Therefore, we will explain one by one about the various elements that you can manage. Let's start by looking at the admin dashboard:


As you can see, there are several options that you can click on. Each button will direct you to a different page:
Content – As the name implies, in this section, you can create content in the form of articles or pages.
Structure – Here, you can manage various elements of the website structure, such as layout and content types.
Appearance – In this section, you can adjust the appearance of the website. So, you can install the theme and change the settings here.
Extend – On this page, you can install various modules to add features to your website.
Configuration – Here, you can change the basic settings of your website and account.
People – If your website has contributors, you can set user accounts and permissions here.
Reports – This section allows you to monitor your site through the recent log messages and status report features.
Help – If your website has problems, you can find a solution in this section.
Okay, now that you know the basic elements of the Drupal website. Below, we will explain the three most essential elements for you to learn first, namely: How to create content, Install Themes, and Add Modules.
How to Create Content on Drupal
Content is one of the essential aspects of a website. Therefore, let's fill your new website with content. The content you can make here is the article ( article ) and the page ( basic page).
Then, how to make it? Here's how:
1. Click the Content button on your website dashboard admin page.
2. Press the Add content button.
3. Now you can choose to create articles or pages. In this example, let's create an article. Click the article button to proceed to the next page.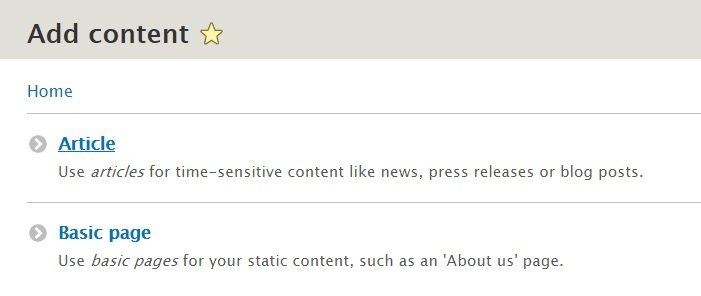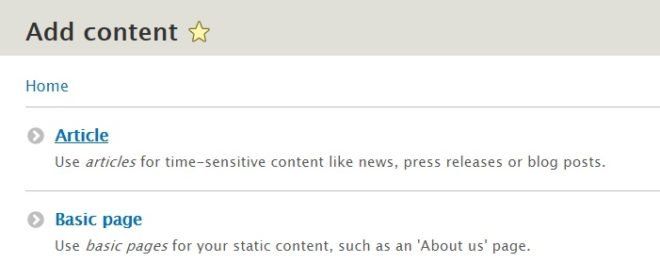 4. Now you can start creating new articles. Start by typing the title. Then enter the contents, whether it's text, images, and the like.
5. In the right box, you will see various settings options. Starting from the menu settings, URL, to the author ( author ). Adjust each setting according to your needs.

6. Don't forget to fill in the Tags column with keywords related to your topic.
7. After everything is filled in, you can click Preview to preview the article. You can also directly press the Save button to publish the article.
8. The following are examples of articles that have been successfully created.


How to Add Menus in Drupal
As you see above, you can enter your article into one menu. Now, what is a menu, and why do you need to use it?
So, the menu is a collection of links that can help visitors navigate your website. Think of the menu as a table of contents in a book. So readers can easily visit content that interests them.
To make a menu in Drupal, several steps must be done:
1. On the admin dashboard page, click Structure, then select Menus.
2. You will see various default menus in Drupal, such as Footer and Main Navigation. If you want to add a new menu, all you have to do is click the Add menu button.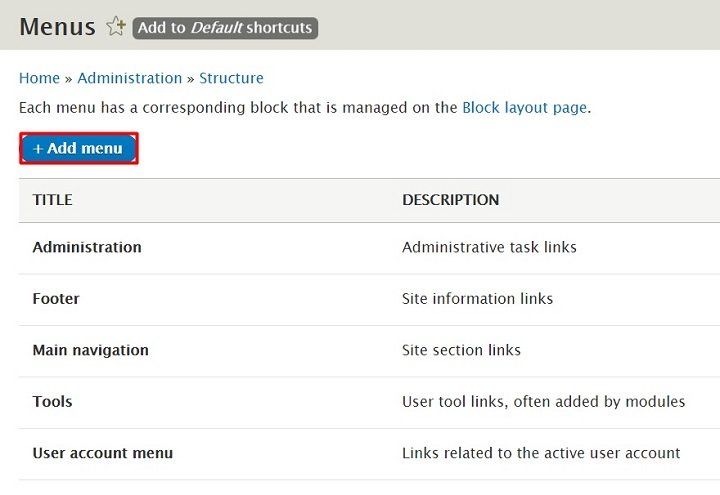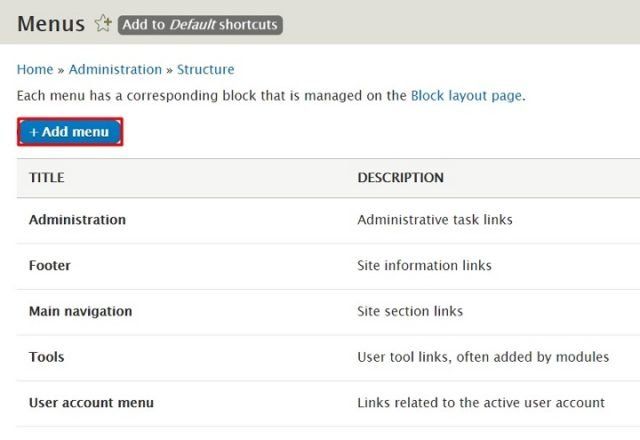 3. Now you must fill in the title of the menu ( Title ) and summarize the menu description ( Administrative summary ). When finished, click Save.
4. Now, even though the menu is ready, you still have to direct it to a link. The link can lead to a page or article. To give a link, click Add link.
5 Enter the title of the menu link ( menu link title ) along with the link, then click Save.
6. Done! Now you have a complete menu with links.
How to Install Themes on Drupal
There are so many themes to choose from in the Drupal theme directory. Whatever theme you choose, make sure it matches your target audience's preferences and the theme of your website.
After finding a suitable theme, you can download the file. Download the file with the tar.gz extension :


Then, follow the steps below to install the theme:
1. On the admin dashboard page, click Appearance. Then press the Install new theme button.
2. Next, click Choose File and select the theme file that you downloaded. Then click Install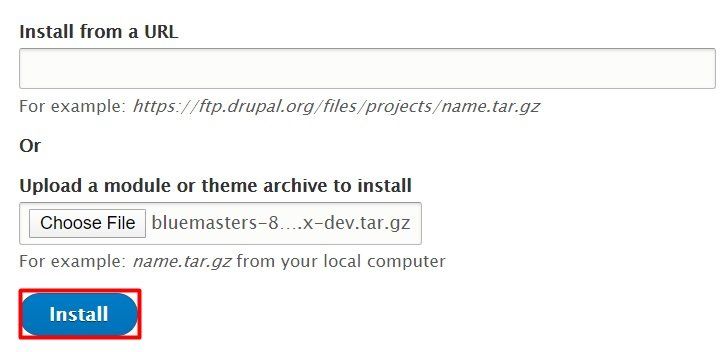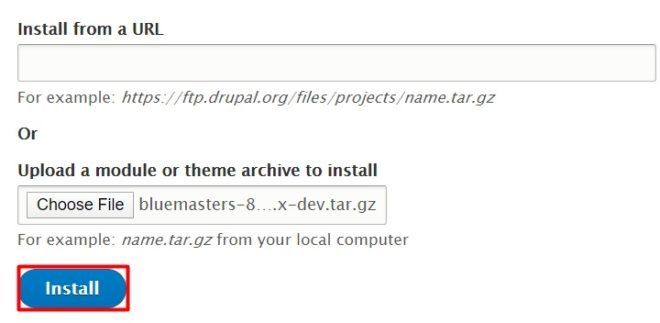 3. Wait until the installation process is complete.
4. You might not be able to see the look of the theme because it's not installed by default. For that, go back to the Appearance page, find the theme you just installed, click Install, and set it as default.
5. Congratulations! Now you can check the look of your new website.
How to Install Modules on Drupal
How to install the module more or less the same as how to install the theme. You must first download the module in the Drupal module directory.
For example, suppose you want to create a form on your website. Then you can download the Webform module. Just like the theme, download the file with the tar.gz extension. Make sure you download the latest version.
After the module is downloaded, let's enter the installation phase:
1. On the admin dashboard page, click Extend. Then press the Install new module button.
2. Click Choose file and select the theme file that you just downloaded. After that, click Install.
3. Wait until the installation process is complete.
4. After the process is complete, enter the Extend page again. Look for the module you just installed and check it.


5. Scroll to the bottom and click the Install button
6. Done! Now you can use the module.
How to update Drupal
Another important thing you need to know is how to update Drupal. Because by updating, there are several benefits you can get:
Enhanced security
Bug fixes
Additional minor / major features
Do you know? Updates and upgrades are two different things, you know. So, an update is a minor change (like an update from version 8.7 to 8.8). While upgrading is a change in the core version (like from version 7 to 8). Usually, what is more often done is an update.
How to update Drupal is very easy. Here are the steps:
1. On the dashboard admin page, click Reports.
2. Click Available updates.
3. If your Drupal core version needs an update, all you have to do is follow the instructions available to download the latest version.
4. Whereas if everything is up-to-date, here's how it looks.


Let's Create a Website with Drupal CMS! 
Drupal is an excellent alternative if you are looking for a CMS with advantages in security and ease of customization. You can also add various exciting features to your website through its modules.
In this article, we have explained the various advantages of Drupal, its features, how to create content in it, how to install themes and modules, and how to update the system.
Drupal is one of the best CMS you can use. Are you interested in starting to make a website with Drupal?
Hopefully, this article will help you understand the ins and outs of using Drupal CMS. Good luck!